Simon Cowell Has Intel On Robbie Williams' Plans For 2019 & It's VERY Good News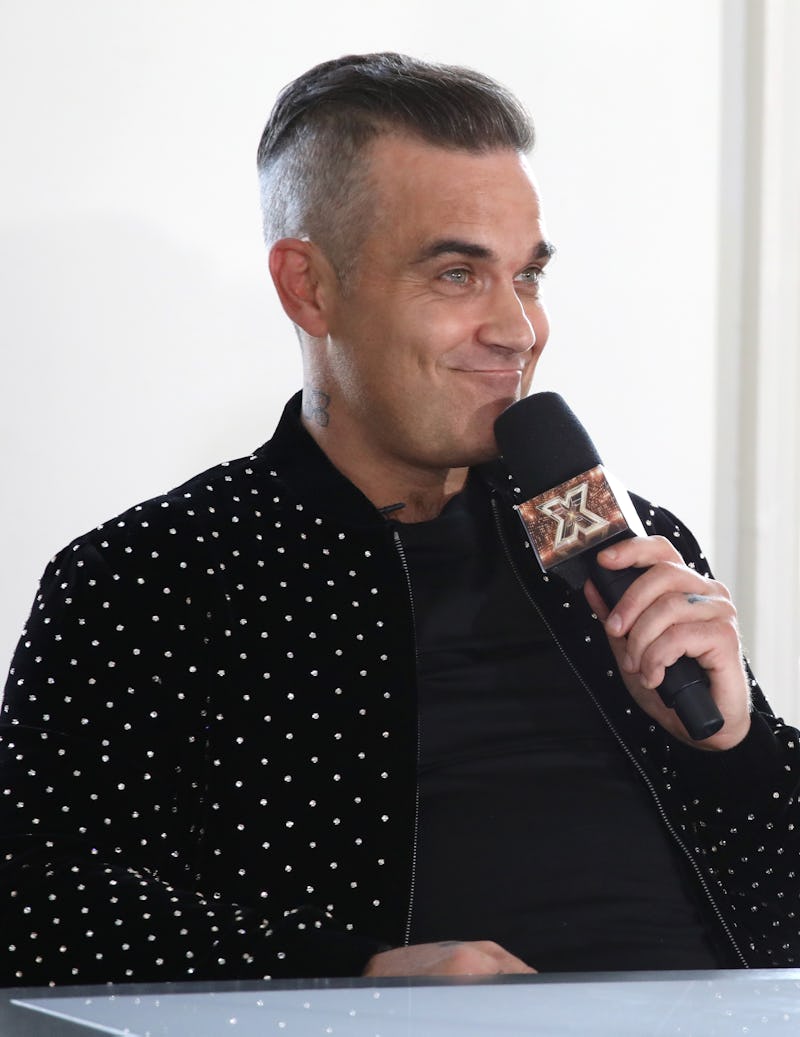 John Phillips/Getty Images Entertainment/Getty Images
Robbie Williams is set to return to British TV screens this Autumn as his X Factor judging stint begins, alongside actress Ayda Field (who happens to be Williams' wife), One Direction's Louis Tomlinson, and perma-judge Simon Cowell. But for fans who'd like to see the Take That icon perform live, a collaboration with an X Factor contestant during the show's final (it's more than likely going to happen, isn't it) probably won't quite cut it. So let's do some digging: will Robbie Williams tour the UK in 2019?
First, a quick recap on Williams' career in recent years. His latest album, The Heavy Entertainment Show, was released in November 2016. It debuted at number one on the UK albums chart, according to the BBC — and in doing so, it broke a record set by David Bowie. Williams now holds the title for "the most number one albums by a British solo artist," the BBC reports — that's a colossal 12 number one albums, ahead of Bowie's 11.
In June 2018, he made headlines for a slightly different reason: giving cameras the middle finger as he performed at the World Cup opening ceremony in Moscow. On This Morning, as the Independent reports, Williams told Holly Willoughby and Phillip Schofield that the gesture was unplanned. "I can't trust me. I don't know what I'm going to do at any time. There was no sort of plan. The plan was to sing in key, don't fall over," he said. Robbie, you rogue, you.
Any subsequent, less controversial live performances? Well, Williams is actually in the middle of an ongoing tour, though he's currently on hiatus before the final leg begins. He last played in the UK and Ireland as part of his Heavy Entertainment Show tour, performing in stadiums in Manchester, Southampton, Edinburgh, Coventry, Dublin, Cardiff, and London during June 2017, before playing across Europe, Australia, and New Zealand. From November 2018, he'll be touring in South America, landing in Chile, Paraguay, Argentina, and Mexico City, Mexico. The tour wraps up on November 17, after which he's presumably scheduled an extremely long nap.
Not that he'll actually get much time to rest — his spot on the revamped X Factor panel was confirmed in July. (No word as of yet on how he'll juggle his judging duties alongside his South American tour.) When the news was announced, Williams said in a press release, "For nearly 30 years I've been touring. I've been wanting to branch out and the X Factor felt like the perfect vehicle." Is that a hint that he won't be launching a new tour once his current one wraps up?
No need to panic just yet: in an X Factor press conference, Simon Cowell let it slip that Williams has some more music on the way. "The exciting thing is Louis has new music coming out, Robbie's got new music coming out," Cowell said, according to the Radio Times. And considering how widely Williams toured his last album, it seems pretty likely that if a new one's on the way, a UK tour will follow.
So no news yet on whether Robbie Williams will be touring the UK in 2019 (I've contacted his representatives for comment, but haven't received a response). But according to Simon Cowell, Williams will be releasing music in the near future — and there's a pretty good chance he'll accompany it with a tour.