How Robert Mueller + Stormy Daniels Could = Trouble For Trump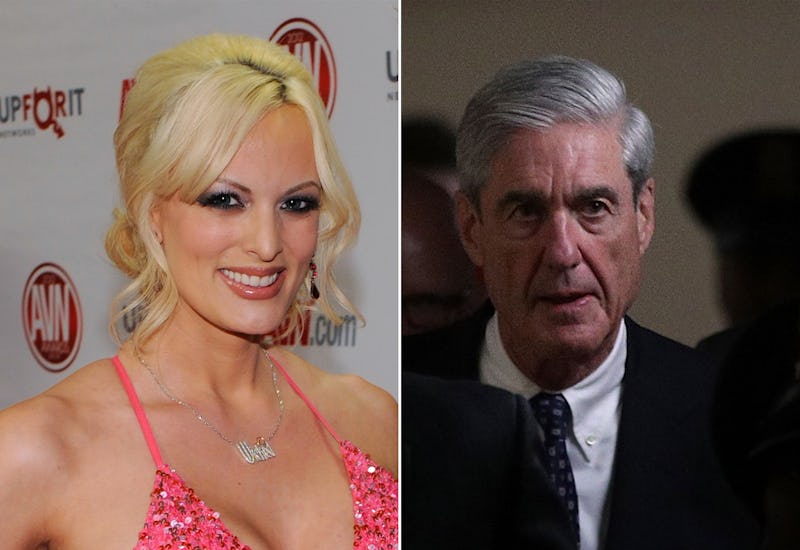 Ethan Miller/Getty Images Entertainment/Getty Images / Alex Wong/Getty Images News/Getty Images
The case of the president and the porn star seems like it might ending up being much more than just something out of a soap opera. President Trump's alleged affair with Stormy Daniels — and the lengths she claims he went to try to keep it under wraps — could end up playing a much more significant role in Trump's presidency than anyone probably saw coming. That will certainly happen if Robert Mueller investigates Stormy Daniels' claim about hush money that she accepted in the months leading up to the 2016 presidential election.
Michael Cohen, Trump's longtime personal lawyer, paid Daniels $130,000 in 2016 as part of a nondisclosure agreement regarding her alleged affair with Trump (which the White House has denied ever taking place). Cohen claimed that this was $130,000 of his own funds and that it had nothing to do with the campaign, but the timing of it has ethics experts pointing to it as a potential illegal campaign donation.
Hushing up an affair, of course, could have been beneficial for Trump's campaign, so the argument goes that the money paying for Daniels' silence was an in-kind donation to Trump's campaign that far outstrips the legal limit for campaign donations by an individual.
The potential problems for Trump and his lawyers don't stop there, though, because Daniels' lawyer Michael Avenatti has produced documents showing that Cohen received those funds at his location at Trump Tower and communicated with Daniels through his Trump Organization email account. This makes it appear as though he was lying when he claimed that he paid the adult film director from his own pocket, and adds another layer of complication to the story.
If Cohen's supposedly voluntary payment to Daniels can be seen as an undisclosed campaign donation, then according to the discussion that took place during the 60 Minutes segment about Daniels and her story, Mueller could very well be investigating it. While it's already a precarious situation for Cohen and Trump, there's actually quite a relevant precedent for prosecuting payments like that, and it comes straight from a presidential campaign of the recent past.
In 2011, former Senator and presidential hopeful John Edwards was indicted on the charge that he had used illegal campaign donations to cover up an extramarital affair. He was never convicted of those charges, but former chairman of the Federal Election Commission Trevor Potter told 60 Minutes host Anderson Cooper that he believed that the case against Edwards was not as strong as the case against Trump and Cohen.
Potter told Cooper that the strength of the case all rests in the timing of the payment.
"It wasn't the year before the election. It's right in the middle of the run-up to Election Day. When-- Trump's conduct with women was a prime campaign issue. In fact, it was what everyone was focused on," Potter said on 60 Minutes.
Cohen's alleged in-kind campaign donation, then, would have been a valuable one, perhaps even more than its $130,000 price tag. It would have come just around the time that numerous women were accusing Trump of having sexually harassed them in years past (Trump denied the accusations across the board) and that the now-notorious Access Hollywood tape came out, in which Trump was caught on a recording bragging about having committing sexual assault. If Trump knew about the payment, then he could find himself in trouble for failing to report the donation to the Federal Elections Commission. Cohen has insisted that Trump didn't know, but the documents Avenatti produced strongly suggest that Cohen was working on behalf of the Trump organization.
Mueller's investigation has already begun investigating episodes surrounding Cohen, so it seems reasonable to make the jump that Daniels' claim about Cohen's payment to her could also fall into the scope of the investigation. Mueller and his team have been extremely tight-lipped on all matters concerning their investigation so far, though, so you'll probably have to wait to known for sure until the next round of indictments come out.