There Are Reports Russia Might Send Snowden Back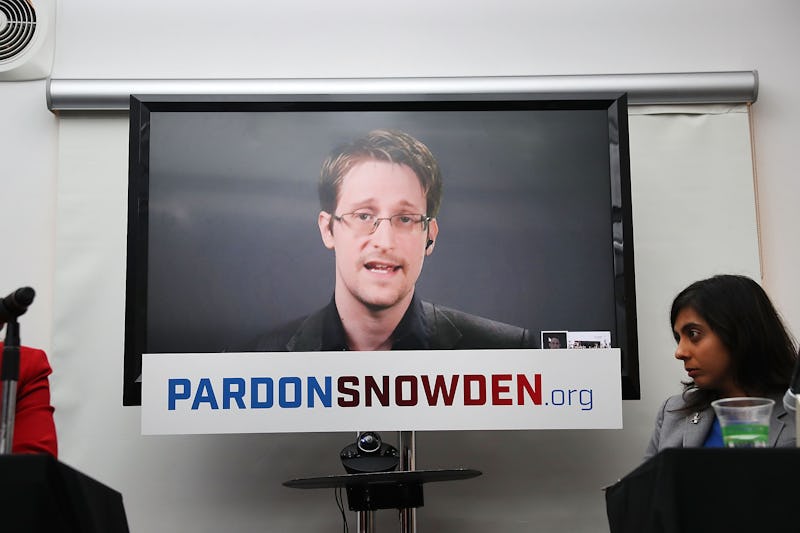 Spencer Platt/Getty Images News/Getty Images
On Friday, NBC News reported that Russia is considering sending Edward Snowden back to the U.S. as a "gift" to President Trump. The NSA leaker has been in Russia since 2013, but senior U.S. intelligence officials reportedly told NBC News that the Russian government is contemplating the possibility of deporting Snowden to the U.S. in order to "curry favor" with Trump, who's called Snowden a "traitor" and said that he should be executed. A spokesman for Russian president Vladimir Putin called the report "nonsense," and Snowden's team says they're unaware of any such discussions.
"I think he's a total traitor and I would deal with him harshly," Trump said of Snowden in July. "And if I were president, Putin would give him over."
While working for the NSA in 2013, Snowden leaked troves of classified information about the U.S. government's surveillance programs to various media outlets. He then fled the country and landed in Russia, which proceeded to grant him "temporary" asylum. Days before Trump's inauguration, the Russian government extended Snowden's asylum until 2020, but intelligence reports indicate that Russia is considering reneging on this, two sources reportedly told NBC News.
Snowden spoke in December about the possibility of Putin "giving" him to Trump, and said that the possibility didn't worry him very much.
"A lot of people have asked me: Is there going to be some kind of deal where Trump says, 'Hey look, give this guy to me as some kind of present'?," Snowden said in an interview streamed on Twitter. "Is this going to happen? I don't know. Could it happen? Sure. Am I worried about it? Not really, because here's the thing: I am very comfortable with the decisions that I've made. I know I did the right thing."
Both Trump and his new CIA director, former Rep. Mike Pompeo, have said that Snowden should be put to death for his actions, though Trump said in 2013 that if Snowden "could reveal Obama's records, I might become a major fan." It's unclear what records Trump was referring to.