Democrats Want Sally Yates To Run For Governor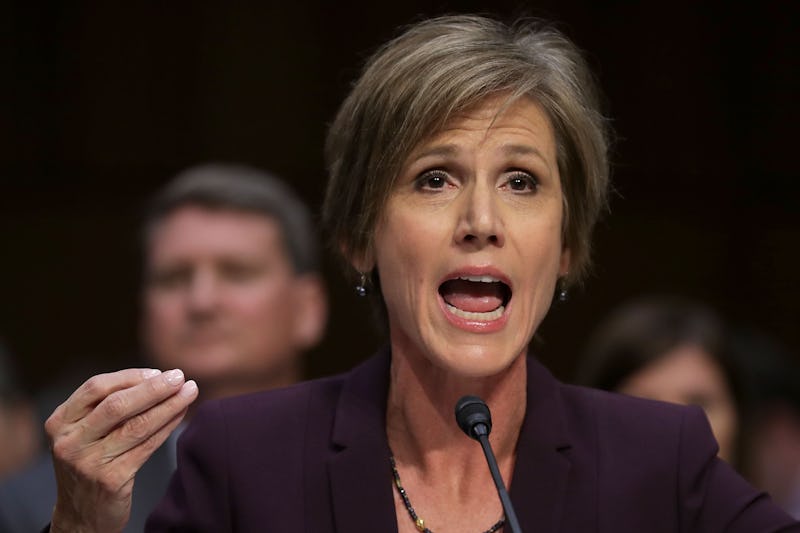 Eric Thayer/Getty Images News/Getty Images
The left's newest political superstar isn't even an elected official, but that may soon change: Democrats are urging Sally Yates to run for governor of Georgia in 2018. The former acting attorney general has never run for office before, but her newfound and almost universal adoration on the left has Democrats hoping that she can pick up the governor's mansion in the red state in which she was born and raised.
Atlanta Mayor Kasim Reed told The Hill that he's "very hopeful that [Yates] will give the race very strong consideration." Tharon Johnson, a Democratic operative and former campaign aide to Barack Obama, was even more forceful, saying that she'll "have to give Georgians a really good reason why she's not considering running for a constitutional office in 2018."
"Sally Yates's calm and strong demeanor showed me she could be a great governor of Georgia," Johnson told The Hill. "Her bold resistance, and how she stood up to a president who ordered her to do something unlawful and unconstitutional, has catapulted her profile."
It's true that Yates has, almost by accident, skyrocketed from utter obscurity into Democrats' hearts over the past several months, due almost entirely to actions she took during her 10-day stint as acting attorney general. But does that itself mean she should run for governor?
It might, but let's not get ahead of ourselves. First and foremost, there's no indication that Yates has any desire to run for governor, or any other office. She's an attorney who's spent her career in the judicial branch, so it's wholly possible that she has no interest whatsoever in electoral politics. And if that's the case she shouldn't run for governor. In addition to this, the duties of a governor are completely different from those of a litigator, and it would be folly to assume that she'd be a skilled executive just because she's a skilled attorney.
Having said that, there are some strong political arguments in favor of a Yates candidacy. For one, she can perform well under pressure, as evidenced by her recent testimony in front of the Senate.
Yates' composure and argumentation during that testimony was unbelievably, unfathomably good. She was poised, confident, well-spoken and well-informed; she was also completely unflappable, flinching not one bit in the face of hostile questioning from Republicans. She made mincemeat out of Ted Cruz, one of the GOP's most celebrated debaters, and her flawless performance led one Slate writer to joke that she had "walked out of an Aaron Sorkin script and into liberals' hearts." Being able to stay cool in high-pressure situations is an extremely important skill for any candidate to have, and Yates obviously has that in spades.
Moreover, as Johnson noted, she has become something of a hero to liberals, progressives, and just about every other opponent of President Trump. Her decision not to enforce Trump's travel ban because she found it unconstitutional got her fired — but it also made her a martyr, and everyone loves a martyr. Yates' actions proved, to the relief of liberals and the left, that Trump would indeed face pushback from within the government if he overstepped his bounds, which wasn't at all a given when he took the oath of office.
Yates earned even more goodwill when it was reported, and later confirmed by Yates herself, that she had warned Trump about the Michael Flynn debacle more than two weeks before Trump finally fired Flynn. This, in the eyes of many Democrats, puts her firmly on the right side of history, and just as importantly, confirms that she's an honest and competent public servant.
Last but not least, Georgia is a red state, and it's not clear that any other Democrat would be capable of winning the governorship in 2018. To be sure, it's not clear that Yates is capable of that yet, either, but in absence of any other formidable candidate, she could well be the Democrats' best chance of taking the governor's mansion.
Yates hasn't publicly commented on the possibility of a gubernatorial run yet, and she may well not take the plunge, but it certainly wouldn't be a bad idea for her to at least consider it.