Sarah Sanders Is Following Her Boss' Lead On The White House Correspondents' Dinner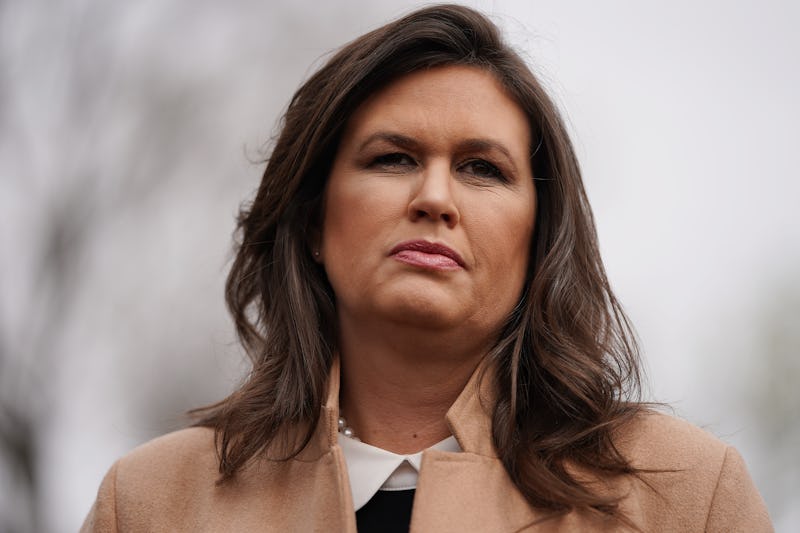 Chip Somodevilla/Getty Images News/Getty Images
Every year, one of the biggest evenings for the Washington D.C. political crowd takes place in the spring, when a comedian hosts a fancy dinner and roasts a ton of politicians, reporters, and more. But for those wondering whether Sarah Sanders will be at the White House Correspondents' Dinner this year, it looks like fans of the press secretary are out of luck. Sanders apparently won't be attending the dinner this year — which might not surprise you, given how last year went down.
Per CNN White House Correspondent Kaitlan Collins, Sanders will not be attending the dinner, and will instead be focusing on a rally with POTUS. Collins tweeted, "Sarah Sanders is not going to the White House Correspondents' Dinner this year, she tells me. She will instead travel with President Trump to Wisconsin for his rally." Trump is holding the event in Green Bay on April 27.
Sanders' reason for skipping the dinner in the name of going to a rally with Trump is relatively unsurprising, especially given Trump's consistent boycotting of the evening throughout his presidency, not to mention Sanders' experience at the dinner last year. In 2018, comedian Michelle Wolf made a number of jabs at Sanders.
Wolf mentioned at one point during her speech, per ABC News,
And of course, we have Sarah Huckabee Sanders. We are graced with Sarah's presence tonight. I have to say I'm a little star-struck. I love you as Aunt Lydia in The Handmaid's Tale. Mike Pence, if you haven't seen it, you would love it.
At another point, she said, "Every time Sarah steps up to the podium I get excited, because I'm not really sure what we're going to get. You know, a press briefing, a bunch of lies, or divided into softball teams. 'It's shirts and skins, and this time don't be such a little b---h, Jim Acosta!'"
Perhaps the most famous of Wolf's jabs was in reference to Sanders' appearance, specifically her makeup. Wolf said, "I actually really like Sarah. I think she's very resourceful. Like, she burns facts, and then she uses that ash to create a perfect smoky eye. Like, maybe she's born with it, maybe it's lies. It's probably lies."
Sanders didn't leave her seat during the speech, but several days later she addressed it during a segment of Fox & Friends. Sanders said in part:
The people that were my friends before that evening are my friends today. I'm going to continue doing the job that I came here to do...I hope that [Wolf] can find some of the same happiness that we all have, because I think she may need a little bit more of that in her life because the rest of us here are doing great.
The White House Correspondents Association also denounced Wolf's speech last April, saying in a statement that her "monologue was not in the spirit of [the evening's] mission." This year, while Trump and Sanders are attending the Green Bay rally, the dinner will be markedly different than years before: It will not feature a comedian as a host. Rather, the WHCA has selected author and biographer Ron Chernow as the host.