All The Proof Selena Gomez Is Totally Going To The VMAs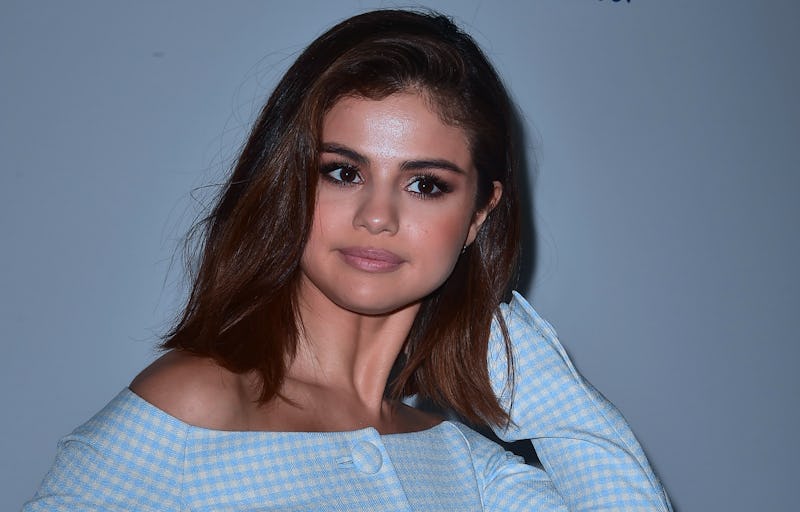 FREDERIC J. BROWN/AFP/Getty Images
The last time Selena Gomez was at the MTV Video Music Awards, she made a bold statement walking the red carpet with Taylor Swift and the rest of Swift's "Bad Blood" squad. But since she skipped the next year's show, and took a break from the spotlight, fans are anxious for Gomez to be at the 2017 VMAs and make her grand return to the huge MTV event. And while the fact that she and her beau The Weeknd appear to be connected at the hip recently is definitely a good sign that Gomez will be at the VMAs this year (The Weeknd is performing), it's likely the singer would have gone to the awards with or without a man on her arm.
Gomez is nominated for two "Moon Person" trophies (Moon People? Moon Persons?) at the 2017 VMAs, one for Best Collaboration with Charlie Puth for "We Don't Talk Anymore," and another for Best Dance Video with Kygo for "It Ain't Me." If Gomez does attend the VMAs, which seems likely, it won't be just to support her boyfriend, but also to represent her own work and show off some of her achievements. Winning a Moon Person this year could be big for Gomez, who took one home in 2013, winning Best Pop Video for "Come & Get It," and it would be a shame if she wasn't there to accept an award.
Another reason Gomez will probably be walking down the red carpet of the 2017 VMAs: her new music. In the past three months, Gomez has released two new songs, "Bad Liar" and "Fetish," and it seems pretty clear that she's moving towards releasing another album. Going to the VMAs would be a great way to ease back into the spotlight and drum up some excitement for future projects. Furthermore, if Swift shows up hoping to do the same thing — and maybe explain those cryptic snake videos — then you can bet she's going to want her bestie by her side.
Whether Gomez attends the VMAs to support her friends or to celebrate her nominations, fans will just be happy to see Gomez strutting her stuff down another red carpet. Here's hoping she does us all a solid and shows up.