Jennifer Lopez Promises That Fans Will Love The 'Shades Of Blue' Series Finale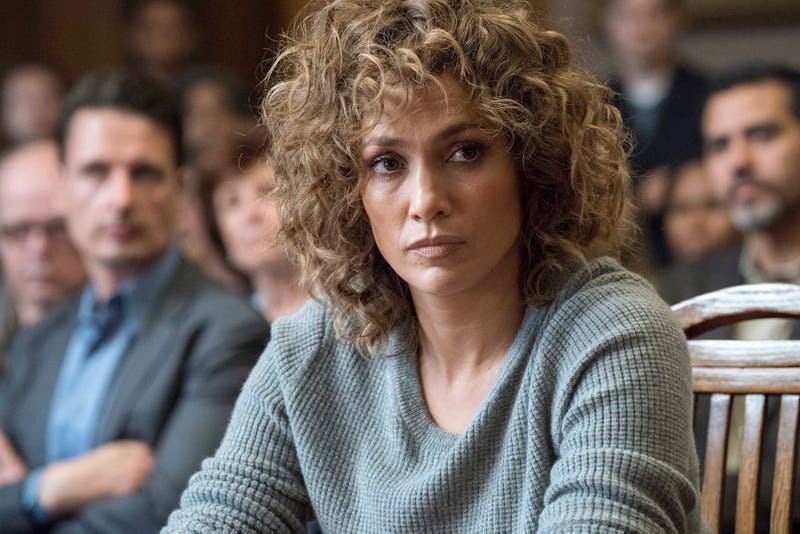 Virginia Sherwood/NBC
Unfortunately for those itching for more Jennifer Lopez in their lives, her NBC drama, Shades Of Blue, will not return for Season 4. According to TVLine, the show has been given a red light, and will close out with Season 3. The outlet reported that Lopez, who also serves as an executive producer on Shades of Blue, feels like the show had reached a sort of natural endpoint, where saying goodbye would feel organic. "We crafted a poetic three-season arc on how [main character, Harlee]'s journey ends, which is true redemption," she said in a statement. "The way only Harlee could have done it — the hard way, the road less traveled."
Reception was a little up and down for the show — its first season has a 56 percent positive rating on RottenTomatoes.com, which obviously could've been better, but the overall audience score on the same site jumps to a much more favorable 71 percent positive, so there's definitely people who were on board with Shades of Blue.
Fans on Twitter are also obviously heartbroken over the show's demise and wanting to soak up all of the suspense they can get before the end credits roll for the final time.
Fans Are Feeling Blue About The Series' End
The lack of big, mainstream attention has been baffling to some. "This is such a good show," wrote Reddit user and_yet_another_user after the Season 3 premiere. "Has great acting, good plot lines that go over a season, not just single episodes. Tonight's Season 3 start was brilliant, it has me invested in this season straight away."
There are some fans, though, who feel like they've lost a little steam since the show's debut. "I'm so conflicted, because I really want to enjoy the show. I'm just so... bored," wrote one Reddit user, redditryan2011. "I feel it would've been awesome if they dropped the entire season Netflix [or] Hulu style. It has some great plots and characters, but it's just not enough WOW factor to tune in week after week without getting tired of it. I think a binge watch would suit viewers much better."
Regardless of the fact that Shades of Blue never necessarily dominated the TV landscape, Lopez made it seem like it was a mutual decision to end the series now. "It was a hard decision and I was melancholy the day we announced it," Lopez told TVInsider. "I wish I could do it for seven years, but I can't with everything else going on."
She also said she's learned a lot and identified with Harlee's character, and promises that Shades of Blue will deliver a resolution worthy of the show's drama. "How can I say this without giving it away?" she continued in the same interview. "There is a resolution. It's just how Harlee would have wanted it: hard but vulnerable, beautifully tragic. It ends nicely. When you see it, you're going to feel the same way."
That's a cryptic answer, for sure, but it should allow fans to rest easy — at least Shades of Blue is delivering a planned series finale, which should give everyone the chance to say a proper goodbye.