Why Fans Are Already Clamoring For A 'She-Ra & The Princesses Of Power' Season 2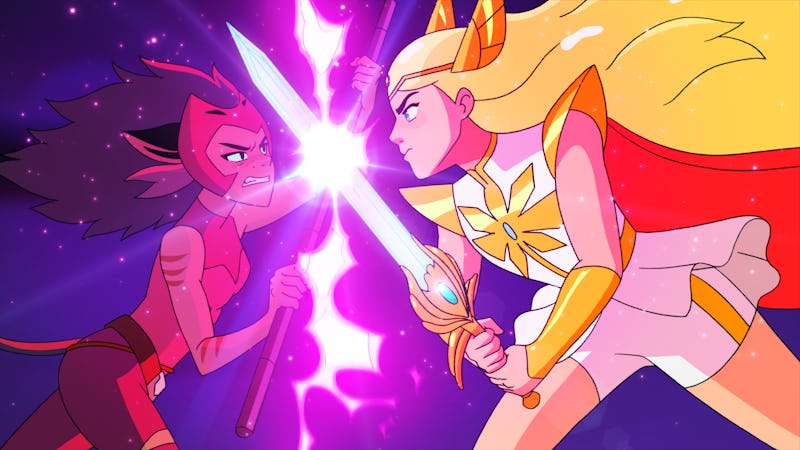 Netflix
Who doesn't love a good nostalgic TV reboot? When they're done right, they have the power to lift spirits like nothing else can — especially when that reboot is of a Saturday. Morning. Cartoon. One that children (and parents) of the '80s joyously ate cereal in front of in their PJs with nowhere to be and nothing else to do. Those were the days, right? Well, on November 13th, viewers will probably do the same thing while giddily marathoning a refreshed version of 1985's She-Ra: Princess of Power. And because it's filled with such improved quality and nostalgia (and because it's on Netflix), the marathon will likely be over for most in a single day, which will leave them dying to know if the new She-Ra And The Princesses Of Power will return for Season 2. Because one season of sentimental time-travel via revamped cartoons is simply not enough.
Especially when the creators of the updated version make it as badass and crucially empowering as Noelle Stevenson did here. The old She-Ra boasted a painfully perfect hourglass figure and wore a largely revealing superhero suit — an unrealistic body image portrayal. With the reboot, Stevenson took the opportunity to debunk those unrealistic notions of what a woman in action could look like and put She-Ra (also known as Princess Adora) and friends in more functional superhero clothes and in more realistic shapes and sizes. Men of the internet quickly revolted, lamenting the fact that She-Ra wasn't as "sexy" as she used to be. Of course, actual She-Ra fans were quick to respond to the "controversy."
Official word on a Season 2 is unheard of for now, but its likely that the overexcited fanbase will propel the show well into the future. Ever since the show was teased in May, people have been eagerly awaiting its arrival — so much so that Netflix and creators bumped its release date three whole days.
To say that fans received the news well is an understatement. "Not to be dramatic," one fan wrote on Twitter. "But my happiness over this show is singlehandedly sustaining me through this year."
Others Took To Twitter To Share Their Excitement
Fans are elated to not only be revisited by an old friend, but to see her return with an empowered vengeance. They also can't get over the diversity and representation that is poignant throughout — the cast is mostly women, including women of color, and one of the characters is parented by two fathers. Darren Frannich with Entertainment Weekly called it "a heroically right-now parable about empowered women teamworking against terror." Seriously, who doesn't love the sound of that?
The Netflix reboot will likely stand on its own next to the original series, which just lasted three seasons. Now, She-Ra can inspire a brand new generation of kids, and it might actually be one show that millennial parents will like, too. Hopefully, all this fan love means that a Season 2 is coming sooner or later. In the meantime, don't marathon all the episodes at once, since fans might be stuck waiting for an official announcement for a little while.