Piper's 'OITNB' Future Could Go Many Ways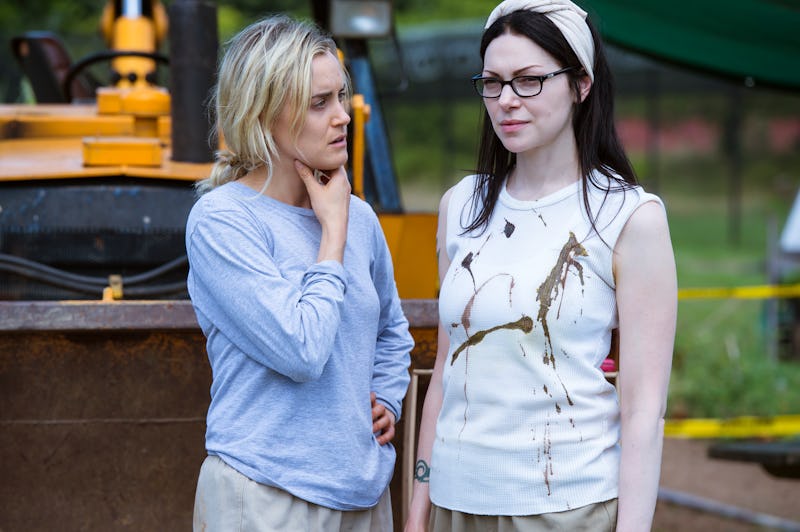 Jojo Whilden/Netflix
For a show like Orange Is The New Black, one of its secrets to success lies within an amazingly diverse cast of characters. But, after five long years and another two seasons guaranteed to come, it may be that not everyone will want to stick around. I mean, that Season 5 ending definitely left some fates up in the air. Will Taylor Schilling return for Orange is the New Black Season 6? Bustle reached out to Netflix for comment but has not yet received a response.
Piper's presence may have been necessary for the initial storytelling of OITNB, but viewers may have noticed that her presence has fluctuated in recent seasons from being at the center of the story arc to playing a supporting character. As of now, there is no official confirmation of Schilling leaving or returning for Season 6, but Piper Chapman's 18 month prison sentence could be coming to an end soon. With the Season 5 riot changing everyone's future, it is unclear how Piper's last few months in jail will be explored. If Schilling were to leave, fans would obviously feel a missing presence, but is it one that can be filled by another character?
In an article for TV Guide, writer Sadie Gennis addressed Piper's on-again, off-again contributions to Litchfield. Gennis wrote, "Will we miss her? Maybe a little, but the show won't suffer in her absence. The beauty of Orange is that it's so much more than any single character, including the character that introduced us to this world in the first place."
Still, as the person who introduced the world of Litchfield to audiences, Piper has been an important character in building the OITNB universe. Jenji Kohan acknowledges that in an interview with NPR: "In a lot of ways Piper was my Trojan Horse. You're not going to go into a network and sell a show on really fascinating tales of black women, and Latina women, and old women and criminals. But if you take this white girl, this sort of fish out of water, and you follow her in, you can then expand your world and tell all of those other stories."
It is clear that, over the seasons, Piper has grown from the scared, oblivious young woman who was unaware of her privilege. However, is this growth enough to continue her stay at Litchfield for Season 6? Fans can only hope that Schilling and Kohan give Piper the send-off she deserves if and when it comes time for that.