Will Taylor Swift Be at The 2017 Met Gala?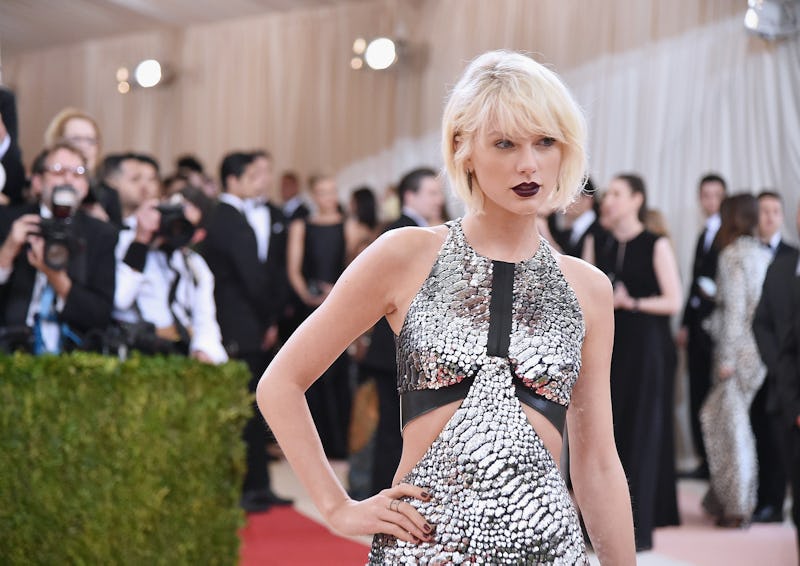 Mike Coppola/Getty Images Entertainment/Getty Images
Time for a game of Where's Waldo: T-Swift edition. The 2017 Met Gala will certainly be a star-studded affair, but will Taylor Swift be on the guest list this year? It's time we start placing bets.... but first: need I remind you that last year's crowning Met Ball moment was the iconic Hiddleswift dance-off. If there's a trend here, perhaps tonight's festivities will also spawn an internet sensation — or the opposite. Looks like it might be a free-for-all on Swift's RSVP status.
Swift has been MIA from the public eye as of lately. The most recent time her name graced media headlines was a brief mention in a Harry Styles Rolling Stones cover story on April 18 (FYI, Styles calls their brief dalliance "a learning experience"). Apart from that, the world has — strangely — been deprived of its Taylor Swift dosage. Where art thou, Taylor???
The pendulum swings both ways in terms of Swift's appearance at this year's Met Gala. On one side, Swift may continue to stay off-the-grid and opt out of the shindig. No publicity, no problem. Yet, there's also a chance Swift may make a theatrical comeback (and dressed to the nines, without a doubt) and once again reinstate herself as Queen of the Twitter Trending Topics.
Remember when Swift absolutely killed it in Louis Vuitton at the 2016 Met Gala?
At last year's Met Gala, Swift had her spotlight moment when a dance battle between her and real life Prince Charming Tom Hiddleston sparked a deliciously dramatic fling for the masses. Amidst rumors of the relationship being a publicity stunt, Hiddleswift eventually came to an end in September 2016.
Could this year's Met Gala top the historic Taylor and Tom Waltz of 2016? That is, if Swift shows up on the red carpet.
Back when Hiddleswift was still forever in our hearts.
Since then, Swift has been mum on the romantic front – and in general, really. Truth be told, I personally think Swift will be a no-show at tonight's gala. Perhaps she's cooking up something extra viral-worthy for the coming months, maybe she has a prior engagement, or maybe she's just enjoying life away from the cameras like any regular human. Only time will tell.