Taylor & Tom's Met Gala Dance Was Just A Year Ago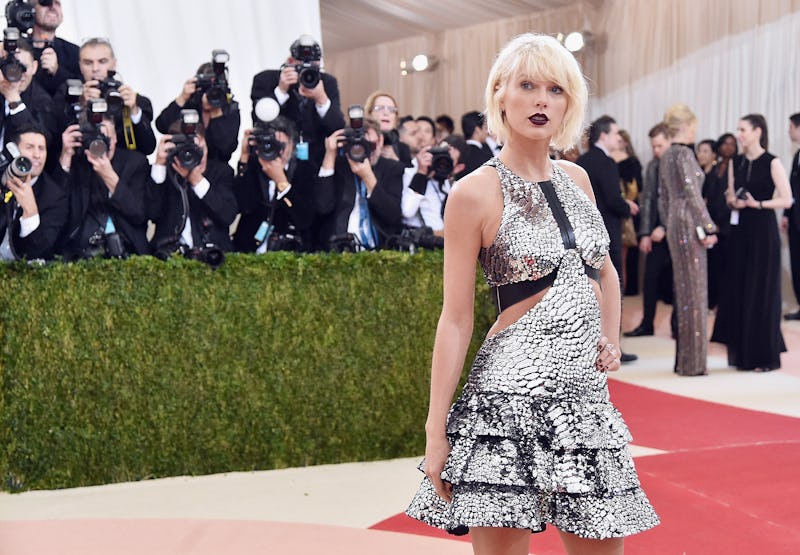 Mike Coppola/Getty Images Entertainment/Getty Images
Over the past couple of years, being a Taylor Swift fan has been a bit of an emotional roller coaster, and not just because I've been on the edge of my seat waiting for her to announce her next album. There have been breakups, high profile relationships, and a whole lot of social media silence from my girl in the recent past. But the one thing we'll always have: The Taylor Swift and Tom Hiddleston Met Gala Dance of 2016. It's hard to believe that was just a year ago, because so much has happened since then that it feels like a lifetime.
Before they made their relationship romantic that summer, May brought a run-in between Swift and Hiddleston at one of the biggest events in fashion all year. They were caught on camera dancing to T.I.'s "Bring Em Out" and Beyoncé's "Crazy In Love" (what else?), and there's a lot to love about that moment, even now. They seemed perfectly in sync as dance partners — what should have been our first clue that they'd end up dating — and as unexpected a pairing as they were, they totally killed it.
At that point in their short-lived love story, no one know what was to come. But there they were, dancing their hearts out.
Can you believe that was only a year ago? So much has changed since then, and sometimes, it's hard to decide whether Hiddleswift was a real relationship that happened or if it was just one of those things like that Sinbad movie Shazam, something an entire generation collectively thinks is real but never actually existed.
In the time since last year's Met Gala and now, Swift and longtime boyfriend Calvin Harris split, she and Hiddleston dated and then broke up three months later, and Swift has all but disappeared off the face of the Earth, emerging only to drop her surprise duet with Zayn, "I Don't Wanna Live Forever", and play a quick concert the night before the Super Bowl.
And that's not even all that's happened since then in the Swift universe. Might I remind you of the Kanye West incident, where Kim Kardashian shared Swift's phone call with West where she seemingly approved the lyrics written about her in his song "Famous"? And then, of course, came her response, which gave us the legendary phrase, "I would ver much like to be excluded from this narrative, one that I have never asked to be a part of."
Sometimes, I wish we could go back to a simpler time, when 1989 was all people cared about and Hiddleston and Swift's dance was just a cool, fun celeb moment. Instead, I will just wait for my mind to block out these difficult months as I continue to wait with bated breath for Swift's sixth album. It's gotta be coming soon, right?