Why 'Boss Baby: Back In Business' Fans Should Have A *Lot* To Look Forward To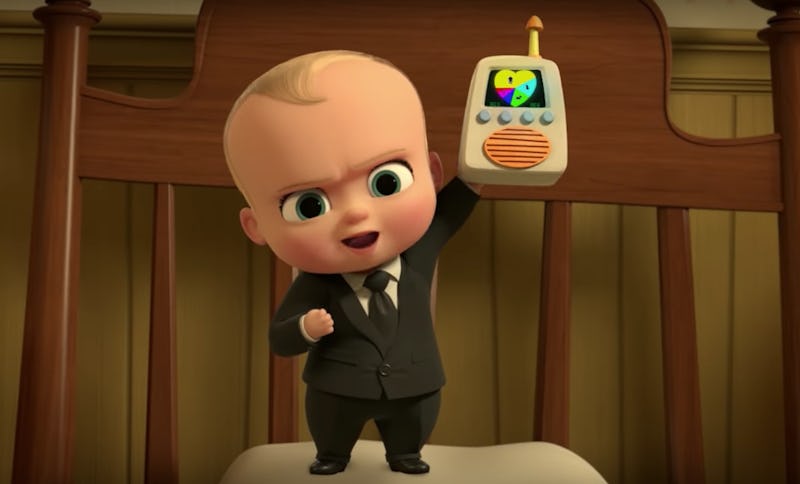 Screenshot/Netflix
The Boss Baby may be, well, back in business, but it's not yet clear if the future holds a Boss Baby: Back In Business Season 3. The animated series' second batch of episodes hits Netflix Oct. 12, and though a sequel for the original movie has already been announced, renewal plans for the TV spinoff remain up in the air. Still, there are a lot of reasons to expect the show will get another go-round, even if it takes some time before it's actually official.
The Boss Baby: Back In Business, an offshoot from the 2017 Oscar-nominated film of the same name, first made its debut in April 2018. Its creators had to make some necessary changes when moving the story from the big screen to the small, including a few cast substitutions and animation that doesn't quite have the big-budget sheen of a multi-million dollar movie. But it was clearly a win for Netflix; they wouldn't have renewed it for Season 2 otherwise.
In the past, the streaming service has had great success with Dreamworks properties like Boss Baby. All Hail King Julien, a spinoff of the Madagascar franchise, ran for five seasons from 2014 to 2017, and The Adventures Of Puss In Boots, a spinoff of the Shrek franchise, ran for six seasons from 2015 to 2018. Now that both of those series have reached the end of their respective ropes, it may leave room for The Boss Baby: BiB to fill the Dreamworks-shaped hole in Netflix's animated children's programming.
Plus, its been somewhat of a slow year for Dreamworks, which may mean they'll want to push extra hard to get Boss Baby back on TV. According to IMDb, this marks the first time in 18 years that the company is not releasing a film in theaters. It has sequels for many of its high-profile titles in the works — including new installments of How To Train Your Dragon, Trolls, and The Croods — but 2018 is, as a whole, quite stagnant. However, perhaps it's exactly this break in releases that helped secure Back In Business such a quick turnaround between Seasons 1 and 2. (The movie sequel isn't scheduled to premiere until 2021, whereas the show took only a short six months).
On top of that, Netflix has been enjoying a fruitful partnership with the company: It's now home to other Dreamworks spinoffs including Home: Adventures with Tip & Oh, Trolls: The Beat Goes On!, and The Epic Tales of Captain Underpants, the latter two of which debuted just earlier this year.
So, Dreamworks may have taken a break from releasing films in 2018, but it's been putting out a steady stream of online content, and is gearing up for even more with the upcoming She-Ra and the Princess of Power and Guillermo Del Toro's Tales Of Arcadia: 3Below. The Boss Baby: Back In Business may not have a third season secured just yet, but the fact that Dreamworks is expanding its animated TV roster so rapidly suggests that the series has a long future ahead of it.