The Chefs On Netflix's New Cooking Competition Show Are All Business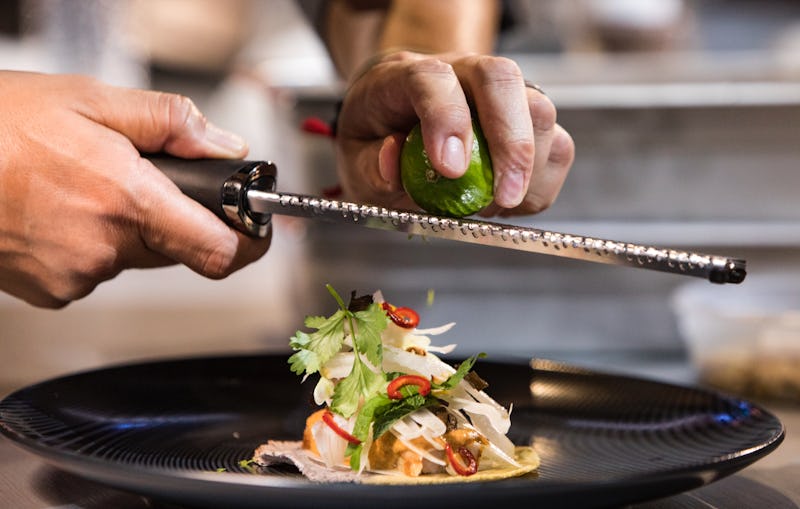 Adam Rose/Netflix
There are few things more addictive than cooking competitions on television. Hours can be lost watching professionals and amateur cooks alike battle it out while you shriek at them to use more salt from the comfort of your sofa. Cooking shows on Netflix aren't really anything new, but The Final Table, which drops an entire season on Nov. 20, puts a few twists on the genre. It's unclear if The Final Table will return for a Season 2, but its intriguing premise sounds like it has the potential for continuity.
According to Deadline, The Final Table brings together super talented and famous chefs from all around the world to create a kind of "global culinary competition." Whoever remains standing after the last cooking battle is won earns "a spot at the top table." The outlet reports that 12 teams of two chefs will band together in an effort to conquer the national dishes of various countries around the globe, and each episode will focus specifically on a certain nation's cuisine.
If this global twist wasn't already promising enough, there's also tons of talent present even among those who won't be doing any cooking. The series will be hosted by a Bon Appetit editor, Andrew Knowlton, and was created by MasterChef producers Robin Ashbrook and Yasmin Shackleton, the same article states. There's no word yet on if the streaming service has ordered more seasons after the first, but given that MasterChef just wrapped its ninth year on Fox, The Final Table is probably in good hands.
According to the Washington Post, viewers shouldn't expect to see fights and drama among competitors, or mid-service meltdowns like in Hell's Kitchen. There also isn't a cash prize that they're competing for — it's all about the drive to come out on top, and the challenge of tackling international dishes. Our show is all about the celebration of food," Shackleton told the Post. "We don't really care what the chefs think about each other. It's basically let the best man or woman win. They're all competing to show off their best selves and win a seat at the table."
Anticipation for what The Final Table could do for food TV is already sky high. Eater's Greg Morabito wrote that if Netflix can successfully pull it off, "The Final Table could make shows like Top Chef, Hell's Kitchen, and Chopped — all on the air for more than a decade — seem irrelevant." The contestants have also played up just how difficult the competition is, and how even their status as highly trained chefs didn't fully prepare them for what was about to go down. It required every ounce of guile, cunning and expertise for us to get through," Mark Best, an Australian competitor, told Gourmet Traveler of he and his partner's work. "It was the greatest professional challenge I've ever really had other than running a small business."
Even the host is startled by how seriously the show seems to be taking the skill necessary for it to be successful. "I started talking to the producers about the names — the contestants, the celebrity ambassadors, food critics, star chefs, and saw how they decided on who joins that level of expertise," Knowlton told the South China Morning Post. "I thought, 'This is no joke, this is the best of the best. It's about the beauty and artistry of cooking.'"
All of this is to say that if The Final Table's big plans are fruitful, a Season 2 seems pretty likely. All this work and prestige probably isn't going into a show whose creators only want it to be one and done. And as its pool of competitors span as far as you can get, they'll likely never run out of people who want to compete for a seat at the table.