'The Joel McHale' Show Is Changing Up Its Format For A Good Reason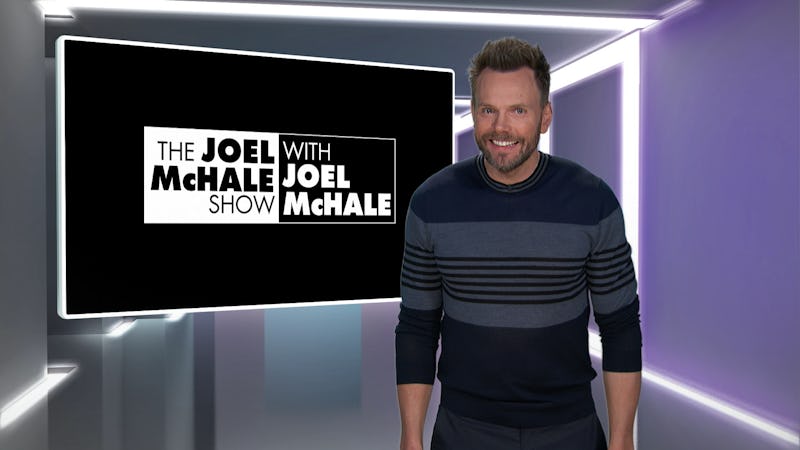 Netflix
The Joel McHale Show with Joel McHale returns Sunday, July 15 to Netflix with six more episodes. But will The Joel McHale Show with Joel McHale return for Season 2? Netflix has not made an announcement either way at this time, but say "Joel McHale" five more times and maybe they will.
During the last episode that landed on Netflix May 13, though Deadline had also announced days before, McHale himself revealed that Netflix had ordered six more episodes to debut July 15. Technically, these new episodes are still part of Season 1, but it does show that the streaming network is committed to the McHale brand.
One difference is that the second half of season one will be released simultaneously, instead of weekly. What does that say about, or mean for, the potential for a Season 2? In order to keep up with trending news pop culture, it may actually mean that Netflix will keep ordering more and more seasons. One full season a year would not be able to cover that much news, and part of the appeal of The Joel McHale Show with Joel McHale is that it comments on the more recent and frivolous topics in the news. Having to be more selective would hurt this show. So, there could be a batch of six new episodes every month or so, perhaps. It could also mean that they are gauging the show's audience, wondering whether the full season treatment attracts more viewers that would merit a Season 2.
"We are switching to an all at once [release]," McHale explained in an interview with Variety, "because they learned that even though it was coming out every week, people were watching it all at once — which was really easy to do when the first one came out, because there was only one. So we're just going to make the shows as if we're just gathering things every week and hopefully the jokes will be funny."
In the same interview, McHale said that the second half of Season 1 would operate as though it was receiving the news on a week by week basis and operate as kind of a summer recap season. Maybe Season 2 can drop in October or November of 2018, and serve as a fall recap? It's difficult to predict where Netflix will go with this series, so it's a good thing that The Joel McHale Show with Joel McHale has already proven to be flexible.
Honestly, so is its titular host. McHale can stand in front of a green screen and comment on the absurdities of popular culture for as long as one is provided to him. It's what he did on The Soup. It's what he's doing here. It's not super serious, and sometimes that tone is necessary. Remember all of the I Love... VH1 series? That's kind of what this is for present day, and in 2018 when all anyone can talk about is how upsetting it it to watch the world as we know it crumble around us, it's nice to have this kind of alternative. Remember that the lighter absurdities still exist. The goal of this show is simply to entertain.
"The Trump administration, no matter what your party is, takes up 90 percent of all entertainment now," said McHale in an interview with The Daily Beast, claiming that he himself is just "not smart enough" to engage with political discourse. "And news. But I want you to know, there is actually way more dumb programming out there that must be made fun of. There are a lot of silly reality shows that people are missing."
With such a quick extension of Season 1, Netflix has proven that they like working with McHale, so odds that this series will continue are high. When and how remains to be seen, but as long as there are silly reality shows to comment on, McHale will be there.