'The New Edition Story' May Inspire More Biopics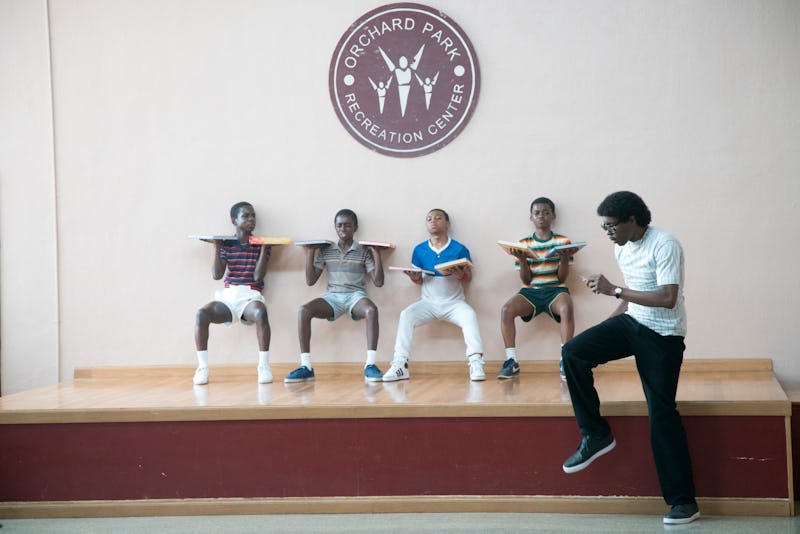 BET
Who knew that the rise and fall of a boy band could make for multiple fascinating nights of TV? The New Edition Story has been a pleasant surprise this winter; a pulpy and entertaining retelling of the life and times of New Edition, the pop/R&B group behind hits like "Cool It Now." Unfortunately, after its third two-hour installment airs on Thursday, Jan. 26, it doesn't seem like there will be more episodes of The New Edition Story. After all, it was always promoted as a three-night miniseries, and BET hasn't announced any intentions of changing that.
The series did pull in big ratings and was the network's most watched premiere in five years, according to Variety, so there is a chance BET will want to capitalize on that success. But the original three-episode TV miniseries covers almost the entire history of New Edition and its members, from childhood to adulthood, so there's not much more story to tell. The story wraps up so neatly and executive producer Jesse Collins told Yahoo! why he chose to end it that way. "To end on that big performance, we were trying to, in 11 minutes or however long it is, take you back through the film, and take you through all of the records that you love, and kind of remind you of the journey that these guys have traveled so that they can all stand there, the six of them, together," he said.
With that in mind, it's much more likely that following the success of The New Edition Story, BET will order another splashy miniseries about a different pop culture fixture that's simultaneously as recognizable and as unknown as New Edition. The best followups would also have a big catalog of songs, a group of characters that are fun to cast, and lots of drama.
Boyz II Men
This group was covered slightly by The New Edition Story — so perhaps Bryshere Grey, Keith Powers, and Elijah Kelly could return as their Bell Biv DeVoe characters, and this could be more of a direct spinoff or sequel to the New Edition biopic.
The Jackson Five
This story would be even more frustratingly tragic than the first half of The New Edition Story. The abuse patriarch Joe Jackson inflicted on his children is well-known, as he admitted to beating them with a strap on Oprah, and they managed to succeed in spite of his treatment.
Wu-Tang Clan
This group is huge, has a perfect rags-to-riches story, and is filled with lots of scandalous behavior. The original nine members of the group hail from all around New York City, making for some great on-location shooting, and there are so many interesting anecdotes about what the Wu-Tang got up to in the 1990s that would make for a great movie or series.
The Supremes
I know, you could just watch Dreamgirls... but the rise of this girl group is filled with a complicated personal history and a catchy collection of hits you'll be singing for days. And the casting search for young Diana Ross could uncover the next big cinematic diva.
G-Unit
While their music didn't really last outside of its mid-2000s boom, this group scores high marks for wild, that-can't-be-true stories. One of its members, rapper Tony Yayo, was actually in prison for a year of the group's rise serving a prison sentence. And if you 50 Cent gets involved as a producer, maybe the miniseries will turn out to be as sneakily great as Starz's Power.
Destiny's Child
I know it's probably impossible to do, but a miniseries about how this group went from Houston talent shows to the supergroup and Beyoncé incubator would be the ultimate girl-power transformation. The drama here could be all about original members LaTavia Roberson and LeToya Luckett leaving the group and it would certainly be entertaining to take a trip to a time before the iconic trio were such "Independent Women."
There are probably dozens of more stories that would be just as much fun as The New Edition Story. So while there probably won't be any more episodes of this specific series, it could kick off a great new trend for BET.