Critics Don't Like 'The Orville,' But That Can't Stop The Show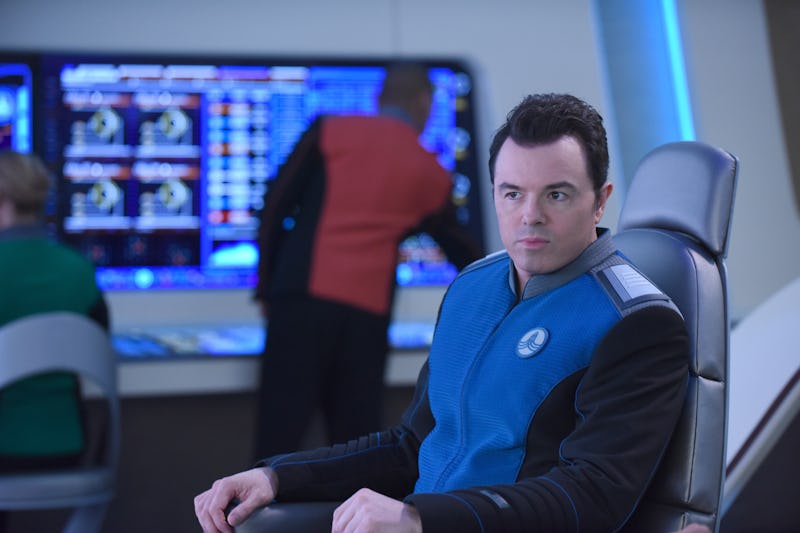 Ray Mickshaw/FOX
Seth MacFarlane's genre-twisting FOX series, The Orville, has been dividing fans and critics all season. It has a unique and slightly odd premise — combining sci-fi, a splash of drama, and a little bit of comedy, all brought together by the man who's helmed the raunchy and ridiculous Family Guy for nearly 20 years. Though the viewership seemed solid, many critics weren't fully on board, leaving the future of the show somewhat in the air for awhile — so, will The Orville return for Season 2?
According to Deadline, the show has been renewed for a second season by FOX, though the exact episode count and exact premiere date have not been determined. TV Guide, though, does predict the show will return in fall 2018. When it returns, the new season will also include an episode that was cut from the first season, likely in order to fit the finale in before the new year, according to TV Guide. In other words, cutting Season 1 short by one episode isn't any reason to worry about the show's future.
"Once again Seth has struck a powerful chord with viewers," FOX Entertainment president Michael Thorn said in a statement to Deadline about the renewal. "He has delivered a series full of optimism, drama, and his trademark humor. We want to thank him and the rest of the talented cast, as well as the producers and crew, for an incredible first season. We can't wait to see where The Orville travels in the second."
This isn't exactly surprising news as far as ratings go — Deadline reports in the same piece that the series even matched the ratings of this year's season premiere for the hugely successful This Is Us on NBC for in the 18-49 viewer demographic.
The show also has a 93 percent positive audience score on Rotten Tomatoes. That doesn't come without a caveat, though — its Rotten Tomatoes critics score is a low 21 percent. The Orville has been taken to the cleaners in TV reviews over everything from its very on-the-nose similarities to Star Trek and what some call its lack of direction, to its hour-long runtime and its sometimes jarring sense of humor. Liz Shannon Miller of IndieWire wrote in her review that though the show is meant to be a homage of sorts to Star Trek, it would "baffle" those who had never seen the sci-fi classic and "disturb" those who had. Maureen Ryan of Variety claimed that the show "certainly never makes a convincing case for its existence."
Rough crowd. But there also have been some voices speaking to the contrary. "It's not a perfect show. Some of the jokes do fall flat," Erik Kain wrote for Forbes. "But I love its spirit. I love that someone is actually trying to make a Star Trek show that isn't just filled with explosions, space battles, and gritty action." Given the show's renewal, Kain can't have been the only one who felt this way. MacFarlane's obvious enthusiasm for this pet project, coupled with the countless people who are fans of the TV veteran's work, no doubt helps bring viewers in.
In an interview with the New Yorker, MacFarlane embraced the idea that The Orville spans many genres. "Both comedy and drama have in common that you must excite viewers with surprise. You surprise them with a laugh or you surprise them with a story," he told the publication. "To me — God, a new adventure every week! That's inherently surprising. People don't know whether they're going to see an adventure show, a social allegory, a love story, or a comedy."
MacFarlane also said its meant to be a show parents can watch with kids, like Star Trek was, which could contribute to the high viewership despite its rocky first reviews — what parent really cares what critics say if their kids have fun looking at the cool spaceship? "The Orville is part drama, part comedy, but we did go out of our way to make the ship real and to make it appealing and to make it look like a place you'd want to be," MarFarlance told the New Yorker in the same interview. "Even though there are jokes in the show, it was very important that the world of The Orville still be very real, that you could look at it and go, That seems like a fun future."
It's definitely a unique type of show for the current TV climate. As MacFarlane notes, there isn't a plot arc spanning the entire season — characters often start fresh with new stories each episode. It's a more ambitious series than viewers might be used to seeing on a channel like FOX, and that makes it a gamble to produce. But if The Orville's Season 2 renewal is any indication, a show's success doesn't depend solely on what the critics think.