Weirdness Sets In Early On 'Fargo'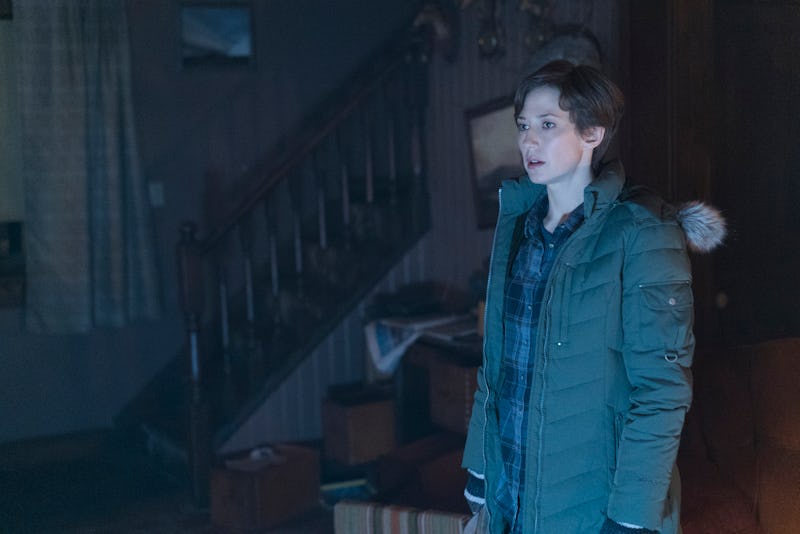 Chris Large/FX
Every iteration of Fargo begins with the disclaimer that "This is a true story." It's very specific, if totally inaccurate wording. According to the disclaimer, Fargo isn't just based on a true story, Fargo is a true story. But its relative realism is thrown immediately into question when the show toys with the supernatural. Otherworldly elements were a major force in Season 2, and the contents of Ennis' box in the premiere hints that supernatural elements could be returning to Fargo, in Season 3 and beyond.
Despite beginning each episode by reminding viewers that Fargo is a true story, all of the stories told on Fargo are fictional. This declaration makes it all the more surprising, however, when something abnormal occurs around the exceptionally normal midwesterners of the show. When Gloria Burgle (Carrie Coon) finds two vintage science fiction novels in the box her stepfather has hidden beneath the floorboards, it could just be an interesting character detail — or it could be announcing the return of the supernatural to Fargo.
There are spoilers for Season 1 and Season 2 of Fargo from this point on! The first season of Fargo only hinted at the supernatural, specifically when Molly Solverson stepped into her father's study and found what appeared to be some kind of alien language. It's revealed to be a language that Molly's father Lou created with the hopes of helping people communicate. Lou Solverson invented pre-emojis, basically. However in Season 2, we learned that Lou being interested in aliens isn't that far-fetched of an idea after all.
After brief sightings and rumors about aliens stopping by Minnesota, Fargo Season 2 ends in a bloody shootout that gets interrupted by a low-flying UFO observing the carnage. Much like Fargo Season 2 dipped its toes in the world of extraterrestrial phenomena early on before re-visiting it in a major way, the novels in the grandfather's box hint that Season 3 may be taking a much different approach to the paranormal.
The two books, credited to fictional author Thaddeus Mobley, are both science-fiction novels. One depicts a man on an alien planet being confronted by a robot, and the other depicts a massive creature that bears a striking resemblance to the incomprehensible monster Cthulhu. Season 2 deals with UFOs, but could Season 3 be taking a stab at the cosmic, haunting horror of H.P. Lovecraft?
The fictional author Thaddeus Mobley (played by Thomas Mann) will eventually be appearing in the show, meaning these books may very well just be books. But if they're merely regular novels, why hide them? Ennis' death occurs because he was in the wrong place at the wrong time, but the discovery of these books might uncover a big secret that the grumpy man had been keeping.
There's one more instance in the first Season 3 episode that hints to something weird going on in Eden Valley: Gloria Burgle's problems with automatic doors. Gloria is unable to be recognized by a motion censor at a convenience store, and an official promo for the season shows Gloria having ongoing troubles with them. It's a small detail that is more likely a meaningless error than evidence that Gloria is some kind of ghost or otherworldly being. But who knows?
Though a detail like Gloria's door problem may be insignificant, Fargo has proven time and time again that the random and absurd things that happen in the world could have major consequences for some regular people.