Why You Probably Won't Find This 'Vanderpump' Star Behind The Bar At Tom Tom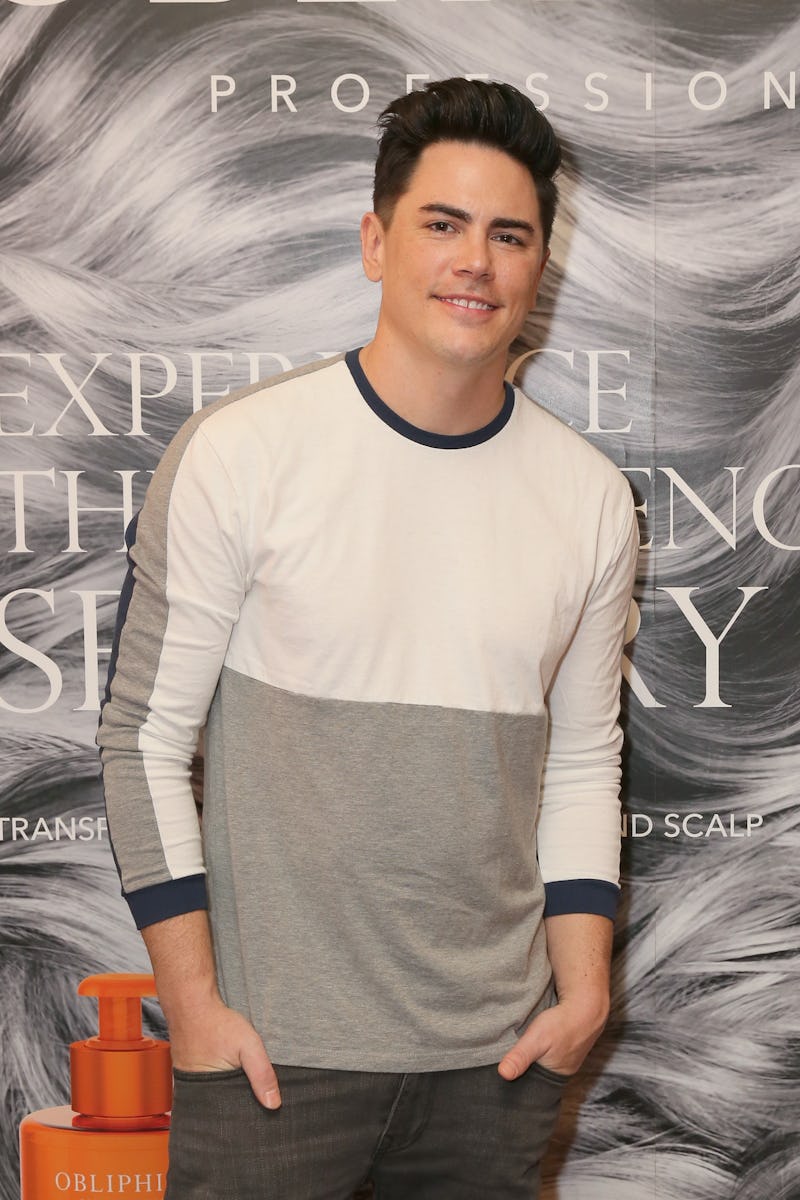 Rebecca Sapp/Getty Images Entertainment/Getty Images
Lisa Vanderpump is tough, but when she likes you, you're pretty much in. Case in point? Longtime SUR staples Tom Sandoval and Tom Schwartz have been offered a partnership in Lisa and husband Ken Todd's newest venture, Tom Tom. (Isn't the name perfect?) Work is full steam ahead on the new place, but will Vanderpump Rules' Tom Sandoval bartend at Tom Tom?
Let it be known that Tom Schwartz is not going to be behind the bar at this place — he tried to bartend for Lisa once when Pump opened, and it didn't go well. He got too flustered and nervous in his pink shirt that he had to bail on the whole thing. Maybe Schwartz is older and wiser now, but for the sake of the business, let's not have him slinging bottles. Sandoval, though, is well equipped for bartending. He started at Villa Blanca working for Lisa before moving onto SUR, and now, he'll move onto Lisa's newest venture. But that doesn't mean that he'll be behind the bar — Sandoval hasn't said much on the subject in interviews, but he's talked extensively on Vanderpump Rules about wanting to move up the food chain in a restaurant, to start making decisions and growing in his career as he hits his mid-30s. That's understandable. That's why it doesn't seem likely that Tom would be slinging drinks at Tom Tom. Maybe in the beginning, yeah, but Tom will probably want to focus on more on building a bar menu (he's a very talented bartender) than actually making the drinks.
First, though, let's focus on actually getting Tom Tom open. Slow progress of finding a place and putting it all together has been shown on Vanderpump Rules, and the Toms haven't exactly been helpful. They've hemmed and they've hawed about how much money they have to give Lisa and Ken in order to be partners (which is understandable, because it's a lot of money), and, on a recent business trip to Las Vegas, the Toms partied their faces off instead of prepping for a meeting. In turn, they were very late to meet Ken and Lisa and their designer, and all of their incessant questions did nothing but make Lisa really annoyed. Get it together, guys!
In an interview with Life & Style, Sandoval said of opening the restaurant, "We're working on it," he said. "We'll see what happens with that. It wasn't just something that was thrown out there like a casual thought, like, 'Maybe someday we should go to Paris.' It's something that we are working on and you'll find out what happens with that." At the beginning of February 2018, Schwartz told Bravo that Tom Tom was "60 percent done" and that the space that the Toms, Lisa, and Ken have created was something "really special."
Is it special enough to warrant its own spinoff show? Ariana, Sandoval's girlfriend, seems to think so. On a recent appearance on Danny Pellegrino's Everything Iconic podcast, Ariana said, "I think a spinoff show about Tom Tom would be great because Lisa and Ken would still be involved but then you would have Tom and Tom as the seniors and then you'd have all these fresh faces being servers." If it's one thing the Vanderpump Rules franchise could use, it's some new faces to stir up new drama.
There is one old face that has interest in working at Tom Tom, though — Sandoval's ex, Kristen Doute. In an interview with Entertainment Tonight, Kristen said of returning to the SUR family, "I've matured over the years and I think Lisa's finally starting to notice that. I think she's giving me an inch by inch." Kristen revealed that she has a dinner party for Tom and Ariana in an upcoming episode to showcase recipes from her new blog, Vegiholic, and she was interested in getting those recipes to Tom Tom. "I got] to really convince that group of people, like, not my best friends. Jax [Taylor], Tom Sandoval, Ariana that what I do isn't a joke and I maybe can help out at Tom Tom a little bit," Kristen said. "I think I have to convince Lisa first. And then convince Tom Sandoval, because Tom Schwartz is a pushover."
The Toms are the perfect guys to run the new restaurant, but it would be nice to see a new wave of faces and a few favorites on the floor at Tom Tom. Whether Sandoval will be behind the bar at Tom Tom is yet to be determined, but he'll definitely be putting his own spin on the restaurant's libations.