Looks Like A 'Vanderpump' Tom Tom Spinoff Might Actually Be Possible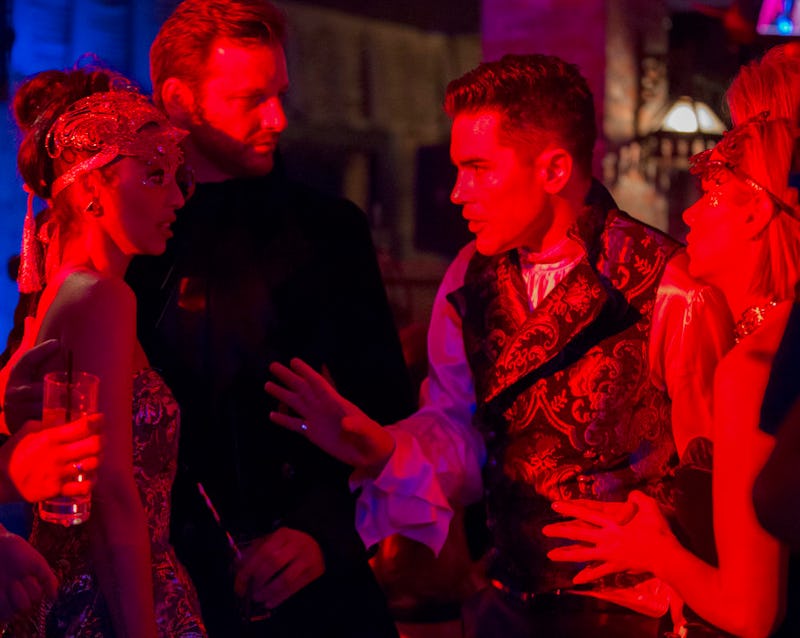 Isabella Vosmikova/Bravo
Toms Sandoval and Schwartz seem to have it pretty good on Vanderpump Rules — they're in relationships with cool women they love, and Lisa Vanderpump has entrusted them with her next new project. The Toms have partnered with Lisa and Ken on new bar Tom Tom, and most of their storylines for Vanderpump Rules Season 6 has focused on getting the restaurant off the ground. But will Tom Tom get its own show?
While there's no official word from Bravo quite yet, the cast seems like they'd be down to get their own show. Who wouldn't really? In a recent appearance on Danny Pellegrino's Everything Iconic podcast, Ariana, Sandoval's girlfriend, expressed that Tom Tom should break off from the Vanderpump Rules pack. "I think a spinoff show about Tom Tom would be great because Lisa and Ken would still be involved but then you would have Tom and Tom as the seniors and then you'd have all these fresh faces being servers." Basically, the Toms and Lisa and Ken would anchor the show, and we'd get the chance to meet a whole new slew of young, supple bartenders and servers to cause more drama. It's like a backdoor pilot into expanding Lisa Vanderpump's empire, which, I must say, I'm pretty down with.
This isn't the first time that Ariana has wished publicly for her own show. Even Brittany and Jax got their own spinoff, Vanderpump Rules: Jax & Brittany Take Kentucky, and that show wasn't even that interesting. Instead of a relationship vibe (which was all Jax and Brittany's show was really about), Ariana thinks she and Tom would do well with a travel show. "I'd love to have a younger Anthony Bourdain-type show," Ariana told NW magazine in Australia. The new spinoff could have "travel, eat amazing food, meet amazing people, go on adventures, help some people out along the way." Again, there are no plans in the works for spinoffs (at least that have been announced), so for now, this is all just a moot point.
Really, before the Toms can bring Tom Tom into the limelight, they need to open the place. In a recent trip to Las Vegas with Lisa and Ken, the Toms got way too drunk and were over an hour late to one of their business meetings, making Lisa angry. It's not smart to make the woman who signs all of your checks mad. Get it together, guys — you all think Jax is so old, but you're both in your mid-30s now, too. But I guess that this behavior has lessened or Lisa has ignored them entirely, because Tom Tom is slowly moving toward an opening. In an interview with Life & Style, Sandoval said, "We're working on it… It's something that we are working on and you'll find out what happens with that." At the beginning of February 2018, Schwartz told Bravo that Tom Tom was "60 percent done" and that the space that the Toms, Lisa, and Ken have created was something "really special."
Again, this is a "believe it when I see it" sort of situation. As Ariana said, Tom Tom really does have the makings of a great Vanderpump Rules spinoff — Sandoval ex Kristen Doute has even expressed interest in coming back to the SUR family and working at Tom Tom. ("I think I have to convince Lisa first. And then convince Tom Sandoval, because Tom Schwartz is a pushover," she told Entertainment Tonight. Charming.) This would be great television, and Vanderpump Rules fans would eat it up. But there needs to be a restaurant to cast and film in, so until Tom Tom is actually going to open, there's no need to talk about a Tom Tom spinoff. Yet.