Will Travis Kalanick's Resignation Finally Fix Uber?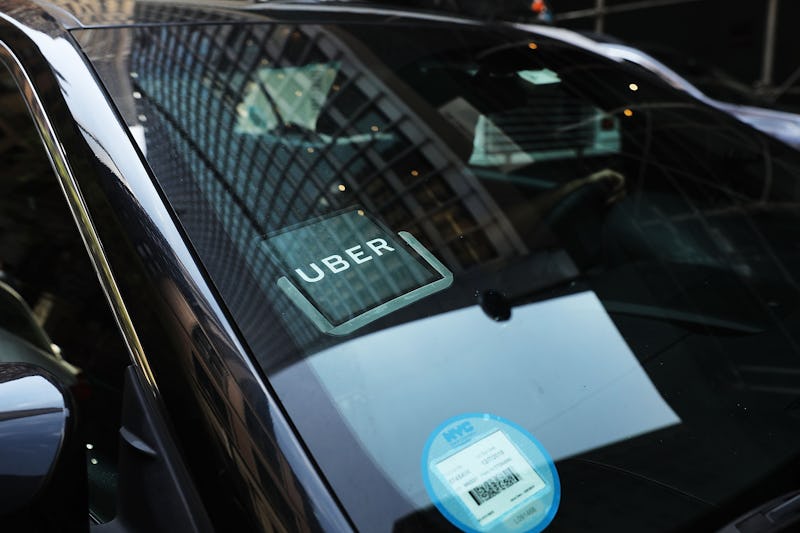 Spencer Platt/Getty Images News/Getty Images
In the wake of its beleaguered CEO's departure on Tuesday, Uber now has the opportunity for a fresh start. Travis Kalanick's resignation came after numerous female employees described a toxic work culture, rife with allegations of sexual harassment and discrimination. The question looming over the company, however, is whether Kalanick's successor, whoever it may be, can save Uber from itself.
Kalanick announced his resignation from the company on Tuesday via an Uber spokesperson. "I love Uber more than anything in the world and at this difficult moment in my personal life I have accepted the investors' request to step aside so that Uber can go back to building rather than be distracted with another fight," Kalanick said in the statement. Kalanick was already on an indefinite leave after his mother died in a boating accident in late May, and in April he was caught on video yelling at one of his employees.
Kalanick had been bogged down by troubles in the past few months, beginning with a blog post by a female Uber employee that documented the pervasive culture of sexual harassment, mostly targeting women, which was published in February. Susan Fowler, a site reliability engineer, revealed that Uber's human resources department declined multiple times to intervene after she reported various instances of alleged gender discrimination. Just a few weeks before Kalanick announced his resignation from the company, Uber fired more than 20 employees in connection with these and other harassment claims.
The culture of harassment and misogyny within Uber has been widely reported, and some point to Kalanick's leadership for fostering certain corporate values at Uber and failing to address harassment claims sooner. In response to Fowler's blog post, Kalanick quickly issued a statement promising a full investigation and hired former attorney general Eric Holder to lead the probe.
Ultimately, the capacity for change within the company is limited by the values of the next CEO. Ideally, a woman would fill the role, both for representation and advocacy purposes. However, she could face serious pushback from investors to focus on revitalizing other parts of the company's limping corporate image and still end up leaving little unchanged in the corporate infrastructure that allowed these sexual harassment issues to perpetuate for so long — one news story is already citing profitability as one of the main challenges for the next Uber CEO. Bustle has reached out to Uber for comment on the process of its new CEO search and which corporate values the company aims to prioritize, but did not immediately receive a response.
Corporations don't usually have great track records of making the workplace safer for women after issues within the company culture are exposed. American Apparel let their CEO's sexual harassment allegations and public misconduct pile up for 10 years before finally firing him in 2014, and the company shut down less than three years later.
HP fired CEO Mark Hurd for a sexual harassment allegation, but made no other major changes in corporate policy or staffing (though one former HP employee who suffered from harassment wrote that her experience reporting to HP was smooth, even before Hurd's firing). Instead, people commented on how unfair it was that Hurd lost his position, despite the fact that he moved on to a different multi-billion-dollar corporation a month later.
Uber's two options, at least based on a historical context, are grow or die. HP quickly moved past the incident, while American Apparel went down with its CEO.
However, neither of those companies actually had significant change in their corporate culture after their scandal, and that doesn't seem like it'll fly in the era of digital activism. Uber's current valuation of around $68 billion seems too big to fail, but people are exceptionally conscious of how they spend their money these days. The #DeleteUber campaign that surged after Fowler's blog post and the Trump administration's first travel ban led to over 500,000 users deleting their accounts. Without a big, public to-do revamping Uber's corporate culture, competitors and activists could keep chipping away at the company's consumer base until it's lost its place as the industry leader.
Assuming that Uber wants to maintain its position as ridesharing king, the company could be the first in a new model of how to deal with corporate sexual harassment scandals, updated for the age of social media. Transparency and equality are two of the biggest demands that people have for their governments and corporations now, and if Uber can't provide those, their PR problems may continue. That means videos, live chats, Twitter conversations, and plenty of other interactive opportunities for customers to get their frustrations out and feel like they're being heard. Uber has a chance to completely revitalize their corporate image — how successfully they follow through on it remains to be seen.