New Orleans Is Preparing For The Worst With Tropical Storm Nate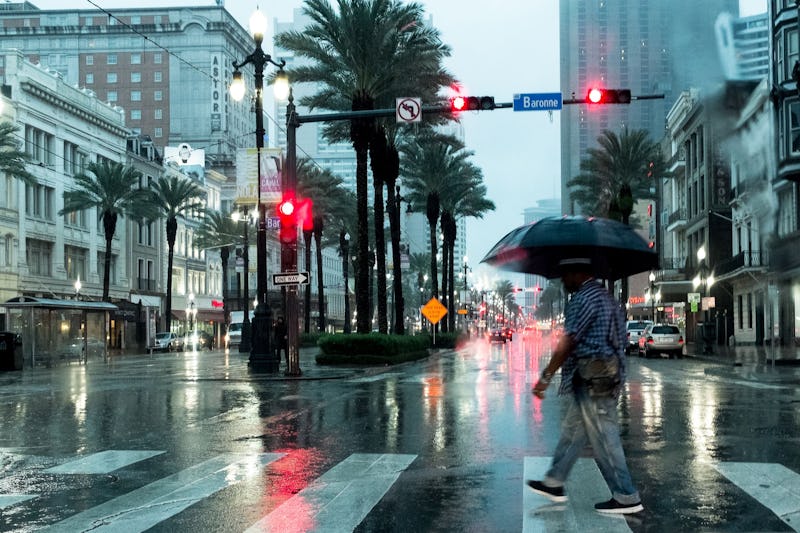 SHAWN FINK/AFP/Getty Images
As the nation learned back in the days of the George W. Bush administration when Hurricane Katrina came and irrevocably changed the city of New Orleans, the Louisianan cultural center was not prepared to handle serious weather events. Now, it's looking very likely that Tropical Storm Nate will hit New Orleans, in what could become the next weather-related challenge that the Trump administration will have to deal with.
Even just as a tropical storm, Nate has already turned deadly in Central America, where at least 22 people have lost their lives in Costa Rica, Nicaragua, and Honduras, mostly because of flooding and mudslides. It's now expected that the storm will head north, first toward the Yucatan Peninsula of Mexico, and then toward the U.S. Gulf Coast. Besides its likely brush with the Mexican coast, the storm will travel over warm water for its entire journey north, and due to those favorable conditions, it could strengthen into a Category 1, 2, or even 3 hurricane in less than a day.
Whereas earlier predictions of Tropical Storm Nate's trajectory gave it a higher chance of moving slightly eastward and heading toward the Florida panhandle, the latest predictions have it heading directly toward New Orleans.
While things could, of course, still change, the National Hurricane Center now estimates that the storm could batter New Orleans as early as Sunday morning. In preparation for that event, Mayor Mitch Landrieu of New Orleans has declared a state of emergency for the city, advising all residents to protect themselves and their property accordingly. Authorities have not issued any mandatory evacuation orders, although Louisiana Gov. John Bel Edwards has directed 1,300 National Guard troops to be ready to help out in the aftermath of the storm. Additionally, the mayor suggested that people in especially low-lying areas should leave their homes.
If Nate brings a lot of heavy rainfall with it, the city could be in particular trouble because of an ailing drainage system. Heavy rainstorms in August led to some flooding, and the city is still fixing the pumps that were left damaged in the wake of those storms. Much of the U.S. Gulf Coast is already looking out for the storm surge that Nate is expected to bring with it, and the same area can likely expect at least 3 to 6 inches of rain. Although authorities have been working to fix New Orleans' drainage system as quickly as possible, this storm would undoubtedly pose a challenge.
In an effort to keep everyone as safe as possible, officials in Alabama, Mississippi, and Florida, in addition to those in Louisiana, are all keeping an eye on the storm. Gov. Rick Scott has already declared a state of emergency for 29 counties in Florida, in anticipation of heavy rains that could come to areas already affected by Hurricane Irma last month. And in Alabama, the governor has declared a statewide state of emergency, to begin on Saturday. And off of the mainland, BP has evacuated all personnel from their oil rigs in the Gulf of Mexico and halted all oil and natural gas production in the area.
While Tropical Storm Nate hasn't reached the potential levels of destruction that came with Hurricanes Harvey, Irma, and Maria, no one is willing to take any chances when it comes to preparation in this abnormally strong hurricane season. In a best-case scenario, the storm won't ever reach the sustained wind speeds necessary to be classified a hurricane. However, none of the authorities want to risk being unprepared for the worst-case scenario — which, in this case, could be turn into a serious hurricane barreling right into the U.S. Gulf Coast.