Will Rex Tillerson Lose His Job For Reportedly Calling Trump A "Moron"?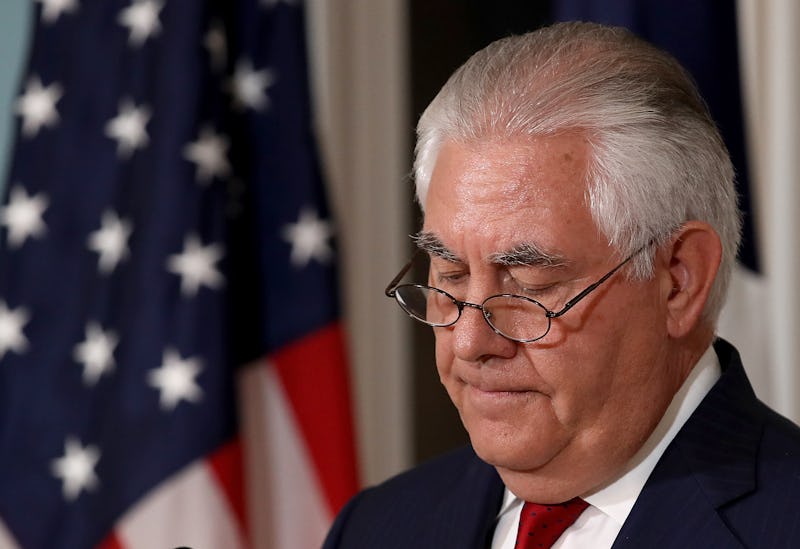 Win McNamee/Getty Images News/Getty Images
According to a report from Axios, advisers close to President Donald Trump are recommending that he consider firing Secretary of State Rex Tillerson and replace him with former House Representative and current CIA Director Mike Pompeo. Such a move would be just the latest in a long line of high-level cabinet reshuffles, however, which is part of the reason White House Chief of Staff John Kelly is reportedly against the idea. So, the big question: Will Tillerson be fired, and could Pompeo get his old job?
One thing is clear, and that's the impression such a move would leave on the public, the media, and the Washington establishment. Generally, presidents aren't firing their secretaries of state less than a year into their first terms, for the simple reason that it makes them look bad, like they made a mistake on the hire in the first place. And for a figure like Trump, whose political brand has been based in part on his business career and his reputation, at the very least, as a deal-maker and a savvy manager, the perils are obvious.
It would also be the second time he's cannibalized his own cabinet after a high-level firing. When he gave former White House Chief of Staff Reince Priebus the boot earlier this year, he plucked Kelly from the top of the Department of Homeland Security, and he still hasn't appointed a permanent replacement. Pulling Pompeo out of the CIA job would leave both the country's chief intelligence agency and its homeland security department without permanent leaders, at least for the time being. That's the sort of shakeup, and in the sorts of positions, that most presidents would likely be loath to do.
But if anything's become blatantly, glaringly clear over the past several months, it's that you can't predict Trump's hiring and firing decisions against those of most presidents. Considering he's already dumped a slew of high-ranking officials, both in scandalous and non-scandalous circumstances ― people like Priebus, Mike Flynn, James Comey, Tom Price, Sean Spicer, Steve Bannon, and Anthony Scaramucci ― bumping Tillerson out the door to make room for Pompeo wouldn't be that big of a stretch.
Also, it's worth considering the hot water Tillerson has been in since NBC News' explosive report broke earlier this week, alleging that the 65-year-old former ExxonMobil CEO wanted to resign in July and also derided Trump in private as a "moron." While Tillerson vehemently denied ever considering resigning in an unexpected press conference on Tuesday morning, he noticeably did not deny the "moron" remark, instead accusing it of being a "petty" story he wouldn't address.
Trump publicly decried the initial report as "fake news," even calling for a Senate Intelligence Committee investigation into "the Fake News Networks."
According to a subsequent NBC News report, however, Trump didn't act like he believed that behind closed doors ― he reportedly fumed at Tillerson in private, hostility that only worsened when Tillerson failed to directly and forcefully deny the "moron" quote.
In other words, while it's impossible to know for certain, it sounds like the United States of America could be in need of a new secretary of state fairly soon. And once that position is filled, it sounds like it might need a new CIA director, to boot. There hasn't been much reporting just yet about whom Trump might select to replace Pompeo as the head of the CIA if it came to that, however, and judging by Trump's lateness in tabbing a permanent DHS chief, it's possible that the CIA's deputy director, Gina Haspel, could be in for a long stint in the top job.