Will Trump & Putin Get Along? Here's What They've Said About Each Other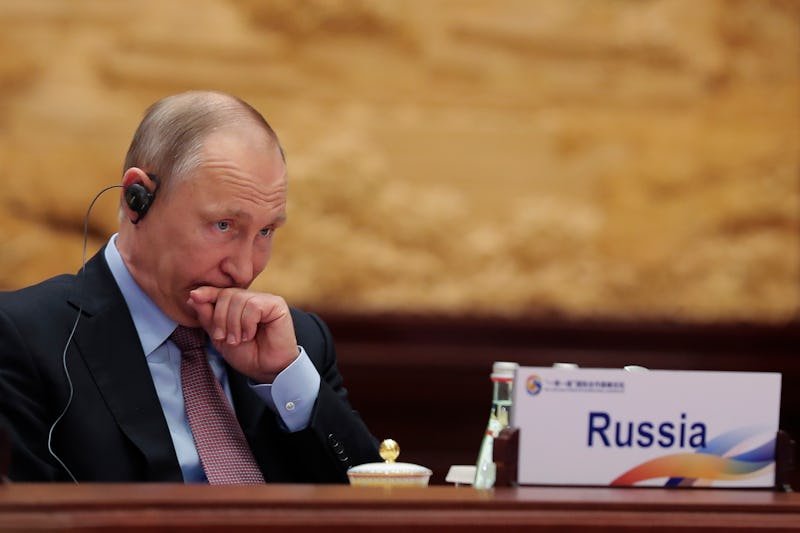 Lintao Zhang/Getty Images News/Getty Images
On Friday, President Donald Trump and Russian President Vladimir Putin will meet at the G20 summit in Hamburg, Germany, for the first time. It's difficult to predict how the meeting will go and if Trump and Putin will get along, but the two men have offered many compliments about, if not directly to each other for many years now.
Take Trump's joint news conference with Polish President Andrzej Duda on Thursday. Trump hesitated to place responsibility solely on Russia for the country's interference in the U.S. election in 2016, saying, "I think it very well could be Russia, but I think it very well could have been other countries."
He did not offer up evidence that would suggest other countries were involved or elaborate on which other countries that would be. (The U.S. intelligence community, including the FBI, CIA, and NSA, have concluded that Russia intervened in the 2016 election.) Critics said Trump missed an opportunity to stand firm against his Russian counterpart.
Yet, some are hoping that the president will do so on Friday, when the two finally meet in person. According to CNN, Trump has been given a binder on Putin and other G20 leaders ahead of the meeting to prepare him. The Los Angeles Times reported that Trump was also offered "tweet-length" sentences to refer to in his conversation with Putin.
Several officials have been prepping Trump for the meeting, CNN reported, including Defense Secretary James Mattis, Secretary of State Rex Tillerson, and National Safety Council Senior Director for European and Russian Affairs Fiona Hill.
Here's what Trump and Putin have said about each other to give you an idea of how their meeting on Friday might turn out.
Trump On Putin: October 2007
During an interview with Larry King, Trump said, "Look at Putin — what he's doing with Russia — I mean, you know, what's going on over there. I mean this guy has done — whether you like him or don't like him — he's doing a great job... in rebuilding the image of Russia and also rebuilding Russia, period."
Trump On Putin: September 2008
"I really like Vladimir Putin. I respect him. He does his job really well," Trump reportedly told the Russian media outlet Chayka, according to Paste. "Much better than our Bush."
Trump On Putin: December 2011
In his book, Time to Get Tough, Trump wrote, "Putin has big plans for Russia. He wants to edge out its neighbors so that Russia can dominate oil supplies to all of Europe. I respect Putin and Russians but cannot believe our leader (Obama) allows them to get away with so much... Hats off to the Russians."
Trump On Putin: June 2013
Ahead of the Miss Universe Pageant held in Moscow, Trump tweeted, "Do you think Putin will be going to The Miss Universe Pageant in November in Moscow - if so, will he become my new best friend?"
Trump On Putin: September 2013
During an interview with CNBC, Trump talked about Putin's editorial in the New York Times, saying, "Well, I thought it was an amazingly well-written — I was very surprised by it actually — very well written letter, if you're from Russia, in terms of representing Russia. I thought he did an amazing job. He brought in so much. And it was tough. And I doubt that President Obama knew it was coming. I think this was a sneak attack, and it was a very tough letter. When you read that the second and third time, you see how really tough it was."
Trump On Putin: November 2013
According to The Washington Post, in an interview during the Miss Universe Pageant held in Russia, Trump touted his "relationship with [Putin]." Trump said of his relationship to Putin,
I do have a relationship and I can tell you that he's very interested in what we're doing here today. He's probably very interested in what you and I are saying today, and I'm sure he's going to be seeing it in some form. But I do have a relationship with him.
Trump On Putin: March 2014
In a speech to the Conservative Political Action Conference, Trump said Putin sent him a gift while he was in Russia for Miss Universe.
Trump On Putin: May 2014
At a National Press Club speech, Trump said while he was in Russia, "I spoke indirectly — and directly — with President Putin, who could not have been nicer."
Trump On Putin: October 2015
In an interview with CBS's "Face the Nation," Trump told host John Dickerson that he and Putin are very different, but that he thought he would "get along very well with him."
"He does not like Obama at all," Trump said. "He doesn't respect Obama at all. And I'm sure that Obama doesn't like him very much. But I think that I would probably get along with him very well. And I don't think you'd be having the kind of problems that you're having right now."
Trump On Putin: November 2015
During a Republican presidential debate, Trump said he got to know Putin "very well" when they "were both on 60 Minutes" in September 2015. However, Trump and Putin did not meet that night, as their parts of the show were, in fact, taped separately.
Putin On Trump: December 2015
During the Republican candidate primaries, Putin called Trump "an absolute leader in the presidential race." He told reporters Trump is, "a very lively man, talented without doubt."
"He's saying he wants to go to another level of relations — closer, deeper relations with Russia," Putin said. "How can we not welcome that? Of course we welcome that."
Putin On Trump: June 2016
While speaking at the Russian Economic Forum in St. Petersburg, Putin called Trump "bright" and complimented him on his words about improving U.S.-Russia relations.
Trump On Putin: July 2016
Following the leaked Democratic National Convention emails, Trump took to Twitter to speculate that Russia was responsible because Putin wanted to see Trump win the election.
Trump On Putin: February 2017
During an interview with former Fox News anchor Bill O'Reilly that aired during the Super Bowl, Trump defended Putin against allegations that he's a killer, but didn't quite go so far to say that he would get along with him. He told O'Reilly:
Well, I respect a lot of people but that doesn't mean I'm going to get along with him. He's a leader of his country. I say it's better to get along with Russia than not. And if Russia helps us in the fight against ISIS, which is a major fight, and Islamic terrorism all over the world — that's a good thing. Will I get along with him? I have no idea.
The complicated relationship between Trump and Putin has sparked a bromance story (and plenty of memes to boot), though it's unclear if that will continue after they meet in person. Trump may have walked back some of his prior praise of Putin slightly in the last year, but most likely their first meeting on Friday will be mutually civil.