A Fellow Justice Once Proposed To Sandra Day O'Connor — And Barely Anyone Knew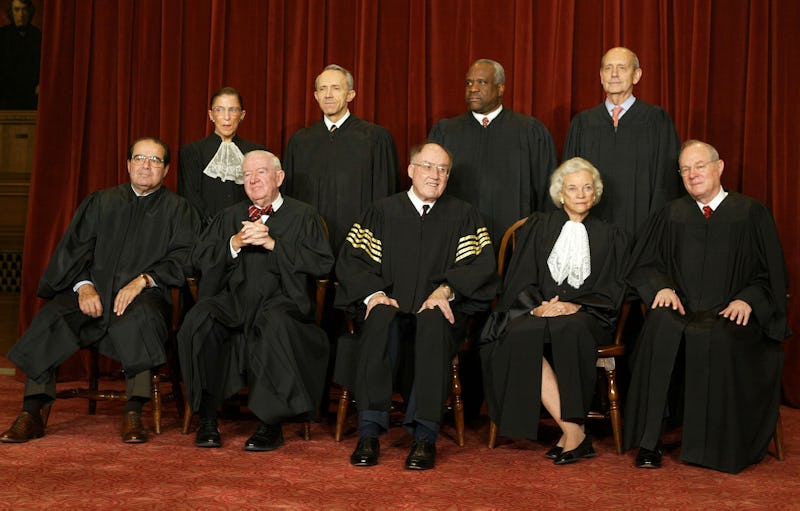 Mark Wilson/Getty Images News/Getty Images
It was a coincidence of fate — and a love story not meant to be. A new biography of the first female Supreme Court Justice coming out in March reveals that the late Justice William Rehnquist proposed to Sandra Day O'Connor in the 1950s, long before either one was confirmed to the bench. Many of the two's family and friends didn't even know, says O'Connor's biographer, Evan Thomas.
O'Connor and Rehnquist have never hidden the fact that they dated in law school, according to NPR, but both of them apparently downplayed the relationship. The two future justices met in 1949 at Stanford University, when she was just 19. Even after she broke it off, they reportedly maintained a good relationship as classmates, studying together and entering an academic competition as partners.
After Rehnquist graduated, O'Connor started dating John O'Connor, a fellow Stanford law student. Thomas told CNN's Chris Cillizza the two were inseparable. After going out for a beer following a proofreading assignment, "they went out the next 40 nights in a row," he said. But according to letters Thomas unearthed in a box of O'Connor's correspondence, it turned out Rehnquist wasn't over his old flame. Working as a Supreme Court clerk, "from Washington, he began writing ever more ardent letters to 'Sandy' back in law school, and in March asked her to marry him," Thomas said.
After telling her in a previous letter that he wanted to meet to talk about "important things," on March 29 he wrote, "To be specific, Sandy, will you marry me this summer?" According to Evans' research, O'Connor waited until July to turn him down. In September, John proposed, and that December, he and O'Connor were married.
It seems unlikely that the situation resulted in tragic heartbreak, though, because around the same time, Rehnquist met Nan Cornell, the woman he would marry the next year. The two spent almost 40 years together until Cornell died in 1991. According to NPR, shortly before Rehnquist died in 2005, he told a friend that Cornell was the only woman he'd ever loved.
Rehnquist was confirmed to the Supreme Court in 1972, and was appointed Chief Justice in 1986. He was a fairly conservative judge — one of two to dissent on Roe v. Wade — known for his pragmatic and even-tempered demeanor. O'Connor made history in 1981, when she was appointed by President Reagan (possibly, at the suggestion of Rehnquist, according to NPR) as the first female SCOTUS justice.
O'Connor was certainly at the more liberal end of the justice spectrum, serving as the "yes" swing vote in Planned Parent v. Casey, the 1991 case that reaffirmed Roe. (Rehnquist, on the other hand, voted "no.") Despite their ideological differences, Thomas says, O'Connor and Rehnquist remained good friends on the bench. "Other justices could see that O'Connor and Rehnquist were personally close and teased each other at the justices' weekly lunches," he told Cillizza.
Rehnquist died of thyroid cancer just a few months after O'Connor announced her resignation from the court. She remembered him fondly at his funeral, speaking about his habit of challenging bets on things like sports, and even the level of snowfall outside court chambers, according to The New York Times.
"If you valued your money, you would be careful about betting with the chief; he usually won," she told the more than 1,000 attendees. "I think the chief bet he could live out another term despite his illness. He lost that bet, as did all of us, but he won all the prizes for a life well-lived. We love you, William Hubbs Rehnquist."