Larry Nassar's Former Boss Allegedly Kept A Video Of Him "Treating" A Female Patient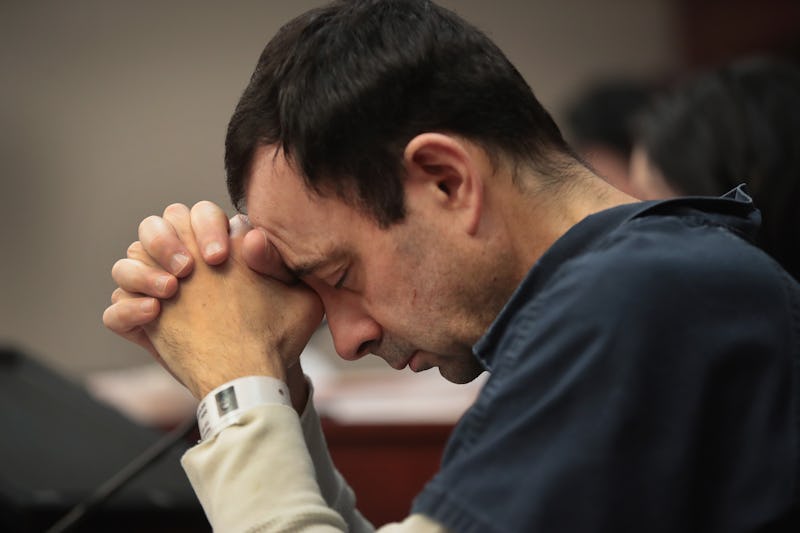 Scott Olson/Getty Images News/Getty Images
In March, former Olympics doctor Larry Nassar was given an effective life sentence after being convicted of sexually assaulting several of his patients. Now, BuzzFeed News reports that former Michigan State University Dean William Strampel allegedly has video of Nassar "treating" a patient, and furthermore, that he sexually harassed and assaulted female students when he was a dean at the school. Strampel, who was arrested on Monday, was Nassar's boss at MSU, and had overseen a 2014 internal investigation that cleared Nassar of any wrongdoing. Strampel has not publicly commented on the allegations. Bustle has reached out to Strampel's lawyer for comment.
According to BuzzFeed News, Strampel is being accused of sexually harassing his female students, sexually assaulting at least one of them, botching the investigation into Nassar's conduct, and having pornography on a work computer. He now faces a felony charge of misconduct in office, a misdemeanor of criminal sexual conduct and two misdemeanor counts of willful neglect of duty, and has been booked in Ingham County Jail.
Over 200 women have accused Nassar of sexually assaulting them under the guise of providing medical treatment. Several of his victims were minors at the time. Nassar was also charged with possession of child pornography, and after several trials in multiple counties, he was ultimately sentenced to a minimum of 100 years in prison.
In an affidavit obtained by the Detroit Free-Press, prosecutors accused Strampel of allowing Nassar to continue seeing his patients as the internal investigation was ongoing, and failing to enforce new protocols that were implemented after the investigation completed.
"Despite his representation of his (and the College) intended response to the allegations against Nassar, Strampel did not actually enforce or monitor the protocols, nor did he alert other employees in the sports medicine clinic about the existence of the protocols, let alone order that they be followed with respect to Nassar," the affidavit reads.
Prosecutors also detailed several specific allegations against Strampel, including that in 2010, Strampel approached a student from behind and grabbed her butt. According to the affidavit, the woman later told police that she didn't report the incident at the time because she "did not want to be thrown out of medical school.
Strampel is also alleged to have summoned that same student to his office after she fell asleep during class, and ordered her to stand up and turn around so he could look at her body. Prosecutors say that he then berated her for roughly an hour and said that she'd never make it in the medical profession if she didn't dress sexier. The affidavit describes several other incidents between Strampel in this student, including one wherein he allegedly said that he needed to "teach [her] to be submissive and subordinate to men."
Prosecutors also claim that Strampel made comments to a different student that she interpreted as a solicitation to send him nude photographs of herself. That same student also recounted another incident in which Strampel, after rejecting her appeal to retake a test, allegedly launched into a conversation about older men sleeping with 26-year-old women. The student was 26 at the time, the affidavit says.
Lastly, prosecutors say that Strampel had about 50 pornographic photos on his work computer.
Strampel was fired and stripped of his tenure in February, with Interim MSU President John Engler saying at the time that the former dean of the College of Osteopathic Medicine "did not act with the level of professionalism we expect from individuals who hold senior leadership positions." Engler included, in the statement, that "allegations have arisen that question whether his personal conduct over a long period of time met MSU's standards."