This Moving 'Will & Grace' Moment Is A Huge Win For LGBTQ Representation On Television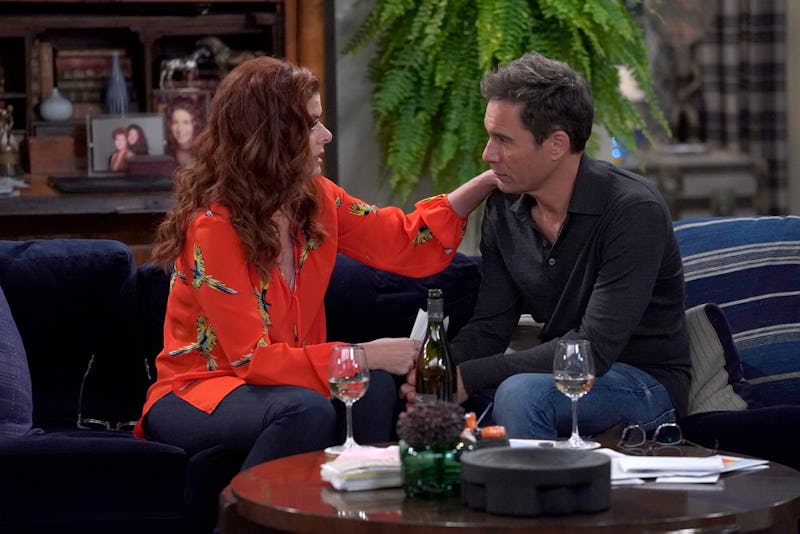 Chris Haston/NBC
Spoilers ahead for Will & Grace Season 2, Episode 4. Will & Grace tends to keep things light, but Thursday night's episode came with a particularly heavy exchange. The fact that Will is gay is, of course, well-established on the show, but in "Who's Sorry Now?" viewers learn more about Will's coming out story on Will & Grace, and it proves the series — once a pioneering force for gay representation — is still telling important LGBTQ+ stories. Warning: This post contains information about suicide and self-harm, which some may find triggering.
How Will and Grace met was documented back in Season 3 of the original series: They dated when they were students at Columbia University. However, just as Grace came to the decision that she was ready to have sex with Will, Jack, then a new friend, helped Will accept that he was gay. Afterward, Will went home with Grace for Thanksgiving, where she began trying to proposition him. In a panicked effort to fend off her advances, he said he loved her and pseudo-proposed, and it was only after Grace had told her family about their engagement that he decided to come out to her. Devastated and enraged, Grace didn't speak to him for an entire year, and if it weren't for a random encounter at a grocery store, they may have never reunited and become lifelong friends (well, lifelong if you ignore the original series ending).
As Megan Reynolds noted for Vulture in 2016, gay male-straight female friendships beginning with misguided romantic interest is, by now, a common trope on television. And "Who's Sorry Now?" highlights the fact that many of the gay men in these friendships only serve to tell straight women's stories. Will has always been a fully realized character on Will & Grace, but in Grace's mind, he's just a sidekick. And his coming out, to her, has always been about how it impacted her life, not his.
Even in the Season 3 episode, Grace introduced the '80s flashback by saying, "It was an incredibly difficult time in my life." She also got mad at Will all over again when she found out that he slept with a woman after they broke up. "I thought that I was the one that changed your life," she cried to him. That episode happened 15 years after that fateful Thanksgiving, but she had yet to realize how much more difficult it likely was for Will. And now, 15 years after that, she still doesn't get it. Not until she finds an old, unopened letter from Will does she truly express any sympathy for his experience.
In the letter, Will says he wishes that he wasn't gay and even talks about hurting himself. This isn't uncommon: The Trevor Project reports that, on average, LGBTQ+ youth think about suicide three times more than straight youth and are five times more likely to have attempted suicide. While Will & Grace broke barriers for gay characters on TV, mental health in the LGBTQ+ community wasn't discussed as much when it aired in the late '90s and early 2000s. So the revival is picking back up its pioneering torch and addressing this all-too-real issue on-screen.
When Graces does read the letter, she's overcome with emotion. "You were tortured and I never even thought about that," she says. It comes after they've been fighting over something petty — that Grace ate all of the almond butter — but she's incapable of apologizing. Will has this "aha!" moment that Grace justifies her selfish behavior because she hasn't let go of how Will hurt her back in 1985, despite him apologizing repeatedly and profusely over the years. Now, he sees that he shouldn't have had to apologize for simply being himself. "You didn't even think maybe I was going through something too. Maybe I needed my best friend," he tells her.
Will asked for support from Grace when he first came out to her (especially since she was the first person he uttered the words "I'm gay" to). And while she's right that it wasn't fair for him to propose to her, Grace outed Will to her mom and reacted so extremely that Will calls it "the worst moment" of his life. Afterward, she refused to speak to him and didn't even give him the courtesy of reading the letter he sent to her. But 30 years later, Grace is finally able to see past herself.
"You're right, I didn't think about your pain. I only thought about mine. Because that's the way the story of the gay guy and the straight girl's always told," Grace says. "But you were just being who you are and you were scared to death that the world was gonna find out and hate you for it." She tells him how sorry she is and says that Will being gay has only enriched her life.
Grace should've been mature enough to realize this before reading Will's letter. But this is a classic case of "better later than never," and their friendship can only grow from here on out. So just when you think Will and Grace's friendship can't get any stronger, this moving moment proves that Will and Grace as characters and Will & Grace as a show are still capable of evolving.
If you or someone you know is experiencing suicidal thoughts, call the National Suicide Prevention Hotline at 1-800-273-8255 or text HOME to the Crisis Text Line at 741741. You can also reach out to the Trans Lifeline at 877-565-8860 or the Trevor Lifeline at 1-866-488-7386, or to your local suicide crisis center.