This Eyeshadow Palette Was Inspired By Coffee — And It Actually Smells Like Espresso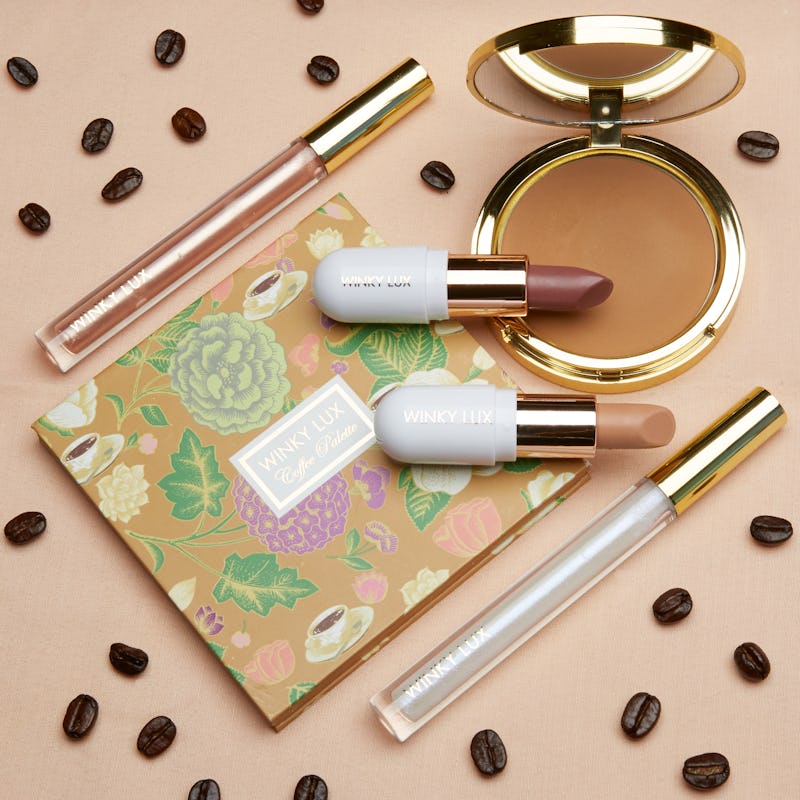 Courtesy Winky Lux
For many people, the day cannot start without coffee, but now your makeup bag can be the pick-me-up you need. Winky Lux created a Coffee Collection that's filled with neutral tones and glorious smells. Move over chocolate and peaches, because this is the real MVP of the scented beauty world.
If there's anything better than a cup of joe in the morning, it's a brand new beauty launch. Winky Lux's eight-piece Coffee Collection is filled with neutral-toned lipsticks, eyeshadows, and lipsticks. It also includes the brand's first-ever bronzers — all with a delicious coffee scent.
According to Bustle associate fashion and beauty editor Katie Dupere, the coffee smell of the makeup is subtle, like someone walking past you with a cup of coffee. It's not overwhelming, but a nice little surprise when you open the products. Bottom line: This is coffee that you'll crave, but never get tired of.
"The entire Winky Lux team are coffee addicts so we felt that we almost had to release a coffee scented collection," Natalie Mackey, co-founder and CEO of Winky Lux tells Bustle.
"This collection also consists of out first ever bronzers. This is something we have been working on for a while so we are super excited for this collection to finally be launching."
There are three different neutral toned lipsticks in the collection. Two are conditioning and one is matter. There's also two lip glosses that bring a little bit of shine into the line. Each lip product ranges from $13 to $14. There's also a nine-shade eyeshadow palette that is perfect for everyday or packing on the shine. Just like the lipsticks, the shadows smell like coffee as well and the set will cost you $25.
But the real stars of the show are the bronzers. Called the Coffee Bronzer, this is the first time that the brand has dabbled in the product. There are currently only two different shades available in the cheek product — Latte and Mocha. There's no doubt more on the way, and this is one heck of a way to start off.
According to the press release, the bronzers are smooth and buildable. They're meant to double as a bronzer or a contour shades, depending on your skin tone. They're meant to add a warm glow to the cheeks and, you know, they also smell really great which is an added bonus.
You can shop all of the products on the Winky Lux website right now. According to the press release, this is not a limited edition collection. That means that you'll be able to save up to get all eight of the products. There's no promising that the collection won't sell out though, so you might want to shop while you can.
The only downside is that this collection does not come in a bundle. If you want to stock up on every single one, you'll have to add all eight to your online shopping cart. All of the products together will cost you a cool $133. Each one separately ranges between $13 to $25, which is pretty affordable when compared to other makeup brands out there.
On the plus side, there are staple items that you can easily incorporate into your makeup routine no matter what season it is. That, along with the incredible coffee scent, makes the collection well worth the price. It's a little quirky, but wearable all at the same time.
There have been plenty of scented makeup collections out there, but none of them are pick-me-ups quite like this. Leave it to Winky Lux to combine your two favorite things into one incredible collection — makeup and coffee.