Without These Women, A Generation Of Girls Wouldn't Know How To "Lead From The Front"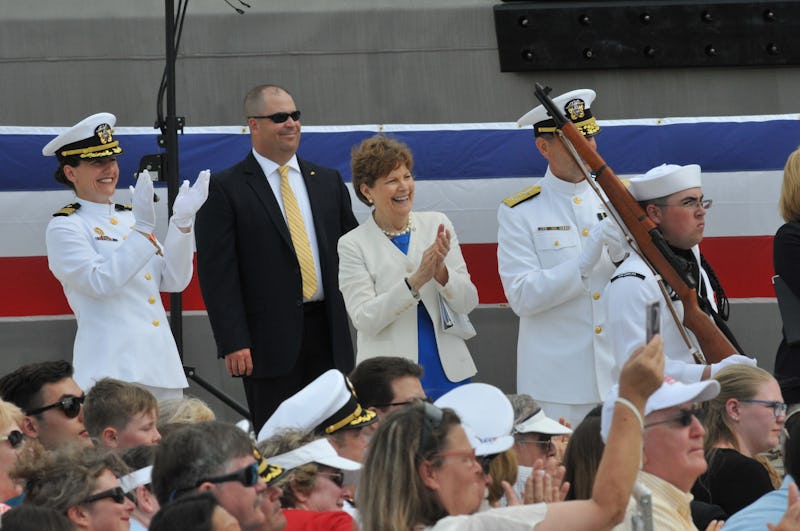 Courtesy of Sen. Shaheen's Office
As our Armed Forces integrate more women into direct combat roles, women are stepping up as front-line commanders at the highest levels. The women who break through the "brass ceiling" face significant barriers and need to prove they are just as brave and tough as their male counterparts.
As a woman serving on the Senate Armed Services Committee and the only woman on the Senate Foreign Relations Committee, I understand the challenge of taking on responsibilities that have historically been trusted to men. American servicewomen have been at the forefront of breaking the mold and tearing down stereotypes and obstacles that have allowed too many women and girls to believe that military jobs are off limits. As the military phrase goes, these servicewomen have shown our girls how to "lead from the front." I've been quite fortunate to get to know one of these women very well over the past few years: Navy Cmdr. Emily Bassett.
Emily Bassett was the first commander of the Navy's combat ship, the USS Manchester, which was named after New Hampshire's largest city. The Department of the Navy asked me to serve as the USS Manchester's official sponsor and, in that capacity, I had the opportunity to get to know Cmdr. Bassett, watching her lead, teach, and encourage her 70-person crew. Cmdr. Bassett has a lengthy and impressive military career, having completed five deployments, including Operations Enduring Freedom and Iraqi Freedom.
Over the time we spent together, I had an extraordinary opportunity: to envision the future of the U.S. military with women at the helm. Approximately 3 million women have served in our Armed Forces, and currently, there are more than 200,000 active-duty female service members. And these numbers — as well as the number of servicewomen in leadership positions — are growing.
What I find particularly encouraging about Cmdr. Bassett's success is that it's not unique — we are continuing to see women pursue careers and assume leadership positions that have typically been reserved for men. I first met four-star General Lori Robinson, who also happens to be a graduate of the University of New Hampshire, in 2016 when she was nominated by President Obama and confirmed by the Senate to be the first woman to lead a U.S. military combatant command.
There are nine combatant commands, which are designated areas by the Department of Defense to carry out specific missions to safeguard U.S. national security. I visited Gen. Robinson at Peterson Air Force Base in Colorado, where until her recent retirement, she led both the U.S. Northern Command (USNORTHCOM) and the North American Aerospace Defense Command (NORAD). USNORTHCOM was established in reaction to the September 11 terror attacks and leading it means guarding the entire North American continent — from Canada to Mexico. As commander, nothing entered American airspace that Gen. Robinson didn't know about. She was one of the highest ranking women in the U.S. military.
America's Armed Forces have compelling reasons to debunk negative stereotypes and encourage women's full integration. Today, women only account for about 15 percent of active-duty military personnel. The Obama administration opened all military occupations and positions to women, including combat roles. As former acting Secretary of the Army Patrick Murphy once said, "As our Army gets smaller, our success increasingly depends upon our ability to maximize the contributions of every volunteer that fills our ranks." Women are rising to this challenge. They are enrolling at the service academies in large numbers, earning promotion to the highest ranks of leadership, and qualifying for some of the most demanding combat roles.
I joined Cmdr. Bassett for the official commissioning of the USS Manchester, and I watched as she stood shoulder to shoulder with Vice Chief of Naval Operations Admiral Bill Moran — the second-in-command of the U.S. Navy — and before our entire community, she saluted the American flag and took command of the ship. I wasn't alone — little girls from across the state bore witness to that same inspiring scene, and in Cmdr. Bassett they could see themselves. Emily Bassett, Lori Robinson, the three million women who've bravely served, and the 200,000 currently stationed around the world have forever changed the future of our military.
Jeanne Shaheen is the senior Senator from New Hampshire. She was the first woman to be elected Governor of New Hampshire, as well as the first woman in American history to serve as both Governor and U.S. Senator.
Bustle's "Without This Woman" is a series of essays honoring the women who change — and challenge — us every day.
Without This Woman, I Wouldn't Remember Your Name
Without This Woman From A Novel, I Wouldn't Have Changed My Own Story
Without This Woman, I Wouldn't Have A Closet Full Of Trophies (Or The Confidence To Win Them)