Russian Media Just Interviewed A Woman Who May Be Putin's Daughter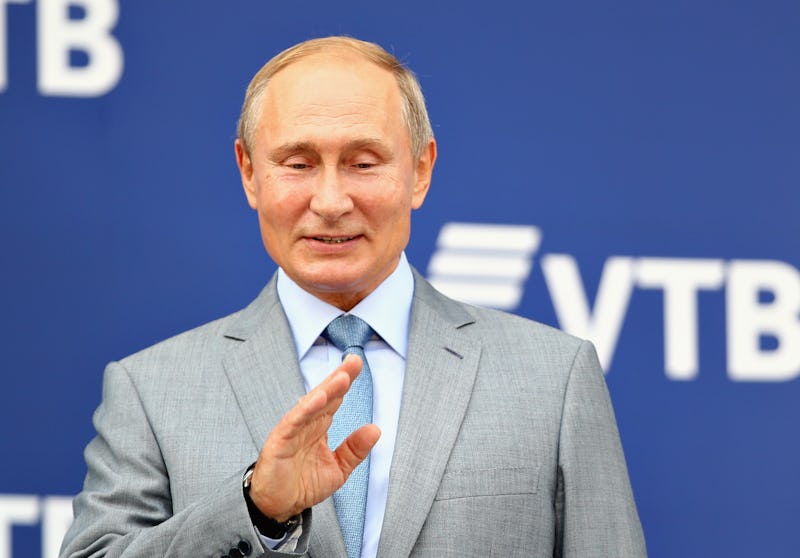 Mark Thompson/Getty Images Sport/Getty Images
Throughout his political career, Russian President Vladimir Putin has largely shielded his personal life from the media, according to The New York Times. However, that may have changed on Thursday, when a woman thought to be Putin's daughter appeared on Russian state television to talk about technological advancements.
Business Insider reported that Katerina Tikhonova — who, according to U.S. Department of Treasury documents, is the younger of Putin's two daughters from his first marriage — was interviewed on the state TV channel Rossiya 1 on Thursday. Putin has talked about his daughters affectionately in the past, per The New York Times, and even informed the public last year that he had become a grandfather, but his two adult daughters have notably been absent from public life — until now.
Putin has not publicly acknowledged Tikhonova as his daughter, Business Insider pointed out, but the BBC and several Russian media outlets have nonetheless described her as such. During the interview with Rossiya 1, which initially aired on Thursday before being rebroadcast on Friday, Tikhonova discussed the improvement of technologies that control electrical impulses in the brain. The corresponding news coverage lauded Tikhonova for her groundbreaking research, The New York Times reported.
Although Putin neither confirmed nor denied that Tikhonova was his daughter when asked about her in 2015, he said last year that his daughters are "involved in science and education," and "live normal, everyday lives." During a televised call-in show that aired in June 2017, Putin confirmed that his daughters live in Moscow, and stated that he did not want his grandchildren "to grow up like some royal princes."
"The minute I give their names and ages, they would be identified immediately and would never be left in peace, and this would be quite simply detrimental to their development," Putin said at the time, defending his daughters' decision to "stay out of the public eye, out of politics."
According to The New York Times, Tikhonova — who is now 32 years old — was born while Putin was posted as a spy in Germany. Her mother, Lyudmila Putina, was married to Putin for roughly three decades before their divorce in 2013, and she has reportedly since remarried.
Throughout his presidency, Putin has presented an extremely curated image of himself and his private life to Russian and foreign media. When his private life does receive coverage — as it did last year, when he took a fishing trip to Siberia — he is photographed alone and portrayed as "macho," as he lifts weights, poses shirtless, and appears on horseback.
Unlike in the United States, Russia does not always have a public first family; as a result, Russian leaders typically have a choice about whether or not their family life is visible in the media. Putin has been consistent in keeping his daughters out of the media, while former Russian President Boris Yeltsin's daughter was a public figure during his tenure. Putin then went on to fire Yeltsin's daughter from her position as a presidential adviser in 2000. The New York Times suggested, however, that Tikhonova's media appearance this week may indicate that Putin is starting to shift his stance on his family's visibility.