Resistance Is Part Of Being A Woman, According To The 'OITNB' Cast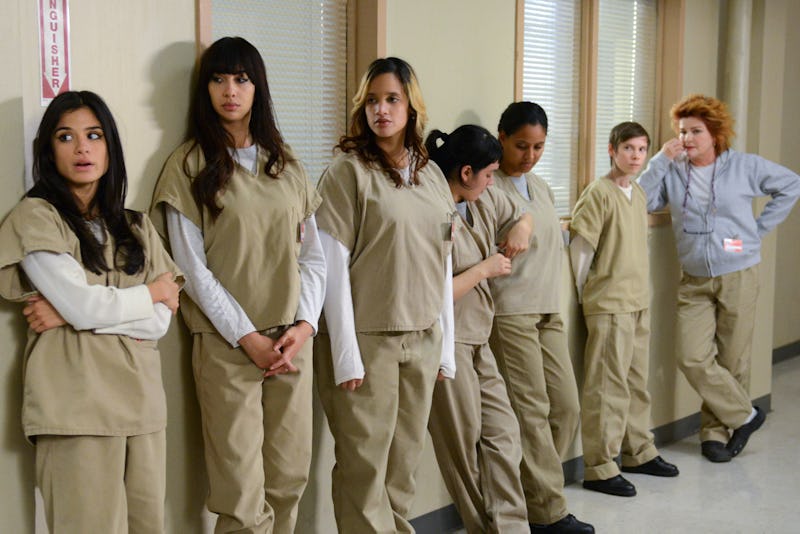 Netflix
There's a lot to love about Orange is the New Black, but one of the best parts how relatable the characters are no matter how different your life experience. Once you identify and empathize with the characters, they can push you to be stronger and more proactive in your every day life. During a Tuesday, May 9 Netflix junket, Diane Guerrero, who portrays Maritza Ramos, emphasizes exactly that while speaking to a group of reporters at Netflix's summer press junket. "We want to portray strong women, a diverse group of women who have different experiences and have valuable stories," she says. "And resisting is such a huge part of actually being a woman."
But you don't need to worry about whether your resistance looks like Guerrero's resistance or reaches extremes like, y'know, taking over a prison and demanding justice for the death of your friend. The actor understands that the journey is personal and it's the resistance that's important — whether you're publicly resisting a corrupt system or fighting that voice in your brain that tells you you aren't good enough.
"Since the beginning of time we've been sort of sidelined and put in a box, and told how we should behave and who we should be and how to use our bodies and how not to use our bodies," she continues. "So I think that our show commenting on our strength and our resistance and us resisting these injustices is obviously so timely and so important. But if you think about it, it's always just been timely for women to sort of stand up and take their place."
Adding to the idea of resistance coming in many different flavors, Taylor Schilling, who plays Piper Chapman, describes the honesty inherent in storytelling as a political act. "The deeper you dive into the personal, and the more rigorous you are about honestly telling someone's story, the more universal it becomes," she says. "And then that becomes a political act because you have people seeing themselves in people they once viewed as other. That is radically political."
"It's telling a story as truthfully and close to the bone [as possible] to get into the marrow," she continues. "And then hopefully that's what great art does: it sparks a conversation because everyone can see themselves in it." And, truly, it's less about your specific politics and more about empathizing with others, questioning authority at large, knowing who you are, and letting your voice be heard — things that have been important to and for women for centuries now.
Through the diverse, talented cast portraying characters with all manner of backstories, those involved with the show are hoping you'll see at least one person on screen with whom you can identify. Once that happens, watching Orange is the New Black can basically help you understand yourself and maybe even get deeper in touch with your own brand of feminism.
At least, that's what the cast and crew are going for. And, if you ask me, they're succeeding.