3 Books That Explain How Women's Anger Can Become A Political Force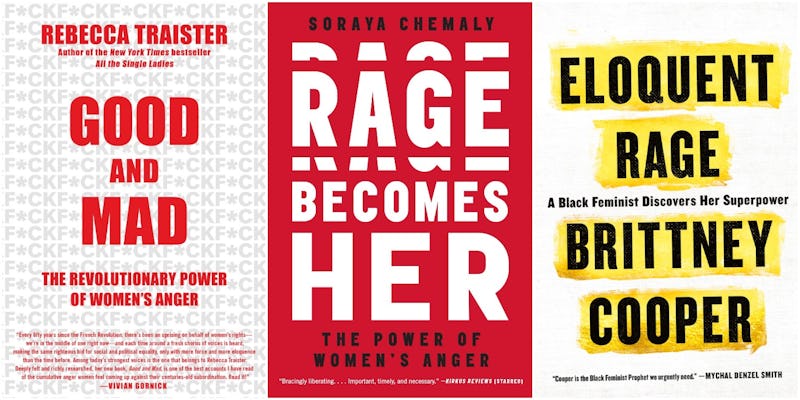 It is no secret that women are mad, now more than ever, and honestly, how could we not be? Over the last two years, there has been a bright spotlight on the inequality, discrimination, harassment, and violence we have endured our entire lives, so the question now isn't why women are so angry, but what we can and should do with that anger. Despite generations of cultural conditioning that tell girls to ignore, suppress, and control their rage, three new books about women's anger offer a different perspective for readers who are ready to learn how to harness, not deny, one of the most powerful emotions.
You don't have to look hard to find evidence of women's anger. Watch any news program, scroll through Twitter, talk to your loved ones and you will feel the rage that is reverberating across the country. Whether it be online or amongst friends, at protests or political rallies, women are starting to speak up about how mad they are about everything from America's rape culture and the prevalence of sexual violence, to the constant attack on women's body autonomy and the dangerous discrimination women of color are subjected to on a daily basis. That anger has been showing up in pop culture, too. Shows like Good Girls and Big Little Lies, movies like Three Billboards Outside Ebbing, Missouri and I, Tonya have embraced the character of the angry women and using it to explore inequality, violence, power, and more.
One thing is clear: women's anger is here. It is powerful, but it doesn't come without a cost — at least in our current social and political environment. If you want to learn more about it, then check out these three powerful books about women's anger: