Women Choose More Effective Birth Control Methods When Cost Is Removed, Study Finds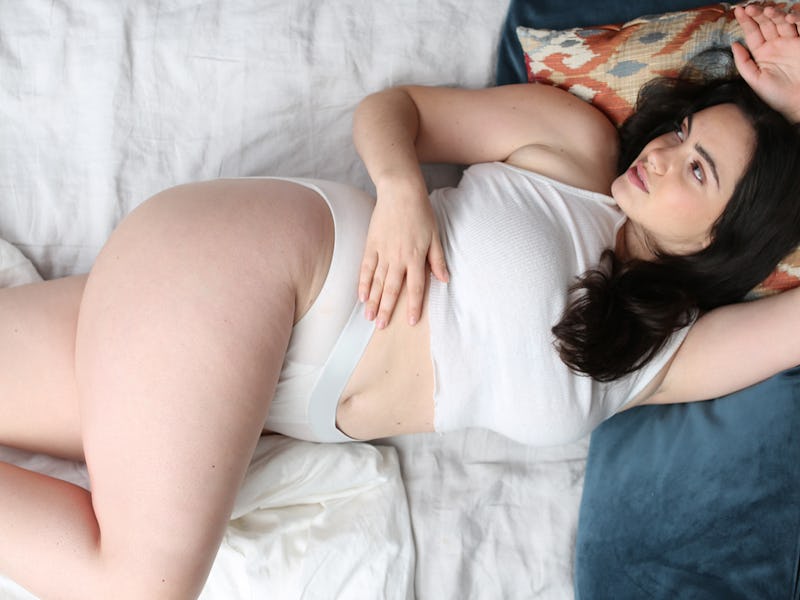 Ashley Batz/Bustle
When it comes to birth control methods, different women opt for different kinds to help prevent pregnancy. After all, something that works for one woman may not work the same way for another. And, as far as effective contraceptive methods, there are many to choose from. However, they may not always be cost-effective, so women may need to choose something that is, even though it's not their first choice. Now, a new study at The University of Utah Health found that with cost removed, women choose more effective contraceptive methods, such as IUDs and subdermal implants. It would be amazing, right, if cost was *not* a factor when determining which birth control method to use.
For instance, Planned Parenthood is a go-to resource regarding birth control. According to them, the implant is 99 percent effective, the shot is 94 percent effective, and the birth control pill and patch are each 91 percent effective. Of course, there are also other methods to consider, such as intrauterine devices (IUDs) and the ring. However, at the end of the day, the price of a contraceptive may determine which type a woman chooses.
For instance, without insurance, an IUD could cost a woman approximately $1,000, according to Amino, a digital health company. This depends on the brand, of course, and some IUDs can last more than a decade. Similarly, if a woman wants to use a NuvaRing as her contraception of choice, one ring — which lasts for one month — can be up to $80, states Planned Parenthood. Of course, the above prices do not factor in the money an uninsured woman would have to dole out for a doctor's visit, too.
To evaluate women's contraception choices if cost is not a factor, David Turok, M.D., associate professor in the Department of Obstetrics, and Gynecology and colleagues at U of U Health developed the HER Salt Lake Contraceptive Initiative, HER Salt Lake. The findings were published in an article, "Contraceptive method uptake during the community-wide HER Salt Lake Contraceptive Initiative," in the February 22 issue of the American Journal of Public Health. Aside from removing cost barriers, HER Salt Lake also made *all* forms of contraceptive available. In addition, participants could change methods at any time in the study, and free of charge. It seems like a win-win for the researchers and the participants.
"When people are offered access to free contraceptive care they are more likely to choose the most effective (and most costly) methods," Dr. Turok tells Bustle. "That has been documented in other large studies before in St. Louis, Colorado, and Iowa. What is new here is that we started on a platform of client centered contraceptive counseling that was focused on the client leaving with their desired method, knowing that they could return as many times as they liked during the next three years to change methods for free if desired. Unique to this study, at baseline the clinics were providing 20 percent of their contraceptive clients with IUDs and implants. We were not surprised to see the rate of IUDs and implant use increase to 31 percent with free care, but we didn't know if that increase would continue when we added a targeted media campaign on top of the free care. It did, it continued to climb to 37 percent. The point here is not that we were able to increase the proportion of people walking out of clinic with IUDs and implants but that more people left with their desired method and when we removed all cost barriers more left with these methods."
How The Study Was Done
As for the study's execution, it was divided into three six-month segments — a control, Intervention 1, and Intervention 2. During the control period, women's birth control methods were evaluated — ones selected by women who received standard contraceptive counseling and care at Planned Parenthood clinics throughout Salt Lake County. During Intervention 1 is when women seeking services at said clinics were offered no cost, same-day access to the reversible contraceptive method of their choice. Just imagine if this were the norm… During the three-year study, women could change their method. Plus, HER Salt Lake made sure that clinics were stocked, as well as had providers available for any same-day care that was requested.
As for Intervention 2, women received the same care as those in Intervention 1, in addition to education about contraceptives via an online media campaign, and it did not only focus on targeted communities.
"There were two other factors that differentiate this study from others. Right from the start, the study used input of community members to optimize the interventions and the program was supported by a wide variety of donors. This included large national foundations like the William and Flora Hewlett Foundation, local foundations like the Willard Eccles Foundation and the Intermountain Community Care Foundation, the NIH, contributions from pharmaceutical companies (Bayer, Merck, and Teva) and lots of private contributions from people in the community. This meant we had broad community support," Dr. Turok says.
"The study occurred at Title X clinics and this has important ramifications for people beyond Salt Lake City," he says. "These are the places women with limited financial resources come to receive top quality family planning care. They provide a very important service to these women and they can do an even better job with more funding. In this case, the additional funding came from outside sources but it could also come from the national Title X program. Utah is one of only eight states that does not have ACA Medicaid expansion nor a Medicaid Family Planning waiver. The cost savings of contraception are well established but we will also be looking at the specific savings from this program and the returns to the community. We wanted to have the biggest possible impact in our community in the shortest amount of time. That meant collaborating with the largest and most efficient providers of contraceptive care here, Planned Parenthood Association of Utah"
The Study's Findings
As you may know, even if someone wants or needs birth control, that does not mean they have access to it, particularly for free. More than 200,000 Utah women were in need of publicly supported family planning services as of 2014. HER Salt Lake provided no-cost contraception to 7,400 women and enrolled more than 4,400 women in their three-year study, and those numbers say a lot.
"Over 7,000 women received contraceptive care without payment," Dr. Turok says. "That was many more than we anticipated. There is no other provider of reproductive health care that could have managed this change in the way they provide care as quickly as Planned Parenthood did. This also highlights their important role in the Title X network of providers."
The study found that women in Intervention 1 were 1.6 times more likely to use an IUD and those in Intervention 2 were 2.5 times more likely to use one — compared to women who enrolled during the control period. During the next three years, the researchers will periodically send surveys to the women enrolled. In doing so, the researchers hope to track how the effect of universal access to family planning influences educational attainment, financial mobility, and sexual satisfaction.
What This Could Mean For Women And Birth Control
Just imagine if HER Salt Lake contraceptive initiatives were the standard across the world — it would be a game-changer and revolutionize women's birth control choices. "Women are typically the gatekeepers of the health care dollars," Dr. Michael Krychman, Executive Director of the Southern California Center for Sexual Health and Survivorship Medicine and co-author of The Sexual Spark: 20 Essential Exercises to Reignite the Passion, tells Bustle. "They prioritize their children and partners before themselves and, very often, the well has run dry when it comes to their own health care needs. Cost remains a significant barrier for women in all aspects of health care — routine mammograms, primary health care prevention screenings, and, of course, contraceptive options. With removal of cost considerations, women are often choosing the best contraceptive for their own specific needs, and more could do so if this were the norm." Here's to hoping more contraceptive initiatives like HER Salt Lakes will be created.