"Are You Even Old Enough To Run?" & Other Absurd Criticisms Women Candidates Face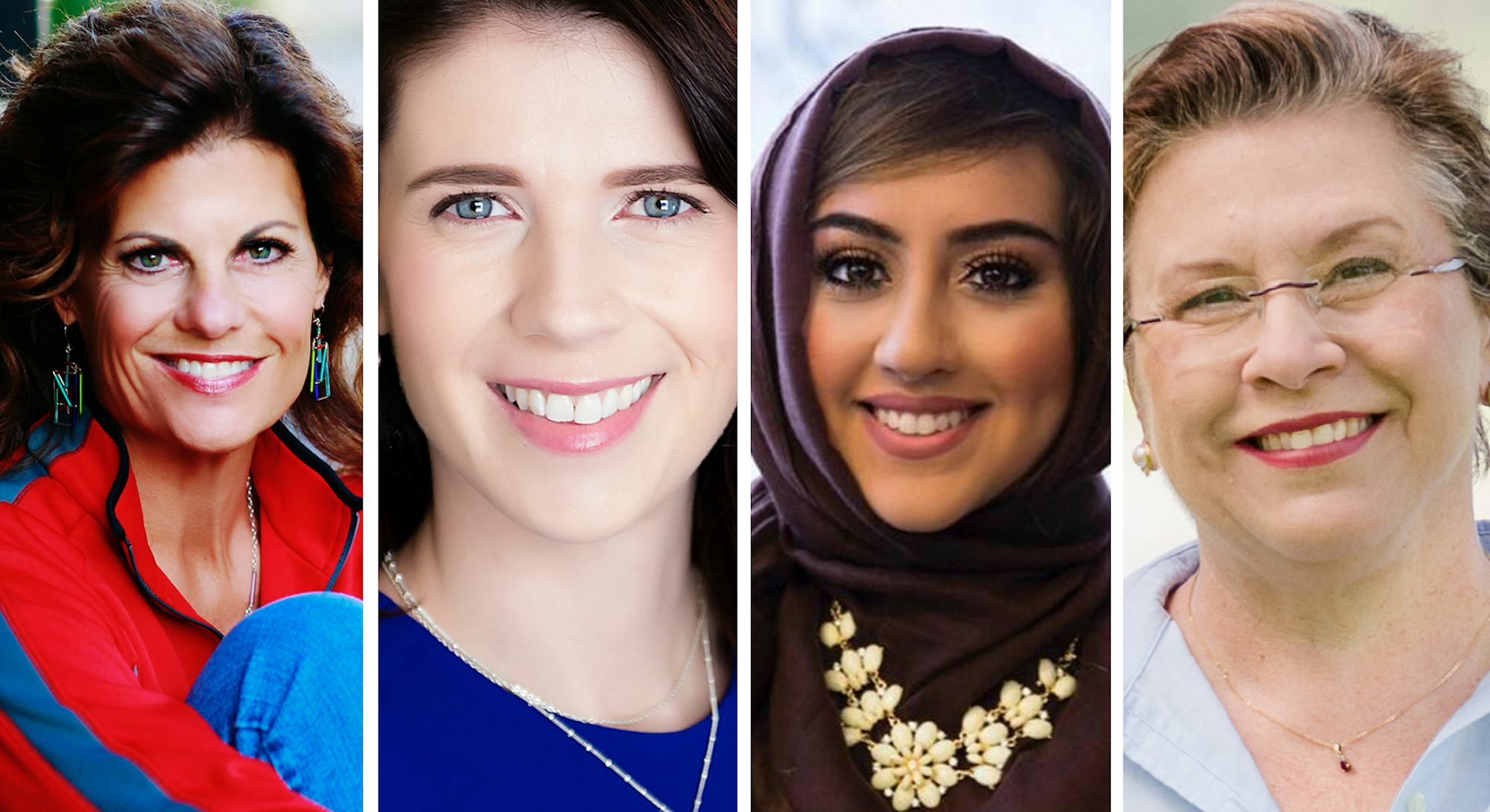 Theresa Gasper for Congress; Phifer for Congress; Bushra Amiwala; Cathy for Congress
"Are you sure you're old enough to run for this seat?" is a question Leah Phifer says she's frequently asked on the campaign trail. Phifer, a 33-year-old former FBI analyst from Minnesota who's attempting to unseat a 74-year-old congressman, is just one drop in a historic wave of women running for office in 2018. Phifer and other women seeking office say they're learning just how hard campaigning can be as they try to win over the public — or get a male opponent to treat them as an equal. Anyone not taking these women running for office in 2018 seriously does so at their own peril, because female candidates are leading the charge in an election cycle that could result in one of the biggest political shakeups in recent history.
No woman has ever represented Minnesota's 8th Congressional District, a House seat that's been held by four men over the past 72 years. Phifer says she wants to change that. "When [voters] try to conjure up an idea of what a congressional representative for this district looks like, the only idea they have in their mind is a man," she tells Bustle.
In many ways, things are looking up for female representation in U.S. politics: Virginia saw a record number of women elected to its House of Delegates in 2017. While just 106 women currently serve as U.S. senators or representatives, more than 450 women are expected to run for Congress this year. Nearly 80 women may be running for governor this year, too. (There are currently just six women governors.)
But the sexism Hillary Clinton faced while running for president — whether in the form of misogynistic memorabilia or being ridiculed by her opponent for going to the bathroom during a debate — shed light on just how differently men and women seeking public office are treated. Studies have shown that voters stereotype male candidates as more knowledgeable, trustworthy, and convincing. At the same time, women candidates face more scrutiny depending on how feminine or masculine they appear — and the research shows voters favor those candidates who appear more feminine.
Clinton's loss in 2016, coupled with the reality of Donald Trump's win, likely inspired a lot of women to run in this election cycle. The months since that loss have felt like a watershed moment for women in politics, but these candidates still find themselves facing some of the same gendered challenges.
"Are You Sure You're Old Enough To Run For This Seat?"
Phifer says she laughs when she's asked about her age while campaigning — after all, she's two years older than her opponent, Rep. Rick Nolan (D-Minn.), was when he was first elected to the U.S. House in 1975.
"We've seen a lot of men elected in their 30s, and their experience and qualifications are never questioned," she says. "But when a woman runs in her 30s — even with a decade of federal law enforcement experience — there's still that lingering question in people's minds if she has enough experience."
Female candidates are criticized for their age on both ends of the spectrum (remember people questioning if Clinton was too old to be president, even though her opponent was one year older than her?). And that scrutiny is about more than just a number: it's about just who voters see as up to the job. Bushra Amiwala, a 20-year-old Muslim Democrat running for a spot on the Cook County Board Of Commissioners in Illinois, believes a Chicago Tribune article that featured a professional headshot of one of her male opponents alongside a casual photo of her outside a coffee shop gave readers the impression that she's inexperienced.
"When [voters] try to conjure up an idea of what a congressional representative for this district looks like, the only idea they have in their mind is a man."
"It bothered me because there's a stigma attached to youth as is, especially when it comes to running for a position," she tells Bustle. Even on Amiwala's own social media pages, where she's in control of her image, she says people criticized her appearance. "Wear lighter lipstick," "Why didn't you wear blue if you're a Democrat?," and "I can see your hair under your hijab" are just a few examples of the comments she says she's received about her looks.
Why Didn't You Run For School Board Or Something?
Erin Vilardi, the founder and executive director of the nonprofit VoteRunLead, which trains women to run for office, says women also are expected to work their way up to elected office. Young men, by contrast, are often praised for their boldness in seeking public office. "Somehow women have to climb this invisible ladder and men get anointed into whatever position they want," she tells Bustle.
Theresa Gasper is a first-time Democratic candidate in the race for Ohio's 10th Congressional District. She says she decided to run because the issues she cares most about, like jobs and economic opportunity, are largely handled at the federal level. But Gasper tells Bustle she's frequently asked why she aimed for Congress in her first run for office, rather than something more low-stakes like the local school board.
She recalls fielding similar questions years ago when seeking loans to expand her business. "I would get comments from these bankers like, 'I have a daughter your age and I wouldn't want her to take on a risk like this' or 'How much does your husband have to do with your company?" Gasper says. "I would say, 'Well how much does your wife have to do with your job?'"
"There's a stigma attached to youth as is, especially when it comes to running for a position."
Gasper, Amiwala, and Phifer all try to counter the assumptions people make about their qualifications by detailing their past work experience and explaining how it will translate to politics. For Gasper, that means touting her backgroundas a business owner who worked to transform Dayton's South Park neighborhood to illustrate how she hopes to revamp the entire district. For Amiwala, that means detailing how her internship with a Republican U.S. Senate candidate prepared her to work across the aisle. For Phifer, that means starting all her stump speeches by describing her 10 years of work for the Department of Homeland Security and the FBI.
Battling The View That Women Aren't "Tough Enough" For Politics
Some women candidates face the dual challenges of fighting against gendered stereotypes in the battle to gain public support, as well as fighting for the respect of a male opponent. Cathy Myers, a Wisconsin Democrat, is running against Randy "Iron Stache" Bryce in a primary where the winner will go on to challenge House Speaker Paul Ryan (R-Wis.) in the general election. A VICE article published in December said "Bryce's strategy is to ignore Myers," noting that when asked about his primary opponent, "he would not even say her name."
Bryce's team also has compared Myers to Paul Nehlen, a Republican primary challenger of Ryan's who appeared on white supremacist podcasts and used white supremacist and anti-Semitic memes online. As VICE's David J. Dent wrote:
Bryce aides told me Myers is to their candidate what Paul Nehlen and Nick Polce (Republican primary challengers to the speaker) are to Ryan: rivals who simply aren't on his level.
Lauren Hitt, Bryce's communications director, tells Bustle that Bryce isn't interested in "tearing down fellow Democrats."
"Randy believes it's important for everyone to stand up against the Trump-Ryan agenda and make their voices heard, in whatever way works for them ... so he fully plans to share a debate with whoever is on the ballot in the primary," she says.
Myers is taking a grassroots approach to campaigning for the August primary, like Bryce, but she hasn't received the same extensive media attention or raised as much money. She's not afraid to call Bryce out directly, either. In a December press release, her campaign wrote that Myers was "demanding a retraction and apology from her primary challenger, Randy Bryce, for his campaign comparing her to the white supremacist," describing the comparison as a "misogynistic attack." (Bryce's campaign didn't publicly apologize for comparing Myers to Nehlen.)
"I'm hoping that [my campaign's] growth means he's going to recognize our strength and our momentum," Myers tells Bustle. She says women are often told to wait their turn when it comes to seeking office, and wonders how long they're expected to wait to seize their own moment.
"It really is disconcerting to me that the view is that women aren't tough enough or strong enough to play in the national politics game, because I know a lot of really tough women," she says.
It may feel like women have come a long way in politics over the last two years. The nation saw a record number of women running for office soon after a major political party nominated a woman for president for the very first time. But shaking up a political system that's been dominated by men for more than 200 years is a huge undertaking. Vilardi's career centers around encouraging women to run for office, and she's optimistic that, despite the extra hurdles they have to clear as they campaign, 2018 will be a historic year for women at the ballot box.
"Everyone is questioning the status quo, and that's an advantage for any first-time candidates, male or female," she says. "Political uncertainty is always a good time for outsiders, for fresh faces, so it's really a perfect time for women to run for office."
Vilardi notes there's a silver lining even for those women candidates who don't win their elections this fall — "You're gaining your own political capital and taking it from people who've had it for too long." That's political capital those candidates can lean on in the future — after all, 2020 isn't that far off.