These Women Used Glitter To Embrace Their "Flaws" & The Results Will Leave You Speechless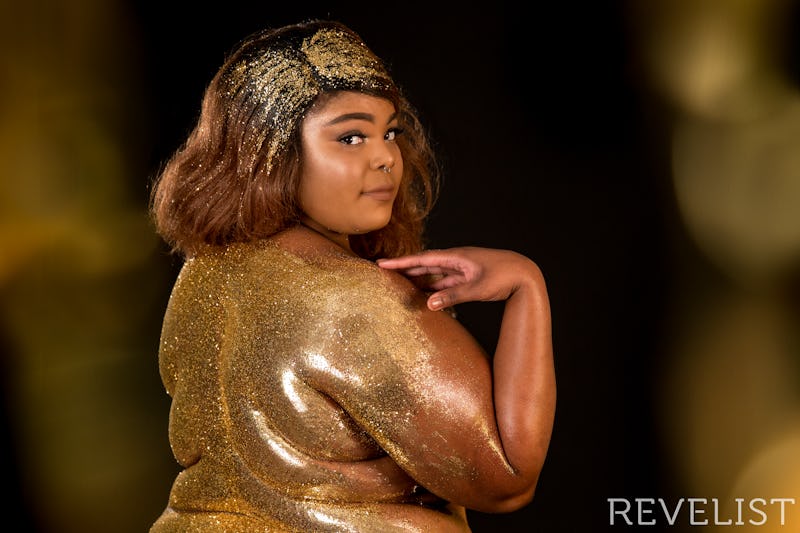 Marianne Espinosa/Revelist
Body positivity is centered in the belief that all bodies are good bodies. While the movement can have deeply personal meanings for everyone, at it's core, it's about inclusivity and self-love. These three women are showing what unapologetic body positivity can look like at it's most gorgeous. In a photoshoot by Revelist, the women used glitter to embrace their biggest insecurities, showing how meaningful and essential body positivity is to all.
Revelist associate fashion producer Jessica Torres conceptualized the shoot in which three women (including Torres herself) used glitter to embrace their insecurities. The women — Ashleigh, Brittany, and Jessica — all pose nude with only the golden glitter highlighting the "flaws" society has told them to hide.
The images are a beautiful display of body confidence, with the women powerfully embracing the parts of their body they still struggle to love. In doing so, the trio show all women that body positivity is a journey, not a linear path that immediately leads to self-love.
In the piece each woman speaks boldly about their body positive journey and why they chose to highlight their chosen body part.
According to Jessica, the shoot — though terrifying — was a celebration of the women's bodies. And honestly, it's a celebration that should happen every damn day.
For the shoot, Ashleigh decided to cover her back in glitter. In the article, she explains, "Having back fat is normal, but the amount I have is seen as 'disgusting,' so I would go to tremendous lengths to hide it so that other people could be comfortable while I sacrificed my comfort and style for their approval."
While Ashleigh's images are gorgeous, it's her candor about her body and the shoot itself that's notable. In a video posted to Revelist's I Heart My Body Facebook page, Ashleigh admits to being self-conscious the day of the shoot because she "doesn't know how to pose with [her] body." Her motivation for participating was to show other women a body similar to their own.
The shoot, however, didn't just focus on plus size bodies. Instead, Torres and Revelist recognized that being body positive is for people of all sizes and all backgrounds. While many would see Brittany and believe she couldn't possibly have insecurities, her participation in the shoot is just as powerful as Ashleigh and Jessica's photos.
Brittany highlighted her thighs, and in doing so touched on the unrealistic expectations of beauty both thin and plus women face. She tells Revelist that she previously wanted a thigh gap. After developing an eating disorder, she achieved one but says she lost herself.
"I used to want a thigh gap, but I don't want it anymore," Brittany, who is now in recovery, says in the video. "I don't weigh myself because I don't think the numbers really say anything."
When people read about a body positive shoot or see women embracing their bodies, it's rare to also get a glimpse of how difficult participating in a shoot can be. And it's certainly rare to see a woman say that the shoot "was not a cure" for their own body negativity.
However, that's exactly what Jessica does.
Jessica explains that posing for the shoot didn't magically make her love her belly — the insecurity she chose to cover in glitter. However, it did take her a step forward on her journey.
"Your body — and mine — deserve to be seen and loved, with or without glitter," she writes
To see the rest of the images from the gorgeous, glittering body positive shoot head over to the Revelist website.