Why Jacob Tremblay's New Movie 'Wonder' Will Both Crush Your Heart & Give You Hope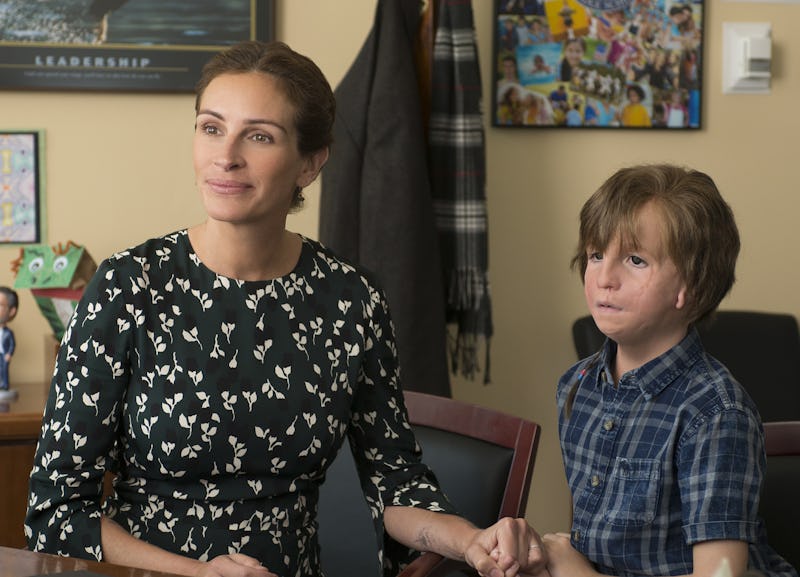 Lionsgate
Little Auggie Pullman is about to embark on his very first day of school with kids his age. It's a scary enough moment for anyone, let a lone a kid with some facial deformities who hasn't really been in a mainstream school setting before. If this scenario sounds realistic, it's because it's a reality for many kids across the globe. That said, the new movie about Auggie Pullman, Wonder is not based on a true story. It is, however, inspired by real events.
Writer R.J. Palacio, who published the novel upon which Wonder is based in 2012, was inspired to write a story about a child with facial deformity after a trip to the ice cream store. As Palacio recounted in an interview for NPR's All Things Considered, the author was forced to examine her own mindset, during an ice cream trip, she and her children left abruptly after her three-year-old young son became frightened sitting next to a girl with a facial deformity. "I was really angry at myself afterwards for the way I had responded," she told NPR. "What I should have done is simply turned to the little girl and started up a conversation and shown my kids that there was nothing to be afraid of." Instead of getting to work on a time machine to re-do the day, Palacio wrote Wonder. And the rest is history.
Auggie might not be based on a real kid, but he's pretty real to Palacio and the filmmakers. To help ground him in reality as much as possible, actor Jacob Tremblay visited kids with facial differences and exchanged letters with kids who were willing to share their experiences with him. "They wrote me some stories about them, and I got to come over and visit," he said in an interview with EW. "They wrote me to teach me things, they wrote me some stories," he added. The actor also attended a retreat for kids with facial differences and their families, which was "really fun," he told EW. Tremblay kept all the letters on set to help him get into character. And he also drew upon his newfound friendships for emotional scenes. "I listened to sad music, and I really think about them, the kids I'm friends with. It really helped me," he said.
Now that Wonder is hitting theaters, the time to draw from real life is over. But that just means that the movie has to face its biggest challenge yet: how to leave a mark on the real world. The book Wonder, which is taught in schools (seriously, even Tremblay is reading the book with his class), has inspired an entire "choose kind" movement — #ChooseKind — and the stars of the film are hoping their movie will do the same. "No matter what we're trying to accomplish in our day, there's always that little bit more space to be a little bit more gentle with each other, or sweet with each other," co-star Julia Roberts told NPR's Weekend Edition Sunday when asked what she hopes audiences take from the film. "Whatever it is, there are so many little gentle moments in the day to express kindness to one another, and it's just about taking the time and being reminded to do that."
Many of the Wonder cast is taking part in the #ChooseKind campaign, asking fans to "choose kind" and stay away from bullying. Tremblay even challenged other celebrities to take part, singling out Harrison Ford and Drake in an interview with People Now.
Drake has yet to respond, but in terms of rappers supporting the cause, Tremblay doesn't have to look very far. One of his co-stars in Wonder is Daveed Diggs (of Hamilton fame, in case you didn't know).
Who needs Ford and Drake? I'd say Tremblay and Diggs are more than enough to inspire fans to #ChooseKind.