Author Zinzi Clemmons Accuses Lena Dunham Of "Hipster Racism" In Open Letter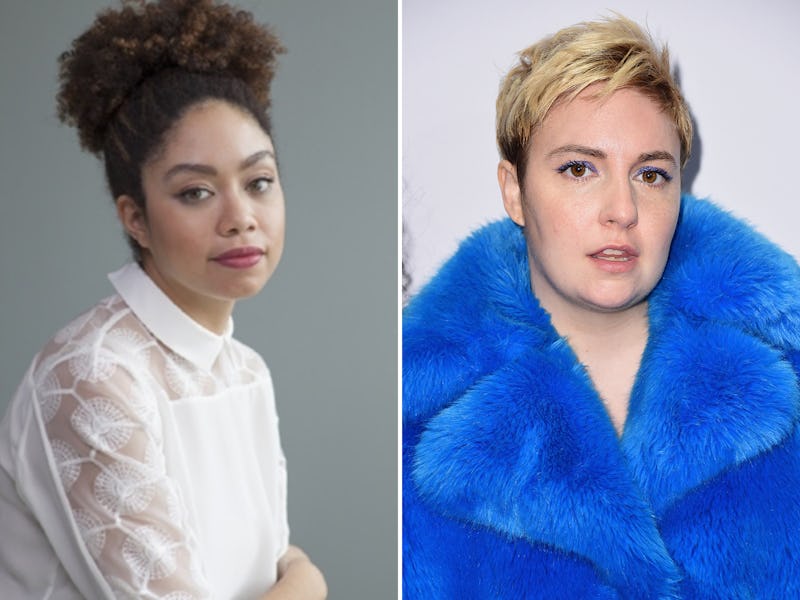 Zinzi Clemmons, photo courtesy of Nina Subin; Lena Dunham, photo courtesy of Michael Loccisano/Getty Images Entertainment/Getty Images
On Sunday, What We Lose author and Lenny Letter contributor Zinzi Clemmons called for women of color to stop contributing to Lena Dunham's career, revealing that she would no longer contribute to the Girls creator's Lenny Letter newsletter. In a letter published to Facebook and Twitter, Clemmons calls out Lena Dunham and Girls co-creator Jenni Konner for their defense of Girls writer Murray Miller, who has been accused of sexual assault by Jem and the Holograms actress Aurora Perrineau. The author also alleges that her best friend in college was assaulted by a member of Dunham's circle, and that the perpetrator "continues to move in those circles and has a powerful job."
On Friday, Perrineau filed a report with the Los Angeles County Sheriff's Department, in which she accused Miller of raping her back in 2012, when the then-35-year-old writer invited then-17-year-old Perrineau and two of her friends to his apartment. Dunham and Konner were quick to release a statement, in which they not only defended Miller, but also accused Perrineau of making it more difficult for women to report their rapes:
While our first instinct is to listen to every woman's story, our insider knowledge of Murray's situation makes us confident that sadly this accusation is one of the 3 percent of assault cases that are misreported every year. It is a true shame to add to that number, as outside of Hollywood women still struggle to be believed.
After receiving backlash for her victim-blaming, Dunham released a second statement stating that she and Konner "regret this decision [to defend Miller] with every fiber of our being."
Clemmons and Dunham traveled in the same circles during the former's time at Brown, the author writes in her open letter. "We had many mutual acquaintances and still do," Clemmons writes, adding that she "avoided these people like the plague because of their well-known racism." The author is hardly the first person to call out Dunham's racism, and the whiteness of Girls was widely criticized throughout the show's duration. (It took three seasons to get the HBO series' first black, female character.) In Clemmons' college experiences, however, the racism displayed by Dunham and her friends was reportedly much more overt. From Clemmons' statement:
I'd call their strain "hipster racism", which typically uses sarcasm as a cover, and in the end, it looks a lot like gaslighting– "It's just a joke. Why are you overreacting?" is a common response to a lot of these statements. In Lena's circle, there was a girl who was known to use the N word in conversation in order to be provocative, and if she was ever called on it, she would say "it's just a joke."
In her Sunday post, Zinzi Clemmons indicates that she will no longer contribute to Dunham's Lenny, a monthly newsletter, and calls on other women, and women of color in particular, to follow her lead. The What We Lose author says that watching black African feminists come together to tell stories of women and girls from imperiled areas of the world has inspired her to "sacrific[e] some comfort and a little bit of cash" in order to stand by victims:
I am currently in Nigeria at a literary festival on the theme of feminism, which, of course, means black African feminism. It is a beautiful thing. I have been awed and inspired by the women here who are facing such immense obstacles, putting themselves in danger every day to help women in some of the worst conditions on earth. Remember that many of those 26 migrant girls who drowned off the coast of Italy last week were Northern Nigerians, and sex trafficked). Yesterday, I had the honor of sharing a stage with Hadiza El-Rufai, who comes from the same region, who lost both her son and daughter in the process of publishing her latest novel. She has made it her mission to promote the stories of women from that area, no matter the cost. If these women can do that, surely we can make this small sacrifice.
Zinzi Clemmons' What We Lose is one of this year's 5 Under 35 honorees.