Watch Wynonna Earp Deal With Some Mommy-Shaming Revenants In This Exclusive Clip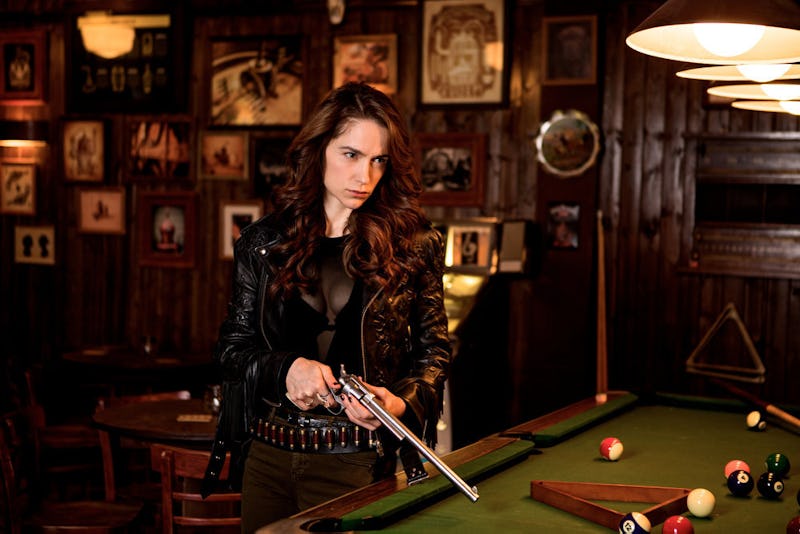 Michelle Faye/Wynonna Earp Productions, Inc./Syfy
It's not easy being the Earp heir. Purgatory's prodigal daughter Wynonna (Melanie Scrofano) has been back in her hometown for a few years, and she has been through it. As Wynonna Earp Season 3 premieres on Syfy (the network is airing a sneak preview July 16 at 11 p.m. ET and then an encore with bonus scenes in its regular timeslot on July 20) the somewhat reluctant heroine is dealing with the effects of the life-changing decision she made in last season's finale. Wynonna gave up her newborn daughter in order to protect her from the Revenants who haunt the Ghost River Triangle — a necessary but devastating move that will reverberate through the whole team. In the below exclusive clip from the Wynonna Earp Season 3 premiere, Wynonna doesn't quite look the part of the grieving mother, but then again, she's always dealt with things in her own way.
Just as being pregnant barely slowed the demon-killer down, Wynonna is going to find new purpose in the fact that she's just extended her cursed family line. And she has a pretty robust support system in place to help her ensure that the Earps will live on: sister Waverly (Dominique Provost-Chalkey) and her girlfriend, Office Nicole Haught (Katherine Barrell); Wynonna's partner Agent Dolls (Shamier Anderson) and fellow Black Badge operative Jeremy (Varun Saranga); and of course, baby Alice's father Doc Holliday (Tim Rozon).
"She had to give up her daughter, she has the opportunity to face the demon of all demons — the one who cursed her family," showrunner Emily Andras told TV Insider about this upcoming season. "So you have this determination and this sense that Wynonna is not alone."
So if you thought Wynonna would be sitting at home crying over a blue baby blanket (because blue is for girls!), you thought wrong. But the resurrected outlaws killed by her infamous ancestor are still going to use the memory of Alice to try to get under her skin. So it's a good thing that Wynonna typically deals with emotional situations by kicking the nearest ass. Check out the clip:
There's some meta commentary in here about the way mothers are forced into a box, separate from other women. The Revenants taunt Wynonna not only about the fact that she and her baby are physically separated, but one also suggests that she's no longer a threat to them because she carried a child. (Uh, wrong.)
Speaking over the phone the day Syfy will unleash the sneak peek of the season, Scrofano says that her character is "true to form, doing everything to try to avoid thinking about [giving up Alice]." She continues, "She's been training really hard and she's stronger than ever, physically and probably, in a way, emotionally too. Because [protecting Alice has] given her finally a goal and she knows what she needs to do." And indeed, it seems from this teaser scene that she's going to handily win this bar fight. Underestimate this new mom to your peril.
Will fans see where Alice ended up this season? Will she and her parents ever be reunited? Those questions will hang over the season, but there are other puzzles to be solved as well. Season 3 will carry forward the finale's other cliffhanger, which is the return of Wynonna's mother, played this year by Megan Follows. The heir has been keeping her knowledge of her mother's whereabouts a secret from Waverly, which will certainly be the source of some family strife. And given this show's knack for portraying the relationships between complex women, you can confidently assume that Michelle Earp will be as much of a pushover as her girls. (Read: not at all.)