This Adult Site Launched A Fund To Help Woman-Identifying Filmmakers Get You Off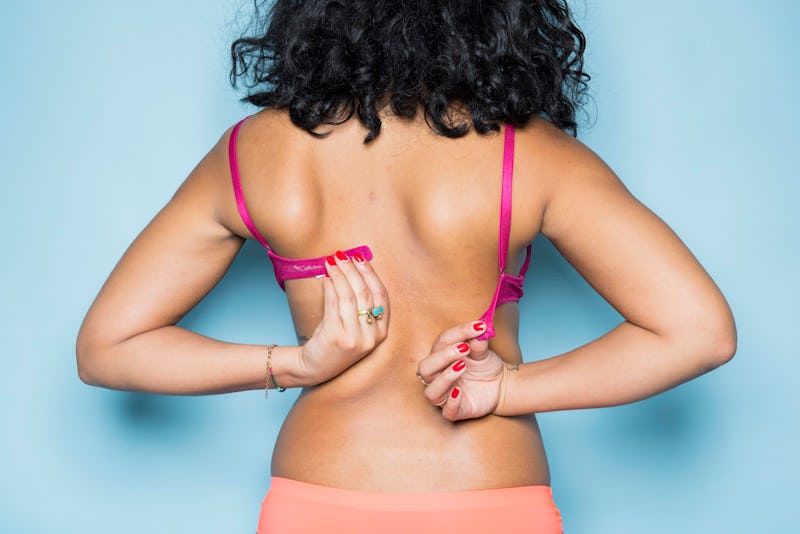 BDG Media, Inc.
Sometimes, mainstream porn feels like a boys' club: Movies made mostly for and often by men, despite the fact that women like a little adult entertainment, too. A 2015 Marie Claire survey of 3,000 readers found that 30 percent watched porn on a weekly basis, and 10 percent watched daily. And while it's true that those viewers get off on what's available — particularly, according to the survey, if it falls into the lesbian or BDSM category, at least according to the poll — it's also true that pornography often looks a little different when it comes from women-identifying and non-binary filmmakers. See, for example, the erotic offerings over at Erika Lust's XConfessions, or Shine Louise Houston's sexy queer cinema at Pink and White Productions.
Demand for porn that reflects a non-male gaze certainly exists, and now porn site xHamster would like to help bring you more of it. On Thursday, the tube site officially launched a $25,000 fund to expand its 'Porn for Women' category.
In a statement, xHamster Vice President Alex Hawkins explained that women make up more than 25 percent of the site's visitors, while an estimated 95 percent of content targets a male audience.
"Women may enjoy this content," Hawkins tells Bustle, "but they also may like other types." It may be, he says, that xHamster's woman-identifying audience works within a framework intended mostly for men — and just because those viewers find things they like, that doesn't mean the site can't give them options they'd like even more.
"We're not here to tell people who is a woman or what it means to be a woman or what women should want or anything like that," Hawkins says. "We are asking women to create their own fantasies and to share the things that turn them on."
Woman-identifying filmmakers, both new and established, can apply for grants ranging from $500 to $10,000 starting September 1. Amateurs can submit clips with the hashtag #xHamsterForWomen, and a rotating panel of sexperts (first up: "a journalist, a performer and sex work activist, and a businesswoman," per Hawkins) will pick a winner who receives $500 for their work and promotion on the site. Starting in January 2019, xHamster will also begin awarding more established pornographers $1,000 grants for proposed projects to supplement their existing budgets, and will eventually give one applicant $10,000 to produce a film in collaboration with the site.
"We started off small because we want the ability to correct," Hawkins says. "Nothing like this has really been done before, and we want to be able to look at what is working and adjust. If this is successful, it could certainly grow."
It bears noting that Pornhub, another hulking tube site and an xHamster competitor, did recently announce a similar site change. Having noted a growth spurt in its women viewership, Pornhub announced in February that it would rebrand its "Female Friendly" category to "Popular With Women." It also solicited suggestions from users as to what type of content they really wanted to see. Pornhub did not throw money at creators, however, so in this respect, xHamster would seem to be breaking ground.
And while it's admittedly difficult to parse out what, exactly, porn for women means — were certain films out there previously off-limits to certain genders? — Hawkins sees this as an opportunity for xHamster to better understand its audience, and foster new voices in the industry. "So many women have made films or clips with their phones," he says. "They do not think of themselves as pornographers, but are just expressing their sexuality and what turns them on. That is what we want to bring here." In other words: by women, for women.
Now, an important caveat: xHamster provides users with free porn — and free porn does deal many pornographers, especially the independent ones, a financial blow. Because paid content often ends up on their platforms, the tube sites have, as adult actress Jessica Drake put it to Men's Health, "decimated our industry, bankrupted companies and people, and put many people out of jobs — both people in front of and behind the camera." Porn does not simply spring forth from a sourceless internet stream; like any other film genre, porn takes money to make. The paywalls and subscription fees help studios stay afloat, so if you want to consume porn ethically, the best way to do so probably involves your credit card.
XHamster will not be charging viewers for the material it commissions. "We don't ask that the content be exclusive to us or neither do we ask for any rights to it or control over it," Hawkins says. "We very simply want to reward innovative and interesting filmmakers. We want to encourage people who might want to share their fantasies to do it."