'Jane The Virgin' Took A Bold Look At What It's Actually Like To Decide To Have A Mastectomy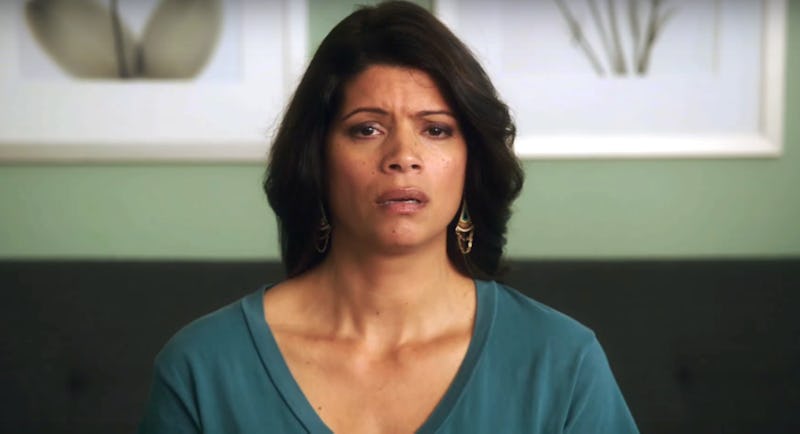 The CW
After dropping Xo's devastating breast cancer diagnosis on fans, Jane The Virgin jumps right into her treatment options in "Chapter 78." Spoilers follow. Although Jane wants her mother to undergo a preventative double mastectomy, Xiomara's breast cancer decision on Jane The Virgin ends up being her own. She has deferred to her thorough and cautious daughter for many years, but her life-threatening diagnosis leads Xo to make an empowered decision about what's best for her. With some consultation with her husband Rogelio, Xo ultimately settles on a single mastectomy on the breast with cancer. And it's the option that she feels will allow her to keep an important part of herself intact.
"Chapter 78" goes into the complicated decisions that a person must make after they are diagnosed with breast cancer. Xo has stage three invasive lobular carcinoma and her doctor recommends removing the cancerous lump as quickly as possible. Rogelio is uncharacteristically hesitant as he struggles to find his place among the strong-willed Villanueva women during this tough time. Jane, on the other hand, goes ahead and advises her mom to go with the most cautious choice — the prophylactic bilateral mastectomy — which would remove all the tissue from both breasts even though the tumor is only in one. Xo is understandably lost in the sea of options as she is just beginning to realize what her diagnosis means for her future. But a spa day with Jane, courtesy of Rogelio, helps provide clarity — even if it isn't particularly relaxing.
The narrator, Jane, and Xo may be snarky about the spa (this massage therapist would like to note the importance of the intake forms!), but the therapist that leads their mud bath does provide some enlightenment for Xo. The therapist instructs them to appreciate and honor their unique bodies and Xo starts to seriously consider a lumpectomy, which would only remove the cancerous tumor. She loves her breasts and doesn't want to lose breast tissue unless she has to. "My body makes me who I am. It has never given up on me and I'm not giving up on it," Xo says.
Beyond the mud bath, the locker room at the spa is another element that makes Xo confident in her decision. While Jane is slightly judgmental of the women who choose to go without robes and bare their breasts, Xo realizes she's more like those women — a woman who is open about her sexuality and her body. "They like being naked — and I do too. I like my body. And I like showing it off, it's part of who I am," Xo says. "You and I have different relationships to our bodies, Jane. And I don't know if I want to have elective surgery for your peace of mind."
Xo has always embraced her sexuality and she has made slightly controversial health decisions that are best for her in the past, like when she had a medical abortion in Season 3. As Xo tells Rogelio, she feels like her physical attractiveness has defined her for so long, particularly in her experience as a single mother, and this is where most of her confidence came from. But she also realizes that now that she's married, she has another person she wants to discuss her options with — and it's not her daughter Jane, but her husband.
If she has the elective double mastectomy, she's worried she may feel like she has lost part of who she is. But she also says that what defined her before doesn't necessarily define her now that she's married to Rogelio. So she chooses to go over the options with Rogelio because, in her words, "even though it's my body, it's our life." Xo ultimately decides to go with the single mastectomy just on the breast that has the cancer. And through her decision and conversations, Jane The Virgin captures how you can consider your partner while also making a decision that's true to who you are and what you want.
As for Xo's survival rate, she'll have a tough recovery and will have to undergo chemotherapy, but there is significant hope that she'll survive. After all, fans wouldn't be able to handle Jane losing another person so important in her life so soon after Michael's death. If Xo's doctor is correct in her diagnosis that it's stage three and that the cancer hasn't spread to her lymph nodes, Xo may be alright. The National Breast Cancer Society notes that although stage three "is considered to be advanced, there are a growing number of effective treatment options."
So while the rest of Jane The Virgin Season 4 will follow Xo post-surgery, she now has a treatment plan in place. This plan is one that not only her family supports, but one that Xo is comfortable with. And that in itself is a major win even during this extremely difficult and emotional time. She's losing part of the body that she loves so much, but Xo isn't losing her identity.