Classes At Kavanaugh's Alma Mater Were Canceled Because So Many Students Are Protesting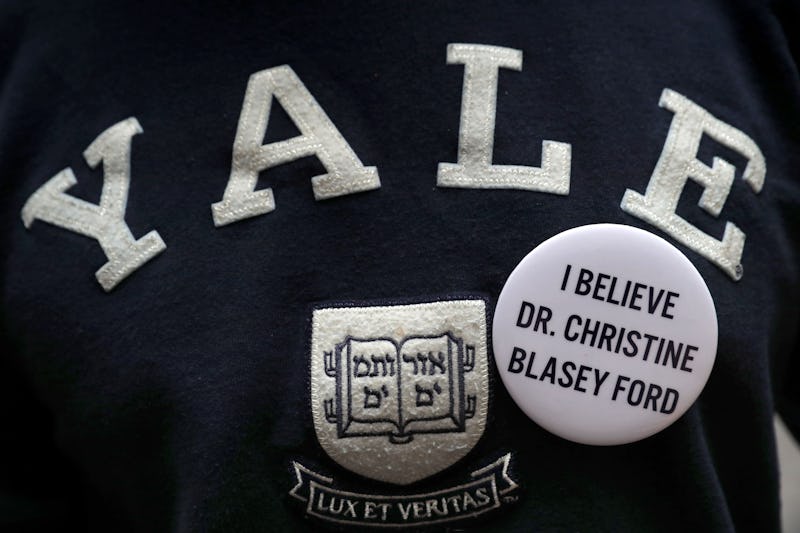 Chip Somodevilla/Getty Images News/Getty Images
Adding to the growing chorus of protests against Trump's Supreme Court nominee, Yale Law School students protested alumnus Brett Kavanaugh by bussing themselves to Washington, D.C. on Monday morning. Together, 115 Yale Law School students traveled to the U.S. Capitol, while fellow students simultaneously held a sit-in at the law school in New Haven, according to The Cut. At least 31 classes were cancelled at Yale Law School on Monday, HuffPost reported.
The students are demanding an investigation into the alleged sexual assaults committed by Kavanaugh, a federal judge for the U.S. Court of Appeals for the District of Columbia Circuit. Kavanaugh has denied the allegations against him.
"We're organizing both to oppose the hasty, biased, and incomplete investigation of the Brett Kavanaugh sexual assault allegations and to support and stand with Professor Christine Blasey Ford, Debbie Ramirez, and all people who have experienced sexual violence and sexual harassment," Yale Law School student Veronica Guerrero told The Cut.
On Monday, Kavanaugh sent a letter to Iowa Sen. Chuck Grassley and Feinstein, the respective Republican and Democratic leaders of the Senate Judiciary Committee, denying all allegations. "Such grotesque and obvious character assassinations — if allowed to succeed — will dissuade competent and good people of all political persuasions from service," Kavanaugh wrote in the letter.
Ford accused Kavanaugh of attempted rape in a letter to her congresswoman and California Sen. Dianne Feinstein over the summer. Initially, Ford requested anonymity, but as Kavanaugh's confirmation appeared imminent, Ford publicly told her story to The Washington Post on Sept. 16. Ramirez came forward in a New Yorker story by investigative journalists Ronan Farrow and Jane Mayer on Sunday evening.
Third-year law student Catherine McCarthy told HuffPost there were at least 260 attendees at the sit-in. "People are, I think, angry on behalf of people who have been mistreated, particularly on behalf of Dr. Christine Blasey Ford and Debbie Ramirez," McCarthy told news outlet.
The sit-in was full of support for survivors, McCarthy said. "There are some tears. There are a lot of shows of support. A lot of empathy and compassion," McCarthy said, according to HuffPost. Even Connecticut Sen. Richard Blumenthal spoke at the sit-in. (He graduated from Yale Law School, and edited the Yale Law Journal.)
Yale Law School student Dana Bolger told The Cut that students were "mad as hell."
"It is unconscionable that it is 2018 and the Senate is set to repeat the same shameful mistakes of over two decades ago. We should be past this," Bolger said, referencing Anita Hill and her testimony accusing then-Supreme Court nominee Clarence Thomas of sexual harassment while both worked at the Equal Employment Opportunity Commission. Thomas also denied Hill's accusations, infamously calling the hearings a "circus" and a "high-tech lynching for uppity blacks."
Bolger said the sit-ins were to show that enough is enough. "Our school's complicity in pushing forward this nominee must end now," Bolger told The Cut.
Kathryn Pogin, another Yale Law student, said in a statement that the school "perpetuates a broader power structure" in American society. "This is a moment of reckoning for the country as well as for the Yale Law School community, given the disproportionate power this institution holds over the legal profession and how we have collectively chosen to wield it," Pogin said in a statement to HuffPost.