Yara Shahidi Wants To Change The World & Knows Exactly How She Plans To Do It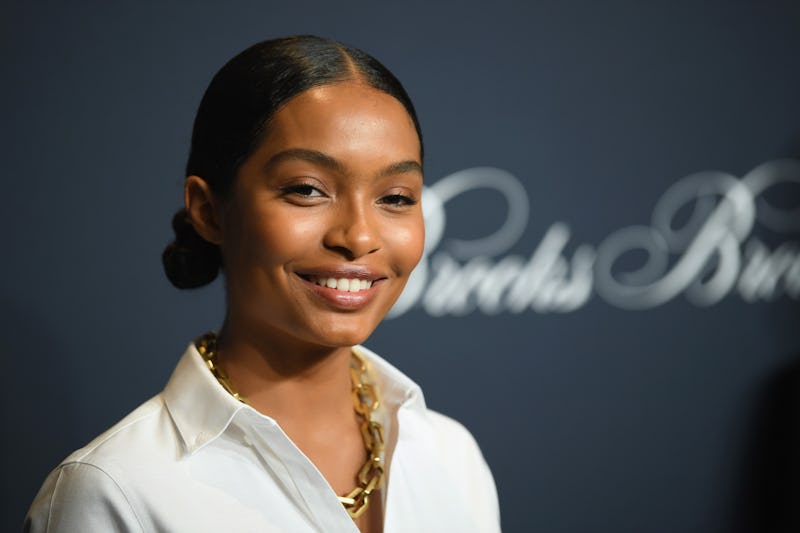 Dimitrios Kambouris/Getty Images Entertainment/Getty Images
First of all, keep in mind while you're reading this that Yara Shahidi is 18 years old. She's 18 and she's got big plans — no, not for this weekend, and not even in regard to her increasingly successful acting career. Shahidi has plans to change the world, according to her Aug. 8 interview with The Hollywood Reporter, and she's already started to make an impact.
It's worth noting from the get-go that the theme for Shahidi's 18th birthday party this year was voting, THR revealed. Do you know any teenagers who had a voting themed birthday party, much less one with an actual voter registration booth? That fun fact pretty aptly sets the scene to explain Shahidi's awe-inspiring commitment to change.
One month before her patriotic birthday party, Shahidi launched EighteenX18 — her very own voter registration and education initiative. Yes, you read that correctly: She launched a voting initiative before she'd even reached the legal voting age herself. According to the platform's website, it was "designed to uplift our generation of voters to take action into our own hands and discover the issues that impact us through our own stories and experiences."
Of her motivation moment to create EighteenX18, Shahidi told THR,
"My passion really stemmed from having gone through the 2016 election, where myself and many of my peers were unable to vote. A lot 
of them went with their parents to the polls, but there was that feeling of being lost. Like, 'What can we do to contribute to our sociopolitical landscape?'"
Impressed yet? Well, there's more. The young star is quickly becoming a voice for her generation, though she's never flat-out declared herself as such. You can tell that she's a leader just by the way that she speaks — inclusive, passionate, empowering — and what she says will likely give most people hope for the youth to come.
"The thing people don't fully understand about my generation is just how multifaceted we are," she explained to THR. "Oftentimes, people like to oversimplify what [we] believe in or do, whether that's, 'Oh, you're on your phones all the time,' or, 'Oh, you're very self-centered,' but what I've seen from my peers is that we're socially engaged and curious about the world."
As evidenced first by her voting initiative, Shahidi doesn't just talk the talk — she walks the walk, too. In addition to preparing to start college (Harvard) and filming the second season of her new hit show (Grown-ish), she's recently been involved in the planning of EighteenX18's first national summit, THR noted.
As if that weren't enough, she's got a podcast coming out (tentatively titled 18 x 18 with Yara Shahidi), the interview revealed, which will have her interviewing young, influential women across a broad range of industries. So, yeah. "Busy" doesn't even begin to cover it.
With so many major accomplishments already under her belt, you might be wondering where Shahidi could possibly go from here. According to Michael Skolnik, her activist partner on the EighteenX18 initiative, "If Yara wants to be president one day," he told THR, "she will be." The world can only hope to be so lucky.