Kris Jenner's Curated A Kylie Cosmetics Shop Just In Time For Mother's Day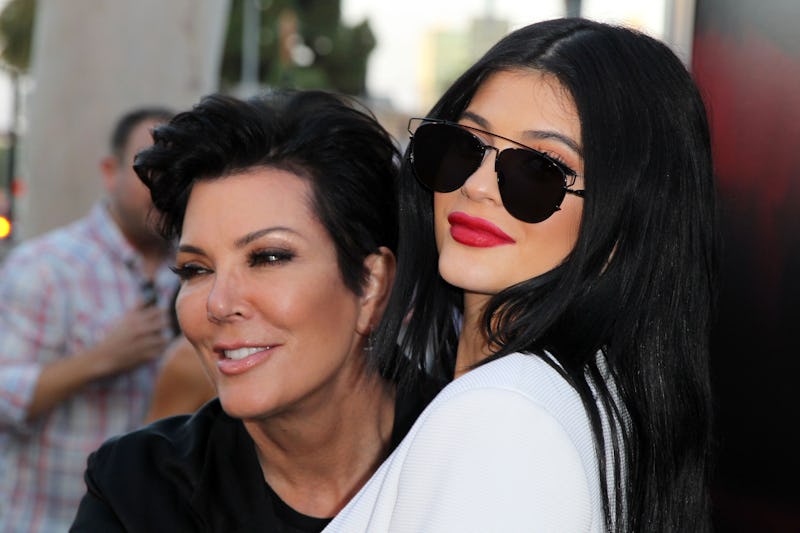 David Buchan/Getty Images Entertainment/Getty Images
Mother's Day is a very special time of the year, so of course, Kylie Jenner found a way to get her mom involved with one of her passion projects. They've teamed up to create a way for you to purchase items that represent their mother-daughter relationship. You can now shop Kris Jenner's favorite Kylie Cosmetics products for Mother's Day 2017. And honestly, I can't think of a better way for these two to have joined forces to celebrate May 14.
Jenner obviously plays a huge role in her daughter's makeup company. I mean, I'm guessing Kylie did inherit her business savvy from her mom, after all! But, not only that — she also named a lipstick, Kristen, after her lovely mother, so there's some definite inspiration trickling down from the matriarch of the Kardashian/Jenner clan.
When you visit the Kylie Cosmetics website, you'll find a curated shop of all of Kris' favorite items which includes the Burgundy Kyshadow Palette, Hot and Bothered Blush, the Kristen lippie (of course!), along with a few other items. She's picked a total of 12 incredible products, and when you shop while this special offer lasts, you'll also score free domestic shipping on orders over $40. Better get your hands on Kris and Kyle-approved products while you can because there's no way you won't love what these two have come up with together!
Her favorite items are bound to be amazing because she knows how to go glam.
This is such a great way for this mother-daughter duo to collaborate.
Fans agree. This is too cute!
She's a huge supporter of the Kylie Cosmetics brand, so the fact that she's got quite a few favorites isn't surprising.
Kristen Matte Liquid Lipstick, $17, Kylie Cosmetics
Kris even provides commentary about why she picked each item and suggests how you can wear it. For this lip shade she said, "My favorite color, for obvious reasons! This is such a beautiful shade for when I'm going to a look that's a little more bold. Moms, this is such a fabulous color for date night," according to the Kylie Cosmetics website.
Black Kyliner Kit, $26, Kylie Cosmetics
According to the brand's website, Kris loves using the black Kyliner for her eyes, but she also suggests trying the brown shade for your brows. "I've also been using the brown creme gel on my brows because it's a perfect match to my brow color and the Kyliner brush provides great precision to shape and fill in my brows." Pretty genius, huh?
Clearly, when it comes to picking makeup items — mama knows best! Don't miss you chance to grab this curated range just in time for Mother's Day.