'Blade Runner 2049' Can Stand On Its Own — To A Point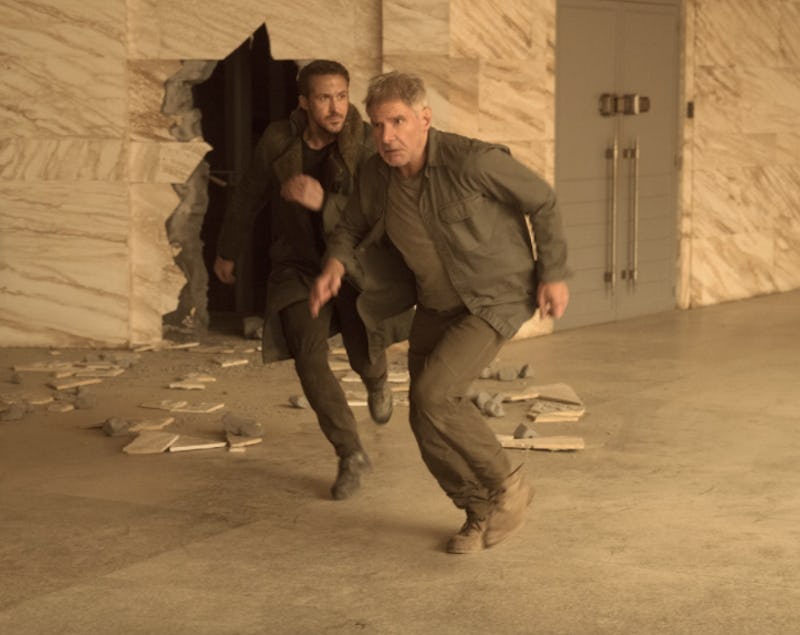 Warner Bros. Pictures
Blade Runner 2049 is a sequel that was very long in the making. The film isn't a remake of 1982's Blade Runner, nor a reboot, but an honest-to-goodness sequel of a 35-year-old film; a film that many aficionados consider to be one of the greatest examples of the sci-fi genre ever made. So with this being the case, does that mean you have to see the first Blade Runner before 2049, or does the new movie stand on its own since it's been so long since the original film was released?
It certainly wouldn't hurt to watch the original film before seeing the new movie. Although Blade Runner 2049 features a mostly new cast (including Ryan Gosling, Jared Leto, Robin Wright, Dave Bautista, Ana de Armas, Sylvia Hoeks, and Mackenzie Davis), it also stars Harrison Ford, who's reprising his role as Rick Deckard from the original film. In that movie, Deckard was a blade runner, a special police officer whose job it was to track down illegal replicants (androids). In 2049, 30 years after the events of the first film, Gosling plays a new blade runner named Officer K, who has to track down Deckard — who's been missing since the conclusion of the first film — in order to unravel a new mystery involving a new generation of replicants.
The new movie is also expected to give a definitive answer to the biggest question fans have had about the original ever since it premiered 35 years ago: Is Deckard himself a replicant? The satisfaction of receiving this answer should be enough of a push to watch the first movie before seeing 2049, but if that's not enough of a motivator for you, then you'll probably be OK if you watch the new film without seeing the original... at least according to director Denis Villeneuve.
"The idea was to make sure that someone who knows nothing about the universe [of Blade Runner] can still enjoy the movie, having enough clues and background in the movie," Villeneuve told The Wrap's Umberto Gonzalez. In a separate interview with CNET's Richard Trenholm, the 2049 director admitted that he generally doesn't care for sequels, which presumably gave him more motivation to make sure his movie could stand on its own. "Listen, apart from The Godfather [Part Two]... No, it's not true. There's another one that I think is pretty powerful: The Empire Strikes Back. Apart from that, I'm not a big fan of sequels," he said.
On the other side of the coin is Ridley Scott, who directed the first Blade Runner and serves as executive producer on 2049. According to him, the first film sets up the new film completely. "There's a very clear and present and straightforward story, which opens up into a more complex universe, with all its outcomes and characters," Scott told Den of Geek! "Because the very first film is a very clear indication of what the second will be. And I'm not going to tell you what it is, because I'll give the whole thing away. And not only that, but it'll sound too simple — but it's not simple, it gets quite complicated." Most reviews have implied that the plot of 2049 itself is a spoiler, which ties in to the connection the movie shares with the original Blade Runner.
Director Denis Villeneuve set out to make Blade Runner 2049 as a movie that can stand on its own, with viewers not necessarily needing any knowledge of the first Blade Runner to enjoy it. However, viewers that have seen Blade Runner will enjoy 2049 on a whole other level, as they will have a much deeper understanding of the film's world, the significance of Deckard, and the implications of the philosophical questions the movie raises regarding artificial intelligence. So while you don't technically have to watch Blade Runner to "get" Blade Runner 2049, you really should if you want to fully appreciate and understand the new film.