You Don't Know This Broadway Singer, But She's Why You Still Love The 'Anastasia' Soundtrack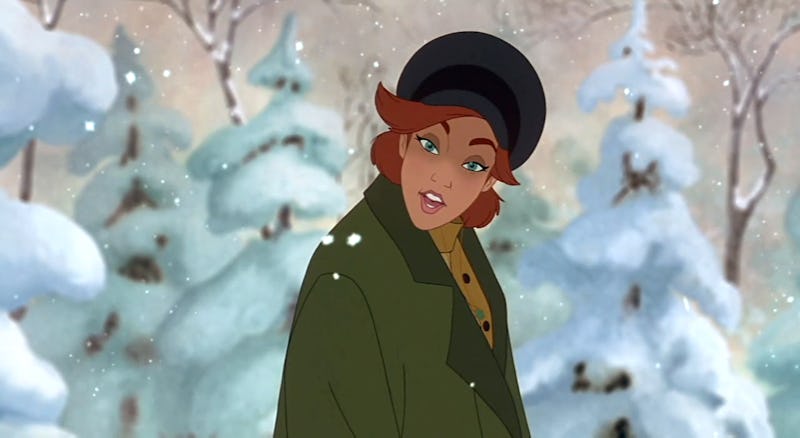 20th Century Fox
Disney had a monopoly on animated princess movies for decades, but one movie that broke that up was 20th Century Fox's Anastasia in November 1997. The story of the lost Russian princess resonated with viewers, particularly through its gorgeous music and the singing voice of Anastasia, Liz Callaway. While America's sweetheart at the time, Meg Ryan, was the speaking voice for the character, Callaway sang the two most memorable songs of the movie — "Journey to the Past" and "Once Upon a December" — and in a phone interview with Bustle, the singer spoke about how the music of Anastasia still has the ability to move people 20 years later.
Callaway admits with no hesitation that "Journey to the Past" — which was nominated for Best Original Song at the 1998 Oscars, but lost to "My Heart Will Go On" from Titanic — is her favorite song that she recorded for the film. "It has a wonderful message — 'home, love, family,'" Callaway says. "Especially as we come up on the holidays, it's really nice lyrics to revisit." She also knew upon hearing it for the first time that Anastasia songwriters Lynn Ahrens and Stephen Flaherty had created "the perfect song for Anya." Yet, she acknowledges that "Once Upon a December" may be the fan favorite, which is just fine by her. "They're both amazing songs and I kind of have to pinch myself to realize that I got to be the first to sing them, [to] introduce them to the world."
Although she recorded the songs for Anastasia more than 20 years ago, Callaway has had the opportunity over the past two decades to see fans' reactions when she tours and performs live. The Broadway singer has starred as Grizabella in Cats, originated the role of Ellen in Miss Saigon in New York, and earned a Tony nomination for her performance as Lizzie in Baby. Before Anastasia, she was well-practiced in being a princess since she was the singing voices of Princess Odette in The Swan Princess, Princess Jasmine in The Return of Jafar and Aladdin and the King of Thieves, and Princess Kiara in The Lion King II: Simba's Pride. (Callaway also worked as one of Gaston's "Silly Girls" in Beauty and the Beast.) Yet, even with her impressive résumé, she makes sure to feature the Anastasia songs in her concerts around the world.
"When we opened in the movie theaters, it was really exciting, but it was kind of over then," Callaway says. "I almost didn't know that [the interest in Anastasia] was still continuing until I started going and doing concerts and having people come up and talk to me afterwards and it's really gratifying."
"So many people — not just girls, but boys too — come up to me, sometimes crying, saying, 'Anastasia was the soundtrack of my childhood,'" she says. "Something about that movie and that score really touched people." In addition to her concerts, she sometimes will do a more intimate showcase of Anastasia songs for master classes that she teaches. "I can't tell you how many times people burst into tears. They can't even stand it — just something about hearing the person that they've listened to for so long there in front of them," Callaway says. "It's really sweet. I love it."
Through YouTube, Anastasia fans who haven't had the chance to see Callaway perform in person can understand what a magical experience it is to see her sing "Journey to the Past," "Once Upon a December," or both (as she does above) live. Beyond the emotional meaning behind these songs, Callaway transports audiences back to their first time seeing Anastasia. She's able to do that in part because, as Callaway explains, people think her voice hasn't changed very much since the film was released.
"Even this week I've had several people say, 'You sound exactly the same,'" she says. "I'm lucky my voice has just sort of stayed the same. ... I'm able to give [fans] what they've remembered."
As for how she prepared her voice for Anastasia back in the '90s, Callaway didn't have to worry too much about matching the very-famous Ryan's tone. During the making of the movie, she says she never heard anything that Ryan recorded, wasn't instructed to sound like her, and didn't meet the actor until the film premiered. Yet, Callaway independently decided to do a little research before she recorded the first song for the movie, "Once Upon a December."
"I had rented the video of Sleepless in Seattle and I put it on and I recorded a couple of scenes on my Walkman. And I listened to her speaking voice on my way to the recording session, just to have it in my head even though I think they felt there was a quality that was similar enough just in the timbre of our voices. But that was something that I did, which I think that is truly how you can tell that it was over 20 years ago," she says with a laugh.
While you're probably already dusting off your own copy of Anastasia on VHS or DVD (or stream it on Netflix) now that the movie has turned 20, Callaway mentions another way fans can get their fix in — the Broadway show. Anastasia on Broadway premiered in 2017 and it includes some of the songs from the animated film, as well as new ones by Ahrens and Flaherty. But Callaway saw firsthand how excited theatergoers were about the original songs from the movie. "They'd hear the intro to a song and they'd start applauding. They were so ready for it," Callaway says.
Just as Anastasia holds a special place in the hearts of fans, so does it for the woman who gave Anastasia her sweet singing voice. "It was actually one of my favorite jobs I've ever had," Callaway says. "It's pretty amazing and special to be a part of something, you know? To have this be part of my legacy, of being a part of this movie." And with Callaway singing about Anya's "Journey to the Past" even 20 years after the film's release, she continues to bring the legacy of Anastasia to life for fans around the world — no VHS required.