Here's The Sneaky 'Riverdale' And 'The Vampire Diaries' Connection You Missed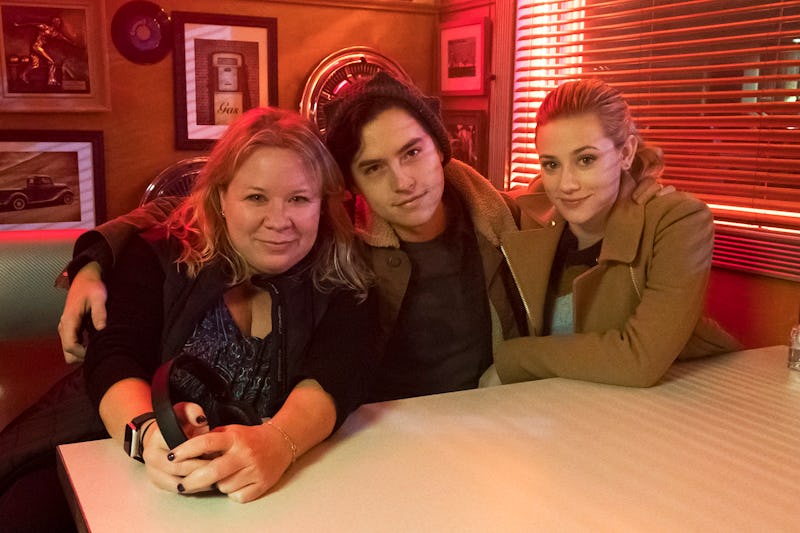 The CW
Julie Plec's first time directing an episode of a show on which she was not the creator or executive producer felt more familiar than it should have. Taking a break from her The Vampire Diaries and The Originals shared universe, The CW's uber-producer discovered a surprising connection between Riverdale and The Vampire Diaries that she didn't realize until it was staring her in the face.
"It was so funny, I had seen Thistlehouse on camera but it hadn't registered with me," Plec tells Bustle along with a small group of reporters at The CW's headquarters in Burbank, Calif. about the Blossom manor on Riverdale. "And when we pulled up the driveway for the location scout to go see it, I was like, 'This is so familiar. I feel like I've been here before.'"
That feeling only increased when she saw the pond outside. "I was like, 'Gosh, I really think I know this [place],'" Plec says. "And then I actually took a good look at the house and realized it was the Salvatore House from [The Vampire Diaries] pilot. Isn't that hilarious? Because we shot the pilot in Vancouver [before moving to Atlanta for the series]. And the backyard of it which is so gorgeous is where we built our cemetery. That was a nice flashback!"
While reminiscing about her earlier days as showrunner of The Vampire Diaries, Plec also revealed that, like Riverdale is currently experiencing with the upcoming Netflix spinoff Sabrina the Teenage Witch, she felt pressures from the network to produce crossovers with another series. Mind you, this was years before she created her own spinoff series The Originals for The Vampire Diaries to cross over with, so the idea was still new.
"In Season 1 or 2 of Vampire, they approached us about maybe doing some kind of Supernatural blending, like a crossover," Plec says. "Kevin [Williamson] and I were like, 'Absolutely not, because we are vampires and werewolves, we don't have demons, we don't have hell, we don't have the devil. We don't have any of that stuff! It's like completely two different supernatural universes.'"
Her years of working with crossovers and spinoffs ended up changing her mind, but at that point it was too late to host any kind of Vampire Diaries and Supernatural crossover event. "Now looking back with some distance, that would have been fun," she says. "I would have totally done that. And we ended up visiting [hell on Vampire Diaries anyways]."
But Plec had an "awesome" time turning over a new leaf and taking her directing skills over to Vancouver back in November to film this week's Riverdale episode, "Chapter Twenty-Six: The Tell-Tale Heart."
"It was a very creative and energized and collaborative experience which isn't always the case," she says. "What was so thrilling about it was I binge watched everything going in to catch up and was just so blown away with the look of the show. It's so specific and stylized and cool, and that's hard to do on a TV schedule. The amount of deep artistic talent [on the crew] is pretty incredible. The attention to detail is phenomenal. It's a bunch of artists over there."
While this was her first time directing on a show that she was not the boss of, it turns out that her biggest challenge was just her limited experience so far as a director. "I've directed a few episodes of Vampire Diaries and so you have no idea what you know and what you don't know until you go to someone else's show where not everyone there exists to make you look good," Plec says with a laugh. "But it actually turned out to be really fun to go in and work with these actors. They're in that rush and flush of being on a hit show in the second season, before they hate you, before they're like, 'Get me out, I'm dying here, I'm suffocating. Please kill me.' And all that."
She laughs a bit at the subtle shade she knows that she's throwing, and adds, "There's an energy and a buzz on that set that you don't see very often. It's fun to be part of something as it's exploding."
Moving forward now that The Originals is about to air its final season, Plec is free to take on more directing gigs, and that's exactly what she plans to do. "I look forward to be able to pursue that side of my career," she says. "I think I like it better. Writing makes me so miserable and so happy, so it's a real slippery slope because I suffer and then I'm thrilled. But we'll see with directing what the scale of misery to joy is."
Plec's Riverdale episode was so jam-packed that "the schedule was so long that we couldn't fit it all into eight days," she says. She actually had to leave filming early to go officiate Riverdale executive producer Greg Berlanti's wedding, but she felt comfortable leaving things in the hands of the crew. They had consistently proven just how capable and talented they all are, especially since this was Plec's first time dipping her toe into the noir genre.
"There were a lot of Hitchockian references, a lot of noir references and I was like, 'Shit, I don't know anything about noir!" she says with a laugh. "So I went on a crash course and watched a bunch of movies on iTunes and I actually found the most inspiration, outside of the actual short film The Tell-Tale Heart, from Blood Simple. The way [they] use color on the show in general is massively, beautifully influenced by that. It was really fun just immersing myself into a genre that I wasn't that familiar with. Diving into the super Twin Peaks noir of it all was fun."
In fact, Plec actually achieved something pretty impressive for Riverdale's standards when it came to filming a scene in a specific style. "I actually convinced the DP to break his fundamental rule of what lenses he shoots on," she says. "The entire crew started laughing and clapping and applauding because he's so brilliant and he's such a stickler … that they were watching this whole conversation, like, 'Is he going to win? Is she going to win? Who's going to come out on top here?' And it ended up great."
There were no hard feelings in the end, because they ended up getting the shot they needed in the limited amount of time they had. "He laughed at me after it was over," Plec says. Now that's impressive. Is there anything Plec can't do?
This story was created in support of Bustle's 2018 Awards Season pledge. Read more here.