Here's Your Horoscope For Today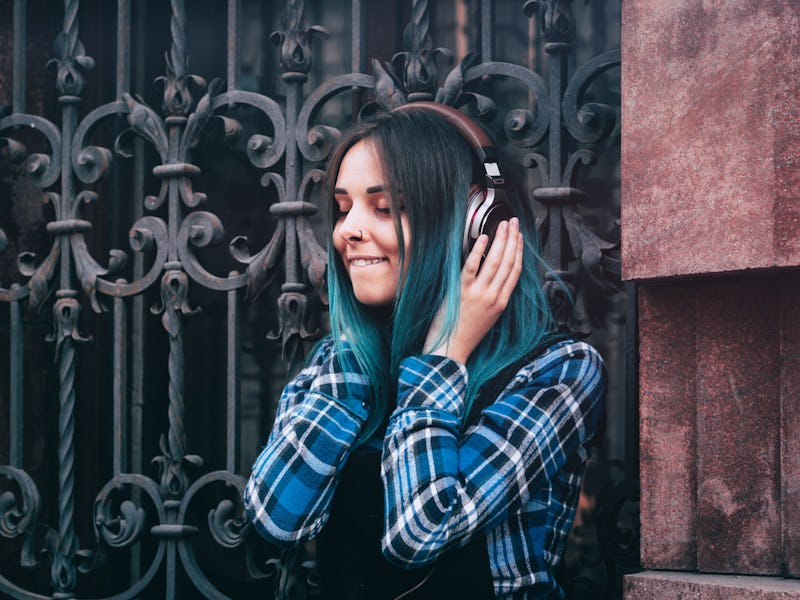 kohanova1991/Fotolia
We're constantly fascinated by what our zodiac sign says about our lives, whether it's which signs are most compatible or how each sign handles conflict in relationships. That's why Bustle has enlisted Mecca Woods, a New York City-based astrologer of MyLifeCreated.com, to tell us all about how astrology is affecting our lives each day. Today's topic: your daily horoscope for April 11, 2018.
It may feel like a restless, high-energy start to the day with the Moon finishing her transit through unpredictable and unconventional Aquarius. That vibe intensifies during the late morning when the Aquarius Moon teams up with freedom-loving and rebellious Uranus in Aries. With these two together, the first half of the day can be good for anything that requires a fresh and enthusiastic approach. For those of us that could use a break from all the hustle and bustle, our wish gets granted by the mid-afternoon when the Moon slips into dreamy Pisces. When the Moon is in Pisces, we may find ourselves feeling more sensitive or sleepier than usual which makes it a good time to unplug, relax, and bliss out. Under a Pisces Moon our intuition and creative inspiration are also at a high, so it's always a good time for getting quiet and tuning in to ourselves.
Read below to see what the stars mean for your sign today and check out your April 2018 monthly horoscope.
Aries (March 21 - April 19)
You've been quite the busy bee, for better and for worse. That's why today is the perfect time to get in some rest and relaxation. Even if you can't play hooky from work, try not to push yourself too hard today as you'll probably be moving slower than usual anyway. Overall, give yourself a break.
Taurus (April 20 - May 20)
You get by with some help from your friends today, so if you need a helping hand or a shoulder to lean on — look to your crew. By that same token, a friend could come calling on your help too. Help out where you can but don't play hero. Also, a random act of kindness goes a long way.
Gemini (May 21 - June 20)
Your focus is on your career today as you may be wondering if something your working towards is worth all the trouble. If you've just been going through the motions, it may be time to take a step back. But know that even labors of love have their rough patches too. Don't give up.
Cancer (June 21 - July 22)
You're ready for some travel and adventure, which means if you haven't done so already, this could be the perfect time to book a trip or start planning for one. If you're looking for something to get into today, taking a workshop may feed your soul or a new book. Expand on what you know.
Leo (July 23 - Aug. 22)
You might be craving some intimacy today, but your fears around intimacy may be blocking you from getting what you really want. It's time to start working on addressing those fears and realizing that much of what you fear is largely in your head. The love you want exists. Open yourself up to it.
Virgo (Aug. 23 - Sept. 22)
The spotlight is on partnership and collaborations today, which means that you can make the most progress when you team up with another or ask for the help you need. Allow others to come to your rescue for a change (and trust that they will). Meanwhile, be wary of extra needy people.
Libra (Sept. 23 - Oct. 22)
It's a super busy day for you, which means you have tons on your plate. Try to make sure you're running on the right amount of fuel and energy to keep up with it all. That means taking breaks as you need them, staying hydrated, and filling up on the right foods. Self-care is important.
Scorpio (Oct. 23 - Nov. 21)
You might have love and romance on the brain today, which means it's the perfect time to go out on a date or flirt with someone you've got your eye on. On another note, you might also need some time to blow off steam, so look for something you can get into today that brings you some laughs.
Sagittarius (Nov. 22 - Dec. 21)
Home- and family-related matters are at the forefront today. You might be called to help out a parent or a family member with a favor. Though you might not exactly mind as time spent with loved ones is exactly what you need. If you're feeling like a homebody today, that's also a good thing.
Capricorn (Dec. 22 - Jan. 19)
It's all about making your connections and conversations with others count today, so if you've got an important meeting or phone call to have, this is a good time for it as your words will make an impact. Also, you might also want to be intentional with the info you absorb today. Lay off the bad news.
Aquarius (Jan. 20 - Feb. 18)
You might be in the mood for some retail therapy today and the way the stars are set up right now, you can use an excuse to treat yourself, so go ahead. On another note, if you find yourself comparing yourself to others in any way, stop. You may not be seeing a full or clear picture.
Pisces (Feb. 19 - March 20)
You should be feeling good and back in your element today, which means it's a good time for keeping the attention on you. Do you what you want with whom you want, Pisces, as long as it makes you happy. You've got the green light to be a little selfish. The word 'no' is a good look on you.