Here's Your Horoscope For Today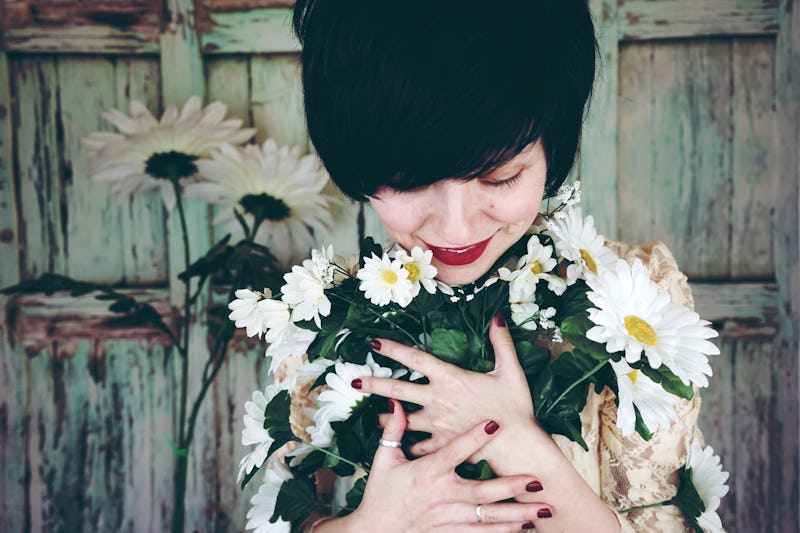 nanihta/Fotolia
We're constantly fascinated by what our zodiac sign says about our lives, whether it's which signs are most compatible or how each sign handles conflict in relationships. That's why Bustle has enlisted Mecca Woods, a New York City-based astrologer of MyLifeCreated.com, to tell us all about how astrology is affecting our lives each day. Today's topic: your daily horoscope for April 23, 2018.
The Moon is currently in playful and self-expressive Leo, which means we'll be in the mood to play, too, as well as show off the things that make us special. Since Leo is also a sign known for its creativity and penchant for the dramatic, this could be a good day for channeling our energy into anything that calls for a creative, eye-catching, or bold approach. Though, with Leo, there can be a danger of going over the top, so we may need to be mindful of pushing our limits, especially as the Leo Moon squares off with expansive Jupiter in Scorpio by late tonight.
Read below to see what the stars mean for your sign today, and check out your April 2018 monthly horoscope.
Aries (March 21 - April 19)
You might be romantically involved with someone who has you feeling head over heels at the moment. Enjoy the vibes, but be wary of investing too much too soon in this person. Take your time and see if they are worth the investment. In terms of your creative talent, make sure you get paid.
Taurus (April 20 - May 20)
You and your partner, a family member, or someone you live with may not be seeing eye to eye today, which could get under your skin. Instead of letting this person press your buttons, it may be best to let the situation cool off and go and do something nice for yourself. Hash it out later.
Gemini (May 21 - June 20)
You might feel like you're running in circles today and if you're not careful, you can end up taking on too much at once. Try to prioritize by figuring out what's really worth your time and energy. Not everything is worth the attention, especially when it comes to news or info that may distract you.
Cancer (June 21 - July 22)
You may be in the mood to spend some cash today on something you want, but it may not be something you need or can afford for right now. As such, you may need to make a savvier decision with your money. In terms of romance, don't forgo your values or sense of self-worth for temporary fun.
Leo (July 23 - Aug. 22)
You may be feeling more sensitive or moodier than usual today, which could have you ready to go off on anyone within range. Before things reach critical mass, it may help to make this day a self-care day and focus on getting the rest, nutrition, exercise you need to feel better. Relax.
Virgo (Aug. 23 - Sept. 22)
You may be feeling caught between wanting to take a nap and wanting to get as much done as you possibly can today. Though you love being productive, it may be best to focus on doing activities that feel good today that aren't necessarily work-related. Don't worry you can get back to it.
Libra (Sept. 23 - Oct. 22)
You may have your eye on something you've been hoping or wishing for and this may be something that may require a sizable amount of cash for the wish to come true. It may be best to hold off for now and let the excitement wane a bit before you go breaking the bank. Exercise restraint.
Scorpio (Oct. 23 - Nov. 21)
Are you feeling a bit sensitive about your image today or finding yourself feeling a bit too concerned about how others see you? It may be best to pull back and shift your focus back onto things that really matter. A self-affirming mantra could be just the thing to help turn things around.
Sagittarius (Nov. 22 - Dec. 21)
You may not be seeing something as clearly as you should today, or is it possible that you're stuck a little too deep in dreamland? Before you go getting carried away, it's best that you pay attention to the facts and what you can see right in front of you, rather than what you want to believe.
Capricorn (Dec. 22 - Jan. 19)
You might be tempted to share some intimate information with someone you know today or via one of your social media accounts, but before you go baring your soul, know that not everyone needs to be privy to what's going on in your interior life right now. Authenticity is good but lay low for now.
Aquarius (Jan. 20 - Feb. 18)
Are you doing things for others because you want to or are you looking for some form of recognition? Before you go above and beyond for someone else today, it may be best to think about what you're trying to accomplish first. You might find out that it's best for you to sit this one out for now.
Pisces (Feb. 19 - March 20)
Before you go pushing yourself too hard today and risk getting overwhelmed, ask yourself if there's a friend that you can lean on for help or assistance. You might be able to get some helping hands to lighten your load or provide you with some feedback that you need to hear right now.