Here's Your Horoscope For Today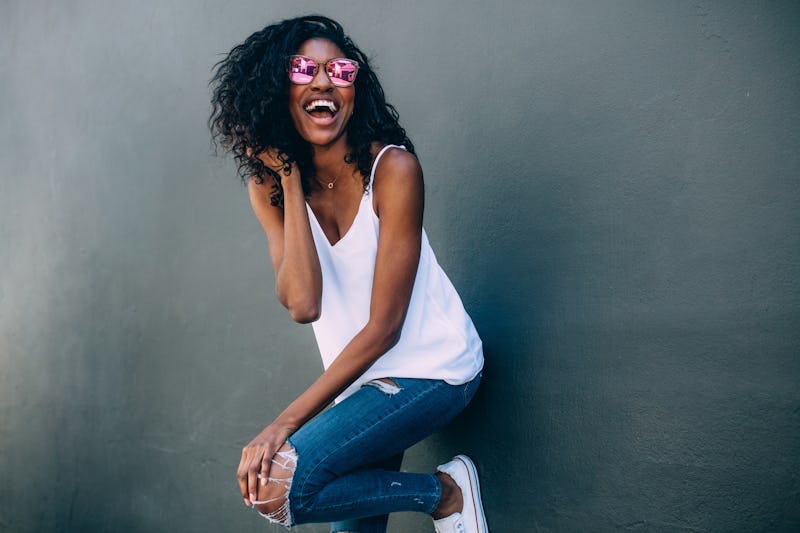 Jacob Lund/Bustle
We're constantly fascinated by what our zodiac sign says about our lives, whether it's which signs are most compatible or how each sign handles conflict in relationships. That's why Bustle has enlisted Mecca Woods, a New York City-based astrologer of MyLifeCreated.com, to tell us all about how astrology is affecting our lives each day. Today's topic: your daily horoscope for August 20, 2018.
It should be a day full of good vibes and high energy as the Moon remains in happy-go-lucky Sagittarius. With the Moon in Sagittarius, we should find ourselves in the mood for new adventures, cultures, and topics to learn about. Since Sagittarius is a sign that's known for being philosophical and opinionated, we might find ourselves in the mood to talk about these things too. By the evening, the Sagittarius Moon teams up with the Sun in Leo, increasing the good vibes. With the Sun and Moon teaming up in two warm, friendly, and fiery signs, we get what we need when we allow our talents, passions, and our authentic selves to shine through.
Read below to see what the stars mean for your sign today, and check out your August 2018 monthly horoscope.
Aries (March 21 - April 19)
You should be in high spirits today or at the very least, ready to party. If it's been a while since you've had some fun, look to ways that you can get into some today. Meanwhile, when it comes to a creative project or idea, you should find it easier to get things off the ground now. Authenticity is sexy.
Taurus (April 20 - May 20)
You're in the mood for intimacy today, which could have you spending some one-on-one time with the one you love or on the hunt for something deeper when it comes to love. Either way, there's a good chance that you can get it. Meanwhile, a financial gift you've been waiting on could come through.
Gemini (May 21 - June 20)
A conversation that you have with your significant other or someone that you're close to could provide you with the exact words that you need to hear today. Reach out and connect. On a similar note, if you have an important meeting to host/attend today, you'll make a great impact.
Cancer (June 21 - July 22)
If you're feeling motivated to tackle your to-do list and get things in order today, then you're exactly where you need to be. Meanwhile, when it comes to your professional life, you could manifest a job offer or an increase in pay. If you've been settling for less, honor your worth.
Leo (July 23 - Aug. 22)
Don't be surprised at all the warmth and attention coming your way today. Some of that attention might even be romantic. Look to ways that you can celebrate and enjoy yourself today as your good energy will ramp up your magnetism and your chances of getting what you want. You're the boss.
Virgo (Aug. 23 - Sept. 22)
Home and family is where your heart is today. Rather than busying yourself with work and the outside world, your energy is best spent (and recharged) by being home or with those that you love. Meanwhile, when it comes to your emotional well-being, you're reminded of how strong you are.
Libra (Sept. 23 - Oct. 22)
You get by with help from your friends today no matter if you're networking or if you're just in the mood for some camaraderie and conversation. If you've been thinking about sharing something important with the public or a large audience, this is a good day to spread the word.
Scorpio (Oct. 23 - Nov. 21)
Your professional life is on fire which could translate to a promotion or another form of recognition. With all of the hard work you've been putting in, it won't go unnoticed today. On the flip side, if you are at a job that doesn't value you enough. It's time to start looking at other options.
Sagittarius (Nov. 22 - Dec. 21)
Its all about you today and you should feel the good energy coursing through your veins. If you've been met with a few setbacks in the past, you should feel like things are starting to get back on track. In other words, the cosmos is going to give you a reason to start believing in magic again (your magic).
Capricorn (Dec. 22 - Jan. 19)
Wishes do come true, Capricorn. This is something for you to keep in mind today, especially when it comes to your intimate life as well as the things that you deeply desire. Instead of focusing on the things you don't want. Try focusing on what you do want. You'll be pleasantly surprised by what happens.
Aquarius (Jan. 20 - Feb. 18)
A friend could come calling on your support or assistance today and you're in the mood to offer your assistance. Just be mindful of giving your energy to someone that's always in need but offers very little. On a similar note, be the change you want to see in the world. Keep the abundance circulating.
Pisces (Feb. 19 - March 20)
You might find yourself on the receiving end of some recognition or praise from others when it comes to your career. However, if that praise isn't forthcoming, don't let that rattle you because people are taking notice whether you know it or not. Just continue to shine your light. You'll be seen.