Here's Your Love Horoscope For The Weekend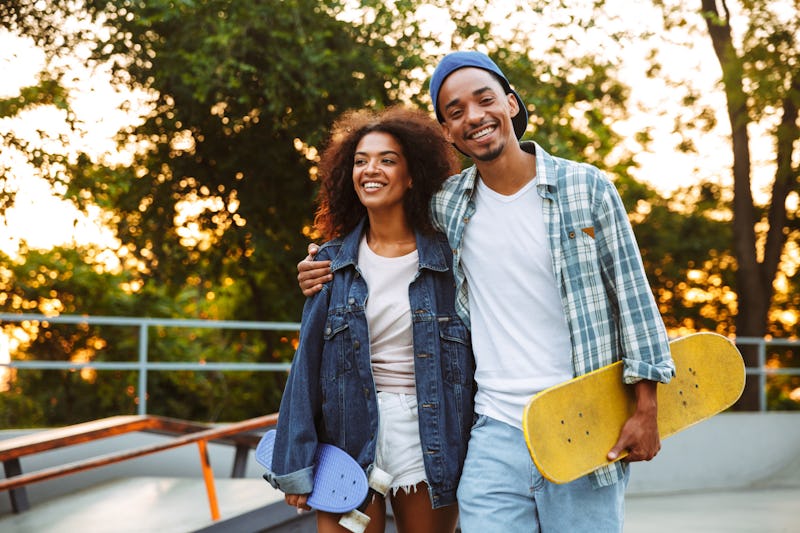 Drobot Dean/Fotolia
We're constantly fascinated by what our zodiac sign says about our lives, whether it's which signs are most compatible or how each sign handles conflict in relationships. That's why Bustle has enlisted Mecca Woods, a New York City-based astrologer of MyLifeCreated.com, to tell us all about how astrology is affecting our lives each day. Today's topic: your weekend love horoscope for August 4-5, 2018.
The Moon is in sensual and steadfast Taurus for most of the weekend, which means that the emphasis will be on quality and not quantity when it comes to love and relationships. On Saturday, the Taurus Moon links up with Jupiter in Scorpio and dreamy Neptune in Pisces, which should ramp up the intimate and romantic vibes in the air. It's the kind of night that's perfect for a date night.
By Saturday night, the Moon shifts into flirty Gemini, which could trigger a flurry of "Wyd?" texts. With Mercury retrograde in the mix, they may not be worth responding to.
By Sunday, the Moon goes on to meet with Pluto in Capricorn and devoted Venus in Virgo, which could help us to seal the deal on a love connection if we're single and looking/involved with someone new. Meanwhile, couples will enjoy some quality time spent together.
Read below to see what the stars mean for your sign this weekend.
Aries (March 21 - April 19)
When it comes to love this weekend, you're reminded that compromise is a big part of keeping a relationship going. Not that you have to settle for less but can you understand how to show up for another person outside of yourself? This is the lesson for you for now. Single? Be discerning in love.
Taurus (April 20 - May 20)
You're in the mood for love this weekend and you could hit the jackpot when it comes to romance. As long as you make it your mission to get out and about and mingle with others, your chances for love increase. You might even find luck by being bold and asking someone out. Go ahead.
Gemini (May 21 - June 20)
You may be feeling the urge to pull back this weekend and to nurse your wounds if things haven't been going right in love. Meanwhile, if you've been thinking negatively about love, you could decide that you would much rather be alone than get hurt. However, now's the time to open up again.
Cancer (June 21 - July 22)
Not to be outdone, you're also winning in the romance department this weekend as the stars align to help you with finding someone worth your time, energy, and tender heart. Both on and offline is where you'll want to be this weekend as you could meet new people. Leave the nest.
Leo (July 23 - Aug. 22)
If love has felt elusive, this is a good weekend for sitting down and getting clear on what you really want in a partner. What are the non-negotiable qualities you must have in a relationship? What kind of qualities are you looking for most in a partner? It's OK if the answers take their time to come.
Virgo (Aug. 23 - Sept. 22)
You're still the cosmic darling of the moment and with all eyes on you this weekend you shouldn't have trouble finding a date, or at the very least, someone to flirt with. Travel or the opportunity to learn something in a workshop setting could also stir up a love connection. Get out of the house.
Libra (Sept. 23 - Oct. 22)
You could meet someone this weekend in a way that feels fated. At the same time this person could bring up some pretty intense feelings within you too. This could be a good thing as it could help you to heal parts of you that are still wounded and tender after all of these years. Pay attention.
Scorpio (Oct. 23 - Nov. 21)
You're the bees knees this weekend, which should help you in attracting love (should you be looking for it). Social gatherings and events with friends could help lead a special someone straight to you. In the meantime, try not to hold any rigid expectations about what you want in another.
Sagittarius (Nov. 22 - Dec. 21)
When it comes to meeting someone new, the first half of the weekend may feel a bit lackluster because you'll more than likely be focused on work or chores. However the second half of the weekend looks better for you in terms of love. It's also a good time to put out a wish for what you want.
Capricorn (Dec. 22 - Jan. 19)
Someone new could come along when you least expect it and in the best way this weekend, especially when you dare to open yourself up to new possibilities. It's possible to be discerning in love and still receptive too. Travel and adventure could spark a chance encounter. Enjoy yourself.
Aquarius (Jan. 20 - Feb. 18)
Your magnetism is exceptionally high right now, so instead of being deep in your feels about love matters that have gone awry in the past, focus on the love energy that is trying to make its way to you in the here and now. Meanwhile, couples may have good news to celebrate regarding money.
Pisces (Feb. 19 - March 20)
Romance sparkles for you this weekend whether you're single or not. If you are single though, you could meet someone new via an online match or by way of someone you know. The good news is that this person will be worth hanging around for and investigating further. Coupled up? Switch things up.