Here's Your Horoscope For Today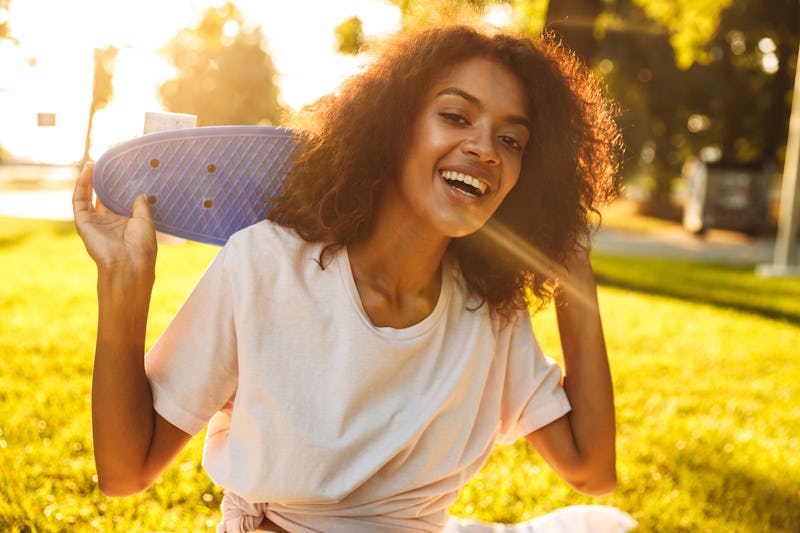 Drobot Dean/Fotolia
We're constantly fascinated by what our zodiac sign says about our lives, whether it's which signs are most compatible or how each sign handles conflict in relationships. That's why Bustle has enlisted Mecca Woods, a New York City-based astrologer of MyLifeCreated.com, to tell us all about how astrology is affecting our lives each day. Today's topic: your daily horoscope for August 6, 2018.
It's a pretty busy day with the Moon in chatty and quick-footed Gemini. As a result, we should find ourselves in the mood to connect with others, learn new things, and involve ourselves with a myriad of activities. Speaking of activities, we might need to be careful of overdoing it today when the Sun in passionate Leo squares off with expansive Jupiter in Scorpio by the evening. While this kind of cosmic combination could help to boost our confidence and our optimism, we'll have to make sure that we don't get too far ahead of ourselves. Otherwise, we could be in for a rude awakening. However, the good news for the day comes just moments after the Sun-Jupiter mashup when love planet Venus moves home to Libra. With Venus in Libra, relationships and financial affairs get a shot of good fortune as Venus reminds us of the importance of beauty, balance, and reciprocity. By the end of the night, the Gemini Moon teams up with the Sun in Leo, helping us to feel good about ourselves and our connections to others.
Read below to see what the stars mean for your sign today, and check out your August 2018 monthly horoscope.
Aries (March 21 - April 19)
When it comes to your creative skills or talents, it's possible that you could receive a financial offer or opportunity based on your work. However, know that you have the power to negotiate, so you don't have to take the first thing offered to you. In love, pay attention to the facts and intuition.
Taurus (April 20 - May 20)
You might be in the mood to go above and beyond for others today. If you're going above and beyond to be needed or validated by others, though, you may want to take a moment to rethink your actions. Allow people to pitch in and share the workload. You deserve it.
Gemini (May 21 - June 20)
You're in the mood to give it your all today, but you could get quickly overwhelmed if you're not careful. While there may be a dozen things on your to-do list, you're reminded to take things bit by bit instead of trying to do it all at once. Meanwhile, make time for some fun, too.
Cancer (June 21 - July 22)
It's time to pull back a bit and take some time for yourself. Home is definitely where your heart will be today, as it's the perfect place for recharging your batteries. At the same time, if you must splurge on something, make sure it's a treat for yourself. Take care of you.
Leo (July 23 - Aug. 22)
While you take pride in being courageous and independent, today you're reminded that you are not an island. In other words, don't underestimate the power of friendship, family, and community. It's OK to need help from others. Help doesn't make you weak; it makes you human.
Virgo (Aug. 23 - Sept. 22)
Keep in mind that not everything that's on your mind today needs to be said out loud, especially if what you have to say is something that could hurt others more than it could heal them. On a different note, you could manifest a financial opportunity or job offer. Your hard work is paying off.
Libra (Sept. 23 - Oct. 22)
If you find yourself trying hard to fit in with others today, know that you don't have to force what's not meant to be. At the same time, with the cosmos blessing you with some extra mojo, recognize that all you need to do is be yourself and allow others to come to you. Believe in your power.
Scorpio (Oct. 23 - Nov. 21)
You might find yourself trying hard to impress others today, but there's no need to force it. You're naturally magnetic, so all you have to really do is lean into your own power. You will attract the right people and make the right impression as a result. In love, a fated encounter could happen.
Sagittarius (Nov. 22 - Dec. 21)
You may be feeling a mixed bag of emotions today, which could have you ready to do something impulsive. However, before you end up doing something you might regret, it might be best to connect with your friends, your partner, or someone close to you for support and a sounding board.
Capricorn (Dec. 22 - Jan. 19)
You're focused on the nitty-gritty details today, making it the perfect time to get organized and to tie up loose ends. And although you usually prefer to work alone, you're reminded that getting help or assistance from others can be a good thing for you, too. Meanwhile, your career is taking off.
Aquarius (Jan. 20 - Feb. 18)
Is a professional relationship demanding more of you than you have it in you to give? If this relationship doesn't feel as reciprocal as it should be, especially where the money is concerned, it may be time for you to go in a different direction. You might also consider asking for more cash.
Pisces (Feb. 19 - March 20)
You've got big plans and dreams. Before you start working on executing them, though, it seems there are some back-end details for you to handle first. In other words, dot your Is and cross your Ts. On a different note, your financial outlook begins to improve, and in turn, your stability.